Jay Wright
Jay Wright 2021: Record, Net Worth, and Salary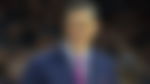 Jay Wright has established himself as one of the premier coaches in the NCAA. He won the AP Coach of the Decade in January 2020. Wright has made the Villanova Wildcats a household name now, after leading them to two titles in the last five years.
Jay Wright 2021 Net Worth
ADVERTISEMENT
Article continues below this ad
Jay Wright's estimated net worth is $7 Million. He is the 4th best-paid basketball coach in the NCAA, earning around $4.4 million per year at Villanova.
Wright rejected an offer from UCLA last year, despite them willing to double his current salary. He also had interest from the New York Knicks earlier this year, but it never transpired.
Jay Wright Record
Wright began his head coaching career at Hofstra in 1994. He joined them after spending a decade working as an assistant in multiple colleges.
In his last two seasons with them, Wright took them to the NCAA tournament both times. In their 57-year history, the Pride has qualified for the NCAA tournament just four times and two of those have come under Wright. He also led the Pride to their best ever record of 26-5 in the 2000-01 season. His final record with Hofstra is 122-85.
Following that successful stint, he joined Villanova in 2001. He made the Wildcats a consistent NCAA tournament team, and made them one of the best Big East teams winning multiple championships. Wright has won two titles with them so far, and his record with them stands at 480-183.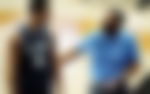 Jay Wright Villanova
Wright is arguably the best coach the Wildcats have had. They have won a total of three titles, and Wright has led them to two of those. After joining in 2001, he took some time to settle in, and went three seasons without qualifying for the NCAA tournament. The from 2005 to 2019, the Wildcats have missed the tournament just once.
His first Final Four appearance came in 2009, but they fell to the eventual champions, UNC. Then finally, in 2016, Wright won his first NCAA title, and got his revenge on UNC in the final. The next year was a second round exit, but the year after that, the Wildcats marched to the final once again. They beat Michigan 79-62 and took home their second title in three years. He was able to repay the faith shown in him by the Wildcats with those two titles.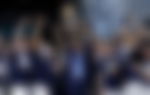 Jay Wright Charity
Wright has been a regular when it comes to giving back to society. Back in October, he was involved in fundraising walk for people suffering from Parkinson's.
He has been contributing to the Augustinian Fund for almost a decade now, and has raised money for them via Infiniti Coaches' Charity Challenge.
ADVERTISEMENT
Article continues below this ad
Wright also led his Wildcats team last year when they played USC in an exhibition to raise funds for the Californian wildfire relief.
How to contact Jay Wright?
Jay Wright on Twitter: @VUCoachJWright
ADVERTISEMENT
Article continues below this ad
Age

59

Nationality

United States

Birth Date

December 24, 1961

 

University

Villanova University

Family 

Married with three children

Weight

187 pounds

Height

6'1

Teams Coached

Rochester (assistant), Drexel (assistant), UNLV (assistant), Villanova

Record

602-268

Championships

2