Jayson Tatum
Jayson Tatum 2021: Net worth, salary & endorsements
Jayson Tatum is an NBA player currently playing for Boston Celtics. He came into the NBA after playing college basketball for the Dukes. The Celtics drafted Tatum in the 2017 NBA Draft with the third overall pick. In 2020, he earned his first All-Star selection.
Tatum usually plays in the small forward or power forward position and has sported jersey no. 0.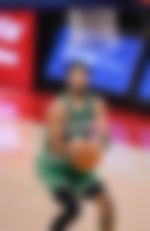 Jayson was born on March 3, 1998, to Justin Tatum and Brandy Cole. His father, a former university basketball player, works as a basketball coach at high school level, while his mother practices law.
ADVERTISEMENT
Article continues below this ad
On September 10, 2019, Tatum and his high school girlfriend, Toriah Lachell, gave birth to their son, Jayson Christopher Tatum Jr.
Major achievements
NBA All-Star (2020)
All-NBA Third Team (2020)
NBA All-Rookie First Team (2018)
Third-team All-ACC (2017)
ACC All-Freshman team (2017)
McDonald's All-American (2016)
Gatorade National Player of the Year (2016)
Mr. Show-Me Basketball (2016)
Jayson Tatum's stats
After 234 games in his NBA career, Tatum is averaging 17.7 points, 6,0 rebounds, and 2.3 assists per game. (Last updated: January 8, 2021)
Currently, in the 2020-21 season, he is averaging 26.3 points, 7.4 rebounds, and four assists per game.
Jayson Tatum's 2021 net worth and endorsements
Tatum is on a rookie-level contract with the Celtics. Celebrity Net Worth estimates the net worth of Jayson Tatum as $7 million. Considering the potential the 22-year-old has, his net worth may take a significant rise.
Tatum signed a major endorsement deal in 2019 when he signed a shoe deal with the Jordan Brand.
Jayson Tatum's foundation and charity
The Jayson Tatum foundation sponsors approximately 100 boys and girls, who attend an all-expenses-paid one-day summer Basketball Camp & Leadership Program every year. The Foundation, as per its website, annually identifies agencies and organizations in the greater St. Louis metropolitan area who need assistance and solicits donations with the help of partnering organizations.
During the coronavirus pandemic, the foundation pledged to match $250,000 to help provide meals through Feeding America and The Greater Boston Food Bank in the Boston area.
ADVERTISEMENT
Article continues below this ad
How to contact Jayson Tatum?
Jayson Tatum's Twitter: https://twitter.com/jaytatum0
Jayson Tatum's Instagram: https://www.instagram.com/jaytatum0/
ADVERTISEMENT
Article continues below this ad
| | |
| --- | --- |
| Age | 22 |
| Marital Status | Unmarried |
| Girlfriend | Toriah Lachell |
| Kids | Jayson Christopher Tatum Jr |
| Nationality | American |
| Team | Boston Celtics |
| Rings | Nil |
| Height | 6' 8" |
| Weight | 95 kg |
| Wingspan | 2.11 m |
| Shoes | Air Jordan |
| Endorsements | Air Jordan |