Jimmie Johnson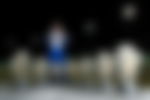 Jimmie Johnson 2021: Net Worth, Salary and Endorsements
Jimmie Johnson: Stats and Championships
His first tryst with speed came when he was four years old, riding minibikes. After that, Johnson kick-started his NASCAR career back in 2002.
Right from his rookie season, he established himself as a rising star and won the Rookie of the Year title. Additionally, he was the first rookie driver to lead the championship and to win twice at the same track in a season.
Johnson has accumulated several accolades over the course of his career. This includes seven Cup Series championships, two Daytona 500 wins, and four All-Star race wins. Jimmy has 81 Cup Series wins with his crew chief Chad Knaus.
Johnson also shares the record for the most championships with Richard Petty and Dale Earnhardt. Five of those seven championships came between 2006 to 2010.
Out of 610 Cup Series races over the span of 18 years, Johnson amassed incredible statistics. Namely, 83 career wins, 221 top-five finishes, 342 top-10 finishes, and 35 pole positions.
On September 9, 2020, Johnson reported that he would join Chip Ganassi Racing on a part-time premise in 2021 and 2022 to drive the street and road courses on the IndyCar circuit.
Theie arrangement leaves open the chance of running select NASCAR Cup Series occasions, as Ganassi right now handles two vehicles in NASCAR and could add a part-time vehicle for Johnson, remaining a four-vehicle Cup group.
Jimmie Johnson: Net Worth 2021
At 44 years old, the California-born driver has a net worth of $160 million, as per Celebrity Net Worth. This makes him the third richest NASCAR driver behind Dale Earnhardt Jr. and Jeff Gordon.
Best Moments of Jimmie Johnson