Joel Embiid
Joel Embiid's Net Worth 2023, Family, House, Cars, and More
Joel Embiid's Net Worth 2023 (Update)
Joel Embiid has an estimated net worth of around $35 million, according to various reports. For the 2022-23 season, Embiid reportedly earned about $34 million playing for the Philadelphia 76ers. In his nine years in the league so far, the Cameroonian has earned over $166 million in NBA salaries. The 76ers star also makes a lot of money from his endorsement deals and investments.
ADVERTISEMENT
Article continues below this ad
Joel Embiid's early life 
Joel Embiid was born on 16 March 1994, in Yaoundé, Cameroon where he spent most of his childhood. From a very young age, Embiid was drawn towards sports. However, he did not pick up a basketball until he was 15. He then moved to the United States when he was 16 to play basketball. After one year at Montverde Academy, Embiid transferred to The Rock School in Gainesville, Florida, where he developed into one of the best high school players in the country. The 7' center graduated high school in 2013 and committed to the University of Kansas. He played one year of college basketball for the Jay Hawks before declaring for the NBA draft in 2014.
Joel Embiid's family and personal life
Joel Embiid was born to Thomas Embiid, who was a military officer, and his wife Christine. The couple had three children together. Joel is the oldest and has a younger sister Muriel Embiid. The youngest of the siblings, Arthur Embiid, unfortunately passed away in a car crash in 2014. Muriel has been a major supporter of her brother during the ups and downs in his NBA career.
The Philadelphia 76ers star has been in a relationship with Brazilian model Anne de Paula since 2018. The couple welcomed their first child together in 2020, who was named Arthur in memory of Joel's late brother.
Joel Embiid's career
Joel Embiid mostly played soccer and volleyball during his childhood and dreamed about playing professional volleyball in Europe. He started playing basketball at 15 and was discovered by NBA veteran Luc Mbah a Moute, who is also from Yaoundé, during a basketball camp. With Mbah a Moute's mentorship, Embiid moved to the United States when he was 16 to pursue a career in basketball. However, Embiid's start to basketball was not the easiest.
After starting to play basketball at the age of 15, Embiid lacked some physical abilities and skills required for the game when he moved to the US a year later. He struggled to get game time during his time with Montverde Academy. Also, he often faced a lot of criticism from his teammates. However, he was determined and worked harder than ever. During his time with The Rock School, Embiid developed remarkably and helped the team clinch the state championship.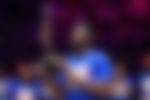 His performances garnered a lot of attention and he became a five-star recruit. After analyzing his options carefully, Embiid opted to join the University of Kansas in 2013. He had some major performances for the Jay Hawks during his one year. However, he missed out on the NCAA tournament due to an injury. He then declared for the NBA draft in 2014.
The Philadelphia 76ers selected Embiid as the third pick in the 2014 NBA draft despite the injury concerns. He had a tough start to his life in the NBA as well. The Cameroonian missed the first two seasons of his career due to a broken navicular bone in his foot. This raised doubts about the future of Embiid in the league and many questioned the 76ers' decision to pick him. However, he came back strong in 2016.
Embiid averaged over 20 points per game in his first season in the league and earned a spot in the All-Rookie First Team. He continued his development and clinched a spot in the All-Star team the next year. In the next few seasons, Embiid established himself as one of the best players in the league. In 2022, he became the first center since NBA legend Shaquille O'Neal to win the scoring title. He has been in the running for the NBA MVP award for three seasons in a row and finally won the award this season.
Joel Embiid's career stats
Regular season stats:
Games played - 394
Points per game - 27.2
Rebounds per game - 11.2
Assists per game - 3.4
Blocks per game - 1.7
Playoffs stats:
Games played  - 48
Points per game - 23.6
Rebounds per game - 10.9
Assists per game - 2.8
Blocks per game - 1.5
Joel Embiid's endorsements and investments
Some of the biggest endorsements and investments of Joel Embiid are as follows:
Under Armour




Crpyto.com




PepsiCo




Mountain Dew




EA




Amazon




Dignitas




Mitchel and Ness 
Joel Embiid's major achievements and awards
NBA MVP (2023)




2× NBA scoring champion (2022, 2023)




6× NBA All-Star (2018-2023)




4× All-NBA Second Team (2018, 2019, 2021, 2022)




3× NBA All-Defensive Second Team (2018, 2019, 2021)




NBA All-Rookie First Team (2017)
Joel Embiid's current contract details
After missing a lot of games in the first two years of his NBA career, Embiid signed a 5 year $147.7 million maximum contract extension with the Philadelphia 76ers in 2017. Despite the injury concerns surrounding the center, the 76ers still showed faith in him. As Embiid continued climbing the ranks in the league, he then signed a four-year $210 million maximum contract extension in 2021. With this, he will reportedly earn an average salary of over $52 million per year. For the next season, he is all set to receive over $46 million in salary. Forbes ranked him 40th on the list of highest-paid athletes in the world for 2022.
Joel Embiid's charitable work
Joel Embiid strives to give back and uplift the community. In 2022, he launched "In Memory of Arthur", which was an initiative drafted to make a positive change in Philadelphia by investing in some of its most impactful non-profit organizations. The 2023 NBA MVP reportedly contributed $1 million to the initiative.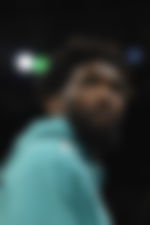 He also founded the Arthur Embiid & Angels Foundation which aims to protect and unite disadvantaged children in Cameroon. In 2020, he reportedly donated $500,000 to the #FirstRespondersFirst initiative to support the healthcare workers, who were on the front lines of the COVID-19 pandemic. Also, Embiid partnered with 76ers owners Josh Harris, and David Blitzer and donated $1.3 million to Penn Medicine during the pandemic. 
He committed to donating $100,000 to fight homelessness and is also involved in the charitable works of the Sixers Youth Foundation.
Joel Embiid's car collection
Despite being one of the highest-paid athletes in the world, Joel Embiid does not boast a huge car collection like most NBA superstars. Interestingly, Embiid received his driver's license only in 2017 and mostly used Uber until then. After getting his driver's license, Embiid has been seen in a Range Rover Classic Edition multiple times, which seems to be his only car.
Joel Embiid's house
After stepping into the NBA, Embiid purchased a house for his parents in Cameroon. He currently lives with his girlfriend and son on the 40th floor of a high-rise apartment building in Philadelphia. The luxury apartment spans over 2700 square feet with three bedrooms and bathrooms. The apartment reportedly has all the amenities one can expect in a luxury mansion.
ADVERTISEMENT
Article continues below this ad
Joel Embiid's social media accounts
ADVERTISEMENT
Article continues below this ad
| | |
| --- | --- |
| Full Name | Joel Hans Embiid |
| Popular Name | Joel Embiid |
| Birth Date | 16 March 1994 |
| Birth Place | Yaoundé, Cameroon |
| Age | 29 |
| Height | 7′ 0″ (2.13 m) |
| Weight | 280 lbs (127 kg) |
| Parents | Christine and Thomas Embiid |
| Siblings | Muriel Embiid, Arthur Embiid (late) |
| Nationality | Cameroonian  |
| Ethnicity | African |
| Net Worth | $35 million |
| Salary | $34 million |
| Spouse | Anne de Paula |
| Relationship/Marital Status | In a relationship |
| Children | Arthur Embiid |
| Profession | Basketball player |
| Team | Philadelphia 76ers |