John Calipari
John Calipari 2021: Record, Net Worth, and Salary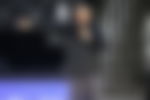 John Calipari is one of the most recognized names in the college circuit. He is one of the few coaches in the NCAA, who also have coaching experience with the NBA. During his 12 years with Kentucky, he has led them to a title once so far.
John Calipari Record
Calipari joined the NCAA as an assistant back in 1982. So after six years as an assistant, he got his first head coaching role with UMass in 1988.
He had a 193-71 record with them, and also took them to the number one position twice. During that stint, he had the infamous fight with John Chaney who threatened him and said, "I'll kill you."
Following this success, Calipari joined the New Jersey Nets, where he spent two and half seasons, ending with a record of 72-112. Calipari was then fired because of poor results.
He had a stint as an assistant with the 76ers after that, before being appointed as the Memphis Tigers' head coach. He led them to the number one ranking as well and had a 252-69 record.
Finally, Calipari joined the Kentucky Wildcats in 2009, leading them to one title in 2012, and he currently has a 331-80 record with them.
John Calipari Kentucky?
After the great Adolph Rupp, Calipari comes in as the second-most successful coach in Kentucky history.
In seven out of his 11 completed seasons with them, He has led to the number one ranking and has come close to winning the title as well. Under him, they have qualified four times in the Final Four, once as a runner-up in 2014 and the title winners in 2012.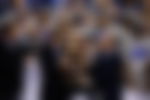 The Wildcats have made it to the NCAA tournament every season under him, except for the 2012-13 season. They have won five SEC tournaments and five SEC regular-season championships with Calipari in charge.
Calipari has coached some exciting NBA players at Kentucky like Anthony Davis, De'Aaron Fox, DeMarcus Cousins, John Wall, and Tyler Herro.
John Calipari N
et worth
Coach Calipari's estimated net worth is around a staggering $45 million. His salary is at an estimated $8,158,000, which is the highest among the NCAA basketball coaches.
In June 2019, he signed a lifetime contract with the Kentucky Wildcats, which is worth $86 million. This contract came after UCLA offered him a six-year deal worth $48 million, which he ended up rejecting.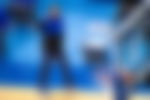 John Calipari Charity and Podcast
Coach Calipari is the founder of the Calipari Foundation. They are involved in charitable causes across the state of Kentucky. Their goals are to provide for the physical, educational, leadership, and developmental needs of the community.
When the coronavirus pandemic struck, Calipari stepped up. So with the help of Kroger and the Fayette County School, he provided groceries for 400 families.
After making $1 million from ??Inside the Madness: Kentucky Basketball,? Facebook?s behind-the-scenes series, Calipari donated it all to charity.
Back in 2017, Calipari had a podcast with 23 episodes, which was titled Cal Cast. A lot of the episodes had former Wildcats like Anthony Davis, John Wall, and De'Aaron Fox.
Calipari has also been featured in an ESPN 30 for 30, which was released in 2017.
How to contact?
John Calipari?
John Calipari on Twitter:?@ukcoachcalipari
John Calipari on Instagram:?@UKCoachCalipari
| | |
| --- | --- |
| Age | 61 |
| Nationality | United States |
| Birth Date | February 10, 1959 |
| University | University of Kentucky |
| Family? | Married with three children |
| Weight | 187 pounds |
| Height | 6'2 |
| Teams Coached | Kansas (assistant), Pittsburgh (assistant), UMass, New Jersey Nets, Philadelphia 76ers (assistant), Memphis, Kentucky |
| Record | 776-220 |
| Championships | 1 |