Jrue Holiday
Jrue Holiday 2021: Net worth, Salary, and Endorsements
Jrue Holiday is a six-foot-four guard who plays for Milwaukee Bucks in the NBA. The sport runs deep in his family as his parents Shawn and Toya Holiday both played professional basketball for Arizona State.?
Holiday was born on June 12, 1990, in Los Angeles, California, and has two brothers who are also NBA stars. Jrue went down as the 17th overall pick in the 2009 NBA Draft and both his siblings Justin and Aaron came into the league, following his footsteps.?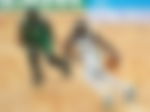 Being born in Los Angeles, Holiday attended Campbell Hall High- School in the city, where he emerged as one of the finest point guards in the country. He was named Gatorade Player of the Year and took part in the McDonald?s All-American Game in his senior year.?
Being a five-star recruit, Holiday then committed to play for UCLA where he was awarded starting privileges as a freshman. He averaged 8.5 points and 3.8 assists as a freshman and jumped into the NBA after completing his initial year.?
It was at UCLA where Holiday met the love of his life. He met his future wife Lauren Holiday during a UCLA women?s game, and the pair hit it off instantly. They began dating in 2008 and tied the knot five years later.?
As for his virtual self, Jrue Holiday is an extremely talented character in the latest NBA 2K game. The creators have awarded him a rating of 83 overall, and he will suit up for the Milwaukee Bucks from the 2021 season.?
Jrue Holiday NBA Career
Holiday was selected by the Philadelphia 76ers in the 2011 NBA Draft. They exercised their 17th overall pick and signed the LA native, who turned out to be an impressive addition to their roster. His two-way skills shone brightly in Philly, where Holiday played for four years.?
He averaged 13.4 points in his stint with the Sixers and earned his first All-Star selection in his final year with the team. Holiday was then traded to the New Orleans Pelicans, where he missed a part of his debut season due to a stress fracture in his right tibia.?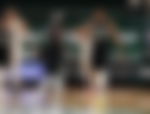 After recovering from the hindrances in his shin, Holiday began posting good numbers with the Pelicans and became their starting point guard. He rose to become one of their most important players with his on-court flexibility in guarding opponents.?
Holiday?s an efficient scorer and an excellent defender. The Pelicans lost him during the 2020 offseason when they sent him to the Milwaukee Bucks in a three-team trade.?
Major Achievements?
NBA All-Star (2013)
NBA All-Defensive First Team (2018)
NBA All-Defensive Second Team (2019)
NBA Teammate of the Year (2020)
Pac-10 All-Freshman Team (2009)
Gatorade National Player of the Year (2008)
First-team Parade All-American (2008)
Third-team Parade All-American (2007)
McDonald's All-American (2008)
California Mr. Basketball (2008)
Jrue Holiday NBA Stats
Holiday came into the league caring major expectations and it is safe to say he?s partially lived up to them. His attacking prowess is incredible, as his bursts of speed can be a spectacular sight to watch. Currently in the 2020-21 season, Holiday is averaging 15.7 points, 4.2 rebounds, and 5.1 assists per game.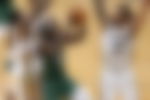 Jrue Holiday Current Contract
Holiday signed a massive contract extension with the Pelicans in 2017. The deal was worth $131,805,000 for five-years with 2022 being a player option. He is set to earn a salary of $25,396,111 during the 2020-21 season.?
Jrue Holiday 2021 Net Worth and Endorsements
Celebrity Net Worth estimates Jrue Holiday?s Net Worth at $30 million. Furthermore, his career earnings through the NBA salary will touch just below $150 million in 2021.?
Forbes estimates that Holiday earned $500,000 annually from his endorsements, which is mainly from his sneaker contract with Nike.?
Jrue Holiday Charity Foundation?
Jrue and Lauren Holiday run a non-profit organization together aimed at uplifting communities.?
?Jrue & Lauren Holiday are committed to intentionally moving communities forward by boldly creating change when and where it?s most needed,? their website reads.?
Jrue Holiday NBA Sneaker Contract
Jrue Holiday donned Nike shoes in the NBA but became a sneaker free-agent in 2019. However, the brand retained him on a multi-year footwear and appraisal endorsement deal.??
He has sported several Nike sneakers in the league, with the recent ones being ?Nike Kyrie 5,? and ?Nike KD 11.?
| | |
| --- | --- |
| Age | 30 |
| Marital Status | Married to Lauren Holiday |
| Children | 1 |
| NBA Championship Rings | ? |
| Nationality | American |
| Height | 6 ft 4 in (1.93 m) |
| Weight | 205 lb (93 kg) |
| Wingspan | 6 ft 5 in (2.01 m) |
How to contact Jrue Holiday
Jrue Holiday Instagram: jrue_holiday11
Jrue Holiday Twitter: @Jrue_Holiday11