Julius Randle
Julius Randle 2021: Net worth, Salary, and Endorsements
Julius Deion Randle is an NBA player who plays for the New York Knicks. He was drafted by the Los Angeles Lakers in 2014 with their seventh overall pick. He is currently in his seventh season in the league.
Randle began his college career with the Kentucky Wildcats, where he just played one season. But with a remarkable stat line of 15 points and 10.4 rebounds per game, he won multiple awards and impressed NBA scouts. This led to him being a top 10 pick in the 2014 NBA Draft.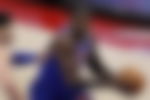 In his rookie season, Randle played just one game and was on the sidelines mostly because of a broken tibia. He played three seasons with the Lakers and showed steady growth each year. Despite that, they let him go, and he then signed a two-year deal with the Pelicans.
He had a career-high season in New Orleans, and so he knew he could play for a better team. So, in the following off-season, he rejected his player option, and then signed a three-year deal with the Knicks.
Julius Randle and New York Knicks
In July 2019, Randle joined the Knicks as their marquee free agent signing. The Knicks received a lot of stick since they were linked with bigger names but ended up with Randle. But the former Kentucky star used this as motivation and had a bright start to his Knicks career. In his first season, he averaged 19.5 points and 9.7 rebounds per game, despite the Knicks poor season overall.
But in his second season, the arrival of a new coach in Tom Thibodeau helped him improve further. He averaged career highs in points and assists and also became a sharpshooter. Randle stepped up as a true leader of the team, as their main scorer and also their primary playmaker.
This new role helped the Knicks finish as the fourth seed, their best finish regular season since 2012-13. He is now likely to be an All-NBA player and is the favorite to win Most Improved Player too.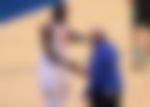 Major Achievements
NBA All-Star (2021)


Third-team All-American – AP, NABC (2014)


SEC Rookie of the Year (2014)


First-team All-SEC (2014)


McDonald's All-American (2013)
Julius Randle 2021 stats
In the 2020-21 season, Randle averaged 24.1 points, 10.2 rebounds and 6.0 assists for the Knicks in 71 games. He just missed one game all season and was awarded an All-Star spot for these incredible stats.
Julius Randle current contract
In July 2019, Randle signed a three-year deal worth $63 million with the Knicks. Similar to his previous contract, he has a player option for his final season. In the 2020-21 season, he earned $18.9 million from his contract, and he stands to earn $19.8 million next season if he accepts his player option. He is likely to reject it and sign a long-term deal to stay in New York.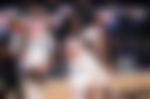 Julius Randle 2021 net worth and endorsements
According to Celebrity Net Worth, Randle's estimated net worth is around $6 million. Since this estimation is from 2020, it has likely increased a lot since then considering his success both on and off the court. Since his rookie season, Randle is a Nike athlete and frequently dons Kobes, since Kobe Bryant was his idol. In 2016, Randle also signed a deal with Mountain Dew.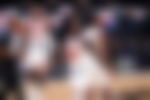 How to contact Julius Randle
ADVERTISEMENT
Article continues below this ad
Julius Randle on Twitter: @J30_RANDLE
Julius Randle on Instagram: @juliusrandle30
ADVERTISEMENT
Article continues below this ad
| | |
| --- | --- |
| Age | 26 |
| Marital Status | Married |
| Wife | Kendra Shaw |
| Children | 1 (son) |
| NBA Championship Rings | - |
| Nationality | American |
| Height | 6 ft 8 in (2.03 m) |
| Weight | 250 lb (113 kg) |
| Wingspan | 6 ft 11 in (2.13 m) |
| Endorsements | Nike, Mountain Dew |