Kawhi Leonard
Kawhi Leonard 2021: Net worth, Salary and Endorsements
Kawhi Leonard,who plays primarily as a small forward in the National Basketball Association (NBA), was born on June 29, 1991, and currently plays for Los Angeles Clippers.
Leonard first played for San Antonio Spurs in the NBA. He was selected with the 15th overall pick in the 2011 NBA draft by the Indiana Pacers, but was traded that night to the San Antonio Spurs. Once there, he played with them for seven seasons. Later, he played a season for the Toronto Raptors, where he won his second championship before moving to Los Angeles.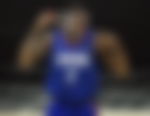 After his season with the Raptors, there were many teams who were interested in signing him. Leonard later said that he had almost signed for Los Angeles Lakers.
ADVERTISEMENT
Article continues below this ad
Before moving to the Clippers, Leonard is known to have brought a luxurious $13.3 million worth mansion. He lost his father, Mark Leonard, in 2008. He lives with his mother Kim Robertson and has two children with his girlfriend, Kishele Shipley. Leonard's uncle, Dennis Robertson, before Leonard's move to the Raptors, frequently mentioned about a Spurs exit.
Major achievements
2× NBA champion (2014, 2019)
2× NBA Finals MVP (2014, 2019)
4× NBA All-Star (2016, 2017, 2019, 2020)
2× All-NBA First Team (2016, 2017)
2× All-NBA Second Team (2019, 2020)
2× NBA Defensive Player of the Year (2015, 2016)
NBA steals leader (2015)
3× NBA All-Defensive First Team (2015–2017)
3× NBA All-Defensive Second Team (2014, 2019, 2020)
NBA All-Rookie First Team (2012)
Kawhi Leonard stats
Currently, in the 2020-21 NBA season, Leonard averages 23 points 5.6 rebounds, and 6.1 assists per game.
Kawhi Leonard 2021 net worth:
Leonard's annual salary jumped from $3 million to $17 million in 2015 when he signed a 5-year $90 million contract with the Spurs. According to celebrity net worth, Leonard currently earns $23 million per year. Forbes estimated Kawhi Leonard's net worth as $28.7 million. He also features in their list of the top 70 World's Highest-Paid Athletes of 2019 and 30 Under-30 Sports personalities of 2018.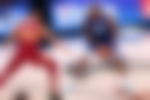 Kawhi Leonard endorsements
Lenard earns around $5.5 million from his endorsement deals. His major sponsor is the shoe and apparel company New Balance. He previously had a deal with the Air Jordan brand.
Kawhi Leonard charity
After Leonard led Toronto Raptors to the NBA title in 2019, he teamed up with the Clippers foundation and a non-profit organization to donate one million backpacks to underserved children in Los Angeles.
He later joined Los Angeles Clippers and has been involved in various charity works since then. Previously, even during his time with San Antonio Spurs, he took part in many such events.
ADVERTISEMENT
Article continues below this ad
How to contact Kawhi Leonard
Unlike many NBA stars, Kawhi Leonard is not active on social media. Leonard doesn't have an Instagram account. He has an account on Twitter, but he is hardly active on the platform. For business purposes, Leonard can be contacted through his Management agency.
Kawhi Leonard's Twitter: https://twitter.com/kawhileonard
ADVERTISEMENT
Article continues below this ad
| | |
| --- | --- |
| Age | 29 |
| Nickname | Claw |
| Marital Status | Unmarried |
| Girlfriend | Kishele Shipley |
| Nationality | American |
| Team | Los Angeles Clippers |
| Height | 6′ 7″ (2.01 m) |
| Weight | 104 kg |
| Wingspan | 2.21 m |
| Shoes | New Balance |
| Endorsements | New Balance |