Kentavious Caldwell-Pope
Kentavious Caldwell-Pope 2021: Net worth, Salary, and Endorsements
Kentavious Caldwell-Pope is a 6'5" shooting guard who plays for the Los Angeles Lakers in the NBA. The Georgia native was born on February 18, 1993, and entered the league in 2013 as the eighth overall pick in the draft. 
Caldwell-Pope attended Greenville High School in Georgia, where many projected him to be an exciting talent for the future. He put up terrific displays as a senior and averaged 31.0 points and 8.2 rebounds.
Consistent performance from the shooting guard earned him recognition, along with chances to play at the 2011 McDonald's All-American Game and the Jordan Brand Classic. He committed to the University of Georgia after ranking as one of the nation's finest shooting guards. 
ADVERTISEMENT
Article continues below this ad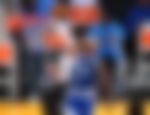 The Greenville alum impressed as a freshman at Georgia and was named to the Coaches' Freshman All-SEC Team alongside the likes of Anthony Davis and Bradley Beal. Caldwell-Pope vastly improved in his sophomore year and earned SEC Player of the Year Award with averages of 18.5 points and 7.1 rebounds and 2.0 steals per game. 
Caldwell-Pope decided to enter the NBA after his sophomore year and was picked eighth in the 2013 NBA Draft. The Detroit Pistons selected him and then a 20-year-old Caldwell Pope impressed in the Summer League by averaging 24.0 points in five games. 
Kentavious Caldwell-Pope NBA Career
As a rookie, Caldwell-Pope saw less than twenty minutes a game, but the 6'5" guard earned starting privileges in the Pistons' roster. He averaged 14.5 points and 3.7 rebounds in 2016 but never made it past the regular-season with the franchise. 
Kentavious Caldwell-Pope was suspended without pay for two games by the NBA in relation to his arrest for suspicious drunken driving on March 29, 2017. The incident happened at Auburn Hills and per USA Today: "Caldwell-Pope was stopped at 2:52 a.m. on March 29 after a parked officer tracked his 2015 Jeep Wrangler going 45 mph in a 25-mph zone, police records show."
The Pistons shortly made him a free-agent on the market and the Los Angeles Lakers signed him up on a one-year contract. He was paid nearly $18 million and shortly into his Lakers career, Kentavious Caldwell-Pope was handed a 25-day jail sentence after pleading guilty for his violation in March that year. 
The athlete was, however, given a work-release for games and practices, provided he wears a GPS monitor and completes a breathalyzer when he's away from the facility.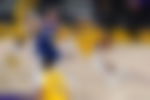 His on-court life reaped him success in 2020 after he re-signed with the Lakers twice. The 27-year-old appeared in his maiden NBA finals series and conquered it with the Los Angeles Lakers. 
Major Achievements 
NBA champion (2020)
SEC Player of the Year (2013)
First-team All-SEC (2013)
SEC All-Freshman Team (2012)
McDonald's All-American (2011)
Kentavious Caldwell-Pope NBA Stats
Caldwell-Pope has posted decent averages with the Pistons as well as the Lakers. He's found a more supporting role with the Lakers now and comes off the bench with effect. Currently, in the 2020-21 season, Caldwell-Pope is averaging 10.1 points, 2.1 rebounds, and 1.5 assists per game.
Kentavious Caldwell-Pope Current Contract
Kentavious Caldwell-Pope signed a two-year extension with the Lakers in 2019, with the second year being optional. He's represented by Rich Paul of Klutch Sports and has now declined the player option to sign as a free agent instead, during the 2020 offseason. 
Kentavious Caldwell-Pope 2021 Net Worth and Endorsements 
Kentavious Caldwell-Pope has been in the league for several years and has signed lucrative contracts. His total salary earnings add up to $49,880,815, according to HoopsHype. Although there's no solid number on his NetWorth, it might in the $50 million range.
Kentavious Caldwell-Pope NBA Sneaker Contract
Caldwell-Pope has been sporting Nike sneakers in his NBA career and dons several player editions too! He most recently played with Giannis' signature 'Nike Zoom Freak 1,' and he's worn LeBron's and Anthony Davis' signature sneakers as well. 
ADVERTISEMENT
Article continues below this ad
| | |
| --- | --- |
| Age | 27 |
| Marital Status | Married (McKenzie Caldwell-Pope) |
| Children | 3 |
| NBA Championship Rings | 1 (2020) |
| Nationality | American |
| Height | 6 ft 5 in (1.96 m) |
| Weight | 204lb (92 kg) |
| Wingspan | 6'8" (2.07 m) |
How to contact Kentavious Caldwell-Pope
Kentavious Caldwell-Pope Instagram: caldwellpope
ADVERTISEMENT
Article continues below this ad
Kentavious Caldwell-Pope Twitter: @CaldwellPope
Kentavious Caldwell-Pope News Feed
---
---
---
---
---
---
---
---
---
---