Kevin Durant
Kevin Durant: Net worth, Salary, and Endorsements
Kevin Wayne Durant or Kevin Durant needs very little introduction in the Basketball world. Currently, he plays for Brooklyn Nets. Moreover, Durant has been in NBA for over a decade now. Further, he was the second overall pick by Seattle SuperSonics (which became the Oklahoma City Thunder in 2008) in the 2007 NBA draft. In 2016, Durant moved to Golden State Warriors where he won two consecutive NBA Championships. However, Durant suffered an Achilles tendon injury during the 2018/19 finals, which the Warriors lost. Then, he moved to Brooklyn Nets prior to the 2019/20 season.
Throughout his career, Kevin Durant has played with No 35 jersey and Nike shoes. Moreover, both of them are extremely popular and sell well.
Major On-court achievements
2× NBA champion (2017, 2018)
2× NBA Finals MVP (2017, 2018)
NBA Most Valuable Player (2014)
10× NBA All-Star (2010–2019)
2× NBA All-Star Game MVP (2012, 2019)
6× All-NBA First Team (2010–2014, 2018)
NBA Rookie of the Year (2008)
4× NBA scoring champion (2010–2012, 2014)
50–40–90 club (2013)
No. 35 retired by the University of Texas
FIBA World Championship MVP (2010)
2× USA Basketball Male Athlete of the Year (2010, 2016)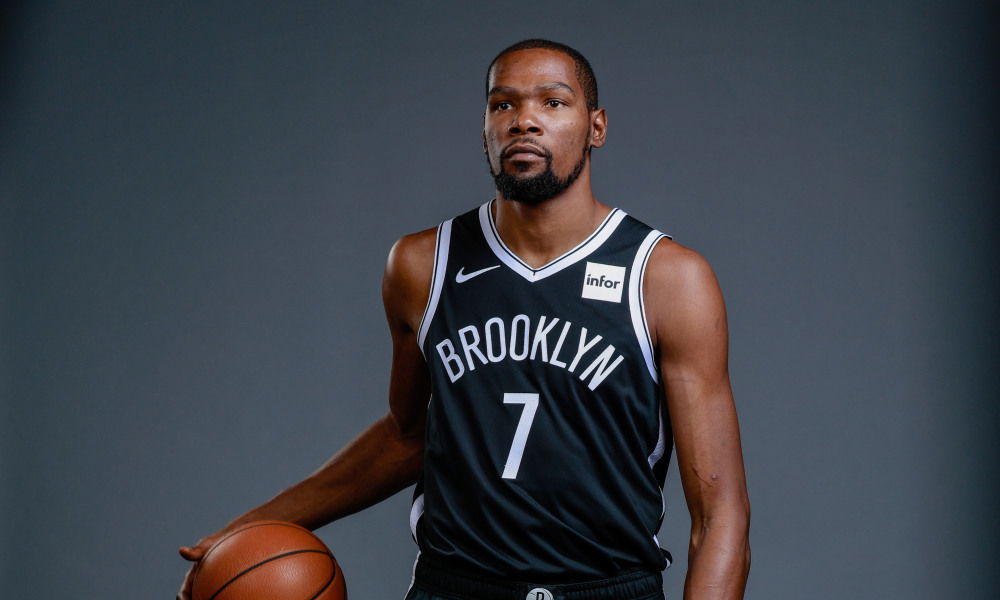 Personal life
Durant was born in Washington DC on September 29, 1988. Also, he owns several properties in Oklahoma, where he started his NBA career. Moreover, he follows Christianity and has a few tattoos on his body. Durant is known to be very close to his mother- a relationship that inspired a movie named The Real MVP: The Wanda Pratt Story. Additionally, Kevin has a sister- Brianna-and two brothers- Tony and Rayvonne.
For a brief period, Kevin Durant was engaged to Monica Wright before splitting up in 2014. Moreover. there have been a few rumors about people who have been Durant's girlfriends.
Kevin Durant's net worth
Prior to the start of the 2010–11 season, Durant had announced that he had signed a five-year contract extension with the Thunder. Further, the extension was worth $86 million. After he had moved to the Warriors, Durant had officially signed with Golden State on a two-year, $54.3 million contract. Moreover, when Durant left the Warriors, he signed a four-year deal with the Brooklyn Nets worth up to $164 million. Also, his popularity gives him a good amount of off-court earnings. Overall, Forbes has estimated Kevin Durant's net worth as around $65.4 million.
Kevin Durant's endorsements
According to Forbes, his salary and winnings give him earnings of around $30 million. Additionally, he earns around $35 million from his endorsements itself. Also, he has a major shoe deal with Nike. Further, he also endorses other major brands like Google and Alaska air group.
Kevin Durant foundation and charity
In 2013, Durant started a charity foundation with the name Kevin Durant Charity Foundation (KDCF). Its mission is stated on the official website. "To enrich the lives of at-risk youth from low-income backgrounds through educational, athletic, and social programs."
Durant has been involved in other philanthropic activities. Likewise, he is the spokesperson for the Washington D. C. branch of a nationwide non-profit after-school music program- P'Tones Records. Moreover, he had announced a donation of $1 million for the 2013 Moore tornado.
How can you contact Kevin Durant?
Durant is fairly active on social media. As a result, you can find his accounts on Twitter, Instagram and Facebook.
Kevin Durant's Instagram: https://www.instagram.com/easymoneysniper/?hl=en
Kevin Durant's Twitter: https://twitter.com/kdtrey5?lang=en
Kevin Durant's Facebook: https://www.facebook.com/KevinDurant/
| | |
| --- | --- |
| Age | 31 |
| Marital Status | Unmarried |
| Nationality | American |
| Current team | Brooklyn Nets |
| Shoes | Nike |
| Height | 6′ 10″ (2.08 m) |
| Weight | 104 kg |
| Wingspan | 2.25 m |
| Endorsements | Google, Alaska Air Group, Nike |