Khamzat Chimaev
Khamzat Chimaev 2023: Record, Net Worth, Salary, and Endorsements
Khamzat Chimaev is a rising UFC star. 'Borz' made his presence felt in the UFC's welterweight and middleweight division ever since his UFC debut in July 2020 at Fight Island. The Russian-born 29-year-old fighter currently finds himself at #4 in the UFC's welterweight rankings.
Khamzat Chimaev Career Highlights
'Borz' made his smacking Octagon debut against John Phillips at UFC Fight Island 1. Khamzat Chimaev's UFC career started with a second-round win that saw him grab the Performance of the Night bonus.
Afterward, he took a fight on short notice and became a viral sensation and one of the best talents to come out from the initial Fight Island cards. Khamzat Chimaev's weight class was the talk of the town during his Fight Island stint.
Subsequently, the Russian-born MMA star set a record for one of the fastest turnarounds and fought three times in a span of fewer than 70 days. He defeated Rhys McKee and Gerald Meerschaert in his next two Octagon appearances.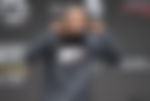 The viral sensation became a threat in both the welterweight and middleweight divisions after his spectacular performances. The UFC and Dana White were so high about him that they booked him against welterweight contender Leon Edwards. However, as Chimaev faced some medical issues, he did not compete for around a year.
After a long layoff, Chimaev returned to the octagon against the #11 ranked UFC welterweight contender Li Jingliang. Khamzat Chimaev vs Li Jingliang took place on October 30, 2021, at UFC 267. 'Borz' put on a definitive performance and stamped his return with yet another first-round finish.
Khamzat Chimaev's next fight was against Gilbert Burns. Chimaev secured a decision victory to establish his dominance against an elite opponent. Next, he was going to face Nate Diaz at UFC 279. However, due to a controversial weight miss, Chimaev ended up facing Kevin Holland. The undefeated fighter defeated Holland via a first round submission. Later, 'Borz' move to the middleweight division was announced.
What are Khamzat Chimaev's history and background?
The young, vibrant fighter with his wrestling roots uses a grappling-heavy game plan. His double legs have been a treat for the wrestling observers. In addition, the evolved handcuff grips, smooth back takes and heavy pressure from the top make the fighter a relentless force in the UFC.
Furthermore, 'Borz', who trains with a phenomenal striker in UFC light heavyweight Alexander Gustafsson, has fast hands and devastating power.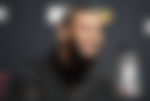 To go with his sound grappling technique and decent hands, he uses forward pressure and ground and pound to take out his opponents. Though 'Borz' has never gone to the judges' scorecard, his training regime has become a legendary tale.
From displaying grappling clinics to securing one-punch KO (Khamzat Chimaev vs Gerald Meerschaert), that too in two weight divisions that are 15 lbs apart from each other, 'Borz' is on his way to becoming the next big thing in the UFC.
Khamzat Chimaev's record in his MMA career is 10-0-0. 'Borz' holds the record for the quickest three-fight win streak in modern UFC history. In each of these three fights, he walked away with the 'Performance of the Night' bonus.
'Borz' won the UFC debut of the year award for the year 2020. Also, in his return fight, he put on a show and received his fourth consecutive 'Performance of the Night' bonus. Thus, Khamzat Chimaev's UFC record stands at 4-0.
His accomplishments are not limited to UFC. A grappling match (Khamzat Chimaev vs Jack Hermansson)?took place at Bulldog Fight Night 9. 'Borz' is a?blue belt in Brazilian Jiu-Jitsu, and he also claimed the 2018?Prospect of the Year at the Nordic MMA awards.
What is Khamzat Chimaev Net Worth in 2023?
Chimaev has earned over $$1,279,000 in his UFC career, according to MMA Salaries. He won a whopping amount of $$1,006,000 for his quick win at UFC 279 over Kevin Holland.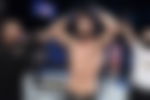 There is no exact figure for Khamzat Chimaev's net worth.
Khamzat Chimaev: Personal Life
Khamzat Chimaev was born in Chechnya. Later, he and his brother moved to Sweden with their mother in 2013. There is no info about Khamzat Chimaev's wife.
More about Khamzat Chimaev:
How tall is Khamzat Chimaev? Khamzat Chimaev's height is 6 feet 2 inches.


Khamzat Chimaev Khabib Nurmagomedov, both are from Russia.


In a video, Khamzat Chimaev with no beard image made some noise on the internet. Also, another picture of Khamzat Chimaev's young appearance, from the same video, garnered attention from MMA fans.


Khamzat Chimaev's lip has a scar mark; it is from an injury he suffered very early in his life.


During his UFC debut, Khamzat Chimaev's age was 26.


A Khamzat Chimaev fight with Khabib Nurmagomedov is a dream for many MMA fans.



Kevin Holland vs Khamzat Chimaev at UFC 279 was

Khamzat Chimaev's last fight.


A Khamzat Chimaev vs Colby Covington match will be huge in the future.


Khamzat Chimaev's COVID-19 issues were very serious as he contemplated retirement.



The Khamzat Chimaev vs Jack Hermansson grappling bout stream is available on YouTube.




Khamzat Chimaev vs Li Jingliang: full fight lasted less than 200 seconds.



Khamzat Chimaev Jack Hermansson results: the grappling match went to a decision.


For grappling fans, Khamzat Chimaev vs Belal Muhammad could be a fun fight.


Another bout on the horizon would be Leon Edwards vs Khamzat Chimaev.


Khamzat Chimaev: Endorsements 2023
Khamzat Chimaev has built a massive following with just four fights in the UFC. The 27-year-old has a bright future in the UFC and some brand that is associated with him are Energy Drink, Hatstore.
Khamzat Chimaev: Foundation and Charity
Khamzat Chimaev with his friend Darren Till helped a soup kitchen in Stockholm in order to feed the homeless.
How to contact Khamzat Chimaev?
Net Worth

NA

Endorsements/Sponsors

Hatstore

,

Energy Dragon Drink

Marital Status

Unmarried

Partner Name

NA

Parents/ Father-Mother

NA

Birth Place

Chechnya

Hometown

Benoy-Yurt, Czechia

Zodiac Sign

Taurus

Gender

Male

Famous For

Fighting in UFC

Religion

Islam

Profession

Professional MMA fighter