Lamar Jackson

Lamar Jackson: Net Worth, salary, & endorsements
Lamar Jackson can lay a claim to being one of the best quarterbacks in the NFL. This is because, in addition to his throwing, he offers a unique threat with his speed as a rusher. However, his rushing game isn't just a backup tool, it serves as an equally prominent weapon. The quarterback has said that he has completed the 40-yard dash in 4.34 seconds.
During his time with the Louisville Cardinals, Lamar Jackson earned plaudits for his rushing and claimed the 2016 Heisman Trophy. As a result, NFL sides began viewing that as his more prominent skill. Hence, he opted out of the dash drills at the 2018 NFL combine as he wished to play football as a quarterback.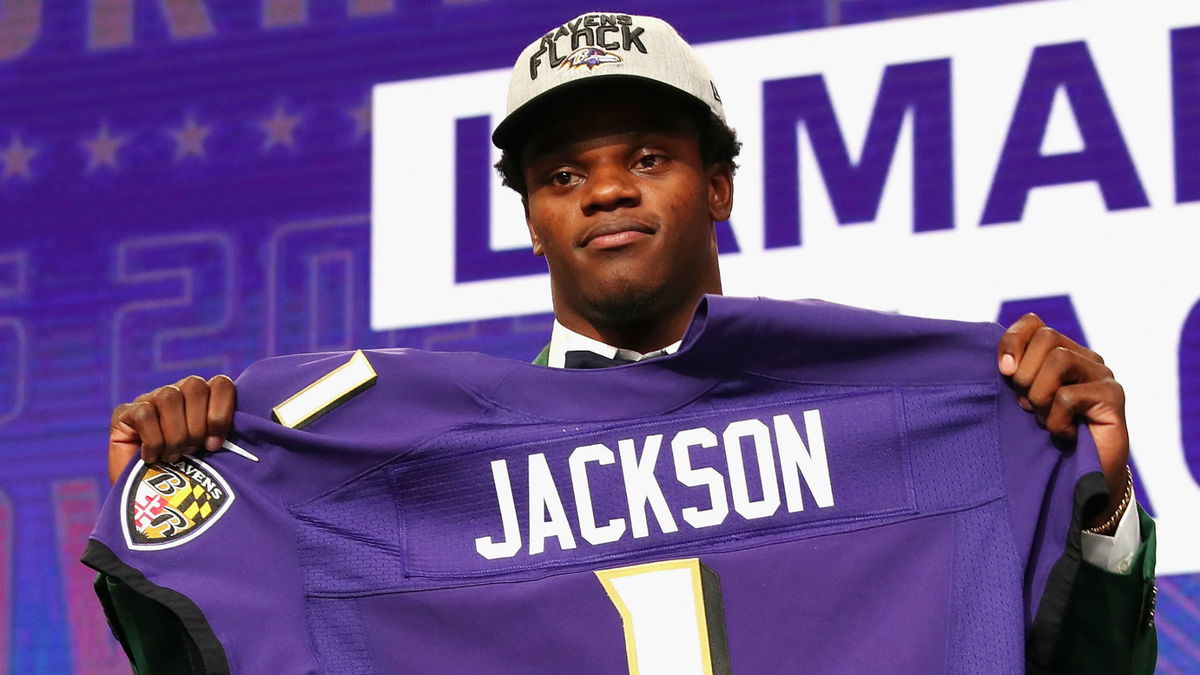 He stood resolute and became the 32nd overall pick in the 2018 NFL draft. The Baltimore Ravens used their second pick in the first round to secure a backup quarterback for Joe Flacco. Lamar Jackson impressed right from the get-go and made the most of his limited starts during his rookie season. So much so that he secured only the second unanimous NFL MVP vote in history.
As a result, the Baltimore Ravens installed their No.8 as the first-choice quarterback for the 2019 NFL Season.  
Lamar Jackson Stats
As the quarterback for the Baltimore Ravens, Jackson has insane stats. As per NFL.com, he featured in 31 regular-season games. In his 2 seasons in the NFL, Jackson has a 63.7 completion percentage with 364 passes completed out of 571 attempts. Furthermore, he has passed for 4,328 yards and has 42 touchdowns of which 36 came in his sophomore season en route the NFL MVP award.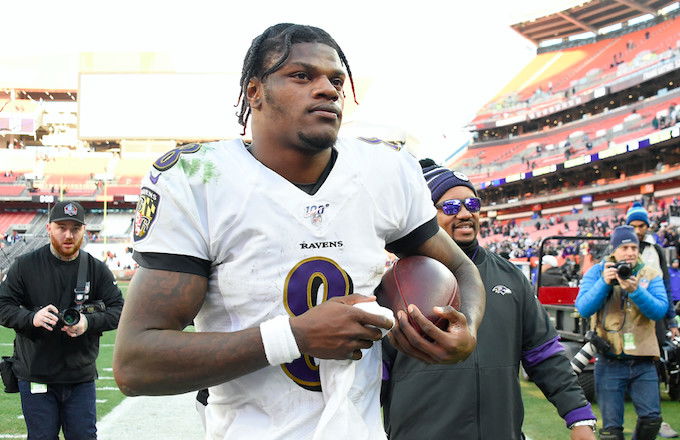 As a rusher in the regular season, Lamar Jackson has advanced 1,901 yards and recorded 12 touchdowns.  
As per Pro-Football-Reference, Jackson has completed 45 passes and attempted 85 for a 51.1% completion in 2 playoff games. Furthermore, the Baltimore Ravens quarterback has thrown just 3 touchdown passes and rushed for 197 yards. 
 In addition, the Ravens' No.8 star is a one-time Pro-Bowler (2019). In the same season, he even featured as part of the First-Team All-Pro.
Lamar Jackson Networth
The Baltimore Ravens quarterback is currently on his rookie deal. As per Spotrac, he signed a 4-year contract worth $9.7 million and will earn a guaranteed $1.3 million throughout the 2020 NFL season. As per Celebrity Net Worth, Lamar Jackson has a total net worth of $4 million.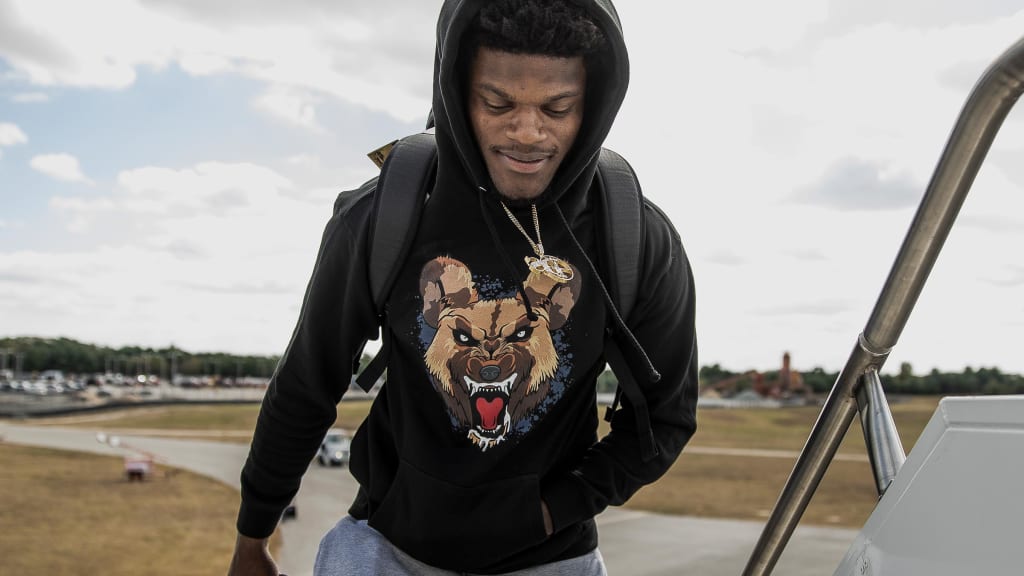 The No. 8 has not teamed up with major clothing brands. Instead, he has opted to launch his line called Era 8 Apparel. This is synonymous with his jersey number, which he has had right from his freshman season with the Cardinals.
The closest Lamar Jackson has come to advertising is when his plays got featured in the Pizza Hut 'Hut of the Week' segments. 
Lamar Jackson MVP and Madden
In his sophomore season, the Baltimore Ravens star set the record for the most rushing yards by a quarterback with 1,206. Furthermore, he managed to tie Ben Roethlisberger for the most perfect passer ratings in a single season.
Jackson also set a record for most 100-yard rushing games in a season. He overtook the previous record set by Michael Vick (3) and ended the season with an astonishing 5 games of 100-yard rushes.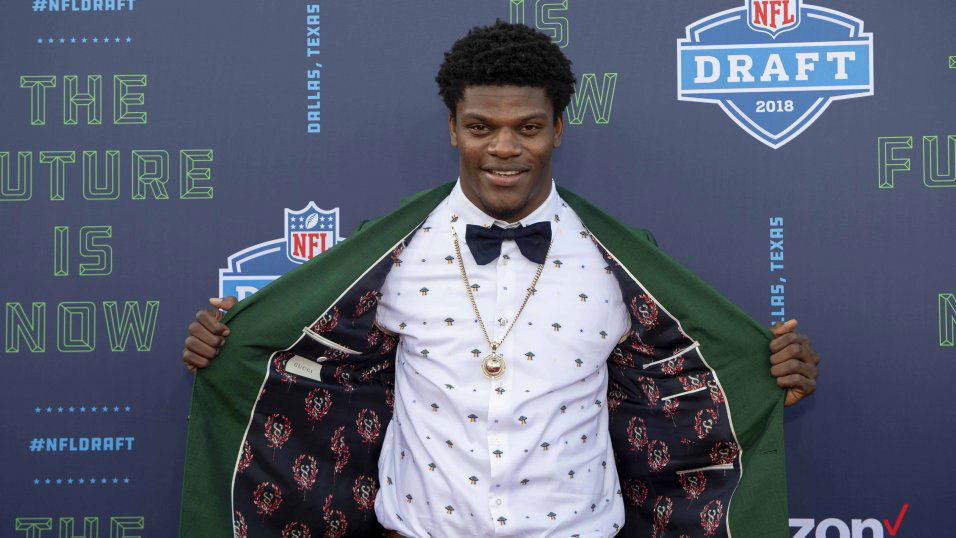 Lamar Jackson led the league in passing touchdowns with 36, achieving this feat despite featuring in only 15/16 games for the 2019 NFL regular season. 
On the back of his record-setting season, where he became only the second NFL player to claim the regular season unanimously, Lamar Jackson was chosen to feature on the cover of Madden 21'
Lamar Jackson Foundation and Charity
The Baltimore Ravens quarterback does not have any charities of his own. However, he is active in philanthropic circles. In 2018, Jackson helped autograph signings in Louisville, which received charitable donations of $29,000. Out of this, $25,000 were given to Blessings in a Backpacks and the remaining went to Mission for Hope. 
How to Contact Lamar Jackson
Instagram- new_era8
Twitter- @Lj_era8
| | |
| --- | --- |
| Age | 23 |
| Height | 6'2" |
| Weight | 212 lbs |
| GF/Wife | Single |
| Kids | 0 |
| Salary | $ 9.7 million |
| Endorsements | Era 8 Apparel |