Lando Norris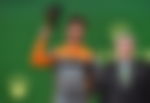 Lando Norris 2022: Net Worth, Salary, and Endorsements
British driver Lando Norris made his Formula One debut with McLaren during the 2019 season. He was initially interested in pursuing a motorcycle racing career. However, that changed when he attended his first kart race.
He made his racing debut in 2014 at the Ginetta Junior Championship, finishing 3rd. A year later, he won the MSA Formula Championship while racing for Carlin. In 2016, he even won the Formula Renault 2.0 and the Toyota Racing Series.
Finally, in 2017, he won the FIA Formula 3 Championship and placed 2nd at the Macau GP. But in 2018, he could only muster 2nd in the FIA Formula 2 Championship, losing out to George Russell.
In Formula One, he has been fairly successful, he has finished on the podium 6 times in his career; 3 of them coming in the 2021 season.
Lando Norris: Stats and On-track Achievements
During the 2017 Formula 3 season, he won the very first race of the season. He followed it up with a podium in Round 3, both races at Silverstone. Since then, Lando Norris went on a 5-race podium streak, including a win. But it was halted at Race 3 of the Pau Grand Prix. Unfazed, he scored six podiums and seven wins to seal the Championship.
During the 2018 Formula 2 season, he claimed a season-opening victory, this time at Bahrain. However, it would be the only win he took all season. But he managed to follow it up with eight podiums to finish 2nd in the Championship.
The 2019 Formula One season was his first-ever season among the elite. He was partnered by Spanish driver Carlos Sainz Jr at McLaren. The 2021 F1 season has been the most successful season for Norris, having garnered a total of 4 podiums, almost secured his first-ever top 5 finish in the drivers' standings. He has also defeated Sainz's successor, Daniel Ricciardo quite effectively, despite the latter's abundant experience in F1.
As of the 2022 Imola GP, Norris has a total of 64 race starts and has secured 341 points. The Briton also holds 6 podiums along with 3 fastest laps.
Scariest moments of Lando Norris' career
The Briton suffered what is arguably the worst crash of his career during the 2021 Belgian GP qualifying. The crash took place around the nerve-wracking Eau Rouge-Raidillon turn under appalling weather conditions. The very same year, Norris ended up being a victim of a robbery while heading out of the Wembley Stadium after the Euro 2020 finals between England and Italy.
Norris lost his $75,000 worth of Richard Mille prototype watch in the robbery.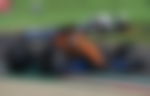 Lando Norris: Net Worth
In 2019, Lando Norris' salary was estimated to be around $2 million according to reports. However, in 2021, Norris' on-track salary witnessed a substantial jump and is reportedly raced up to a whopping $9 million, which was only $1 million lesser than the salary of his teammate, Daniel Ricciardo.
In February 2022, Norris extended his partnership with McLaren until the end of 2025. This particular contract will be worth $80M and hence, Norris will embrace yearly earnings of around $20M.
Norris also owns an E-sports team named 'Quadrant'. The Briton has a logo of his own too goes by the alphabets L and N and is usually written as 'L4NDO'. His helmet, too, sports a similar design.
As of 2022, Norris' net worth is likely to be around $25 million.
Lando Norris: Endorsements
The young Briton is sponsored by McLaren, Bell Helmets, wearegrip, ADD Management, and PAP.
To buy Lando Norris merch online including T-shirts and hoodies, click here.
Personal life
Not many know of this, but Lando Norris's father is one of the richest people in the UK. Adam Norris is a multimillionaire who made his fortunes through pension funds. Norris' mother Cisca is Belgian and the 22-year-old holds dual citizenship from Britain and Belgium.
In 2021, Norris officially revealed that he was dating Portuguese model, Luisinha Oliveira. The Briton posted a picture of the two together holidaying on Instagram to which his former teammate, Carlos Sainz commented, "It's official."
Read More: Who is Luisinha Oliveira- Lando Norris? Girlfriend?
Born in the late 90s, one might assume Norris idolizes drivers like Michael Schumacher, Kimi Raikkonen, Fernando Alonso, or Lewis Hamilton. However, truth be told, he idolizes none of the Formula One drivers. Instead, his idol has always been Moto GP legend, Valentino Rossi. The Briton, on several occasions, has made it obvious by sporting bucket caps with the number 46 and 'The Doctor' written all over them.
READ MORE- Who is Adam Norris: Father of McLaren F1 Driver Lando Norris
Lando Norris: Foundations and Charities
Lando Norris put his gaming and sim racing abilities to good use. In April 2020, Norris raised over $10,000 as part of a charity stream for Twitch as an aid for those affected by COVID-19. Norris raised over $12,000 and shaved off his head (a promise he made if he hit $10,000 in donations).
But the 22-year-old didn't stop there. He teamed up with other F1 drivers to organize a charity stream in the fight against Coronavirus. Titled - Race For the World, Norris and 5 other F1 drivers raised over $70,000 in donations.
How to contact Lando Norris
Those interested can contact Norris through his official website at https://landonorris.com/contact
Fans can also reach out to Norris through his various social media handles:
Instagram:?https://www.instagram.com/landonorris/
Twitter:?https://twitter.com/landonorris
YouTube: https://www.youtube.com/channel/UCwFIQ7wtJzYGFb2nZcVoNww
| | |
| --- | --- |
| Age | 22 |
| Marital Status | ?Unmarried (In a relationship with Luisinha Oliveira) |
| Residence | ?Bristol |
| Nationality | ?British-Belgian |
| Team | ?McLaren |
| Endorsements | ?McLaren, Bell Helmets, wearegrip, ADD Management,? ?and PAP. |
| Championships | ?0 |
| Annual Salary | ?$20 million |
| Net Worth | ?$25 million |
| Birthday | ?13 November |
| Height | ?1.70m |
| Ethnicity | ?White |
| Championships | ?0 |
| Kids | ?0 |