Lawrence Stroll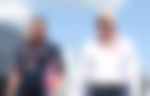 Lawrence Stroll: 2021 Net Worth, Salary, and Endorsements
Lawrence Stroll is one of the most globally renowned entrepreneurs. He owns a stake in the Aston Martin F1 Team and also claims rights over the Circuit Mont Tremblant.
He owns assets and properties around the world and has a knack for collecting vintage Ferrari cars.
Lawrence Stroll: Career and Stats
The Canadian Fashion investor introduced Ralph Lauren and Pierre Cardin to his native land.
He further invested with his partner from Hong Kong, Silas Chou, in other apparel fashion brands like Tommy Hilfiger and Michael Kors. Following that, Stroll and Chou invested in various other brands and gave them global recognition. In 2000, the business partners further bankrolled for Asprey & Garrard.
The Canadian entrepreneur also possesses the Circuit Mont-Tremblant, a Canadian race car circuit in Laurentian Mountains, Quebec.
Lawrence Stroll bought a stake in the Force India F1 team along with a group of other investors.
Then, the team re-launched with the official recognition of Racing Point Force India in the 2018 season of F1.
In 2019, the team entered with another new name again, the Racing Point F1 team. Lawrence's son Lance Stroll battled and ranked seventh in the Constructors' Championship again, racing for the team.
Amidst the pandemic, the team announced the changes they will bring in from the following season. Now, for the 2021 season, has taken on a new identity, Aston Martin F1.
He is regarded as the greatest of many entrepreneurs. He built his fortune with his struggle.
Lawrence Stroll: 2021 Net Worth
The Canadian ranks 804 on the Forbes list of the world's wealthiest people. According to Forbes, Lawrence Sheldon Strulovitch has a net worth of $2.6 billion.
In 2020, Stroll along with the group of association subsequently staked 182 million Pounds into Aston Martin for a return of 16.7% back to their own enterprise.
Lawrence Stroll: Personal Life
Born on July 11, 1959, the Canadian grew up in Montreal, Quebec. He was born to Leo Strulovitch in a Jewish family.
He tied the knots with Claire-Anne Stroll, a fashion entrepreneur as well. The couple has two kids, a son -Lance Stroll, and a daughter - Chloe Stroll.
The 61-year-old has two residences, one in Geneva, Switzerland, and also on the island of Mustique, Saint Vincent, and the Grenadines.
Lawrence Stroll: Charity and Foundations
The Canadian boasts no record of his philanthropy and social works on any online platform. Nevertheless, it can be assumed that a man of such virtue believes in anonymous philanthropy.
However, he has kept his charity from being published by the media.
How to contact Lawrence Stroll?
Stroll is not on any social media platform. He has no profile on any social media handles.
| | |
| --- | --- |
| AGE | 61 |
| DATE OF BIRTH | July 11, 1959 |
| NATIONALITY | Canadian |
| ETHNICITY | White |
| RESIDENCE | Geneva, Switzerland and Mustique, Saint Vincent and the Grenadines |
| MARITAL STATUS | Married |
| SPOUSE | Claire-Anne Callens Stroll |
| KIDS | 2- Lance Stroll, Chloe Stroll |