Luka Doncic
Luka Doncic?s Net Worth 2023, Family, House, Cars, and More
Luka Doncic?s Net Worth 2023 (Update)
Luka Doncic signed a five-year $215 million contract extension with the Dallas Mavericks in 2021, which earned him over $37 million for the 2022-23 season. The massive contract will fetch him over $40 million for the next season and he will receive an average salary of $43 million. So far, Doncic has reportedly made over $69 million in NBA salaries. Luka has an estimated net worth of $25 million, according to various reports. Furthermore, the combo guard also makes millions every year from his endorsements and partnerships.
Luka Doncic?s early life?
Luka Doncic was born and brought up in Ljubljana, Slovenia. Interestingly, Luka first touched a basketball when he was just seven months old since his father was a professional player turned coach. The Slovenian's love for the game increased as he grew older and he continued to improve at a rapid pace as well. Doncic started playing for his hometown club Union Olimpija and often practiced with kids much older than him because of his advanced skill set. When he was 13, Luka took a huge step in his life and career, when he moved to Madrid, Spain to play for Real Madrid. He graduated high school in Spain and did not go to college.
Luka Doncic?s family and personal life
Luka Doncic was born on February 28, 1999 to Mirjam Poterbin and Sa?a Don?i?. His parents separated and subsequently divorced in 2018, when the Dallas Mavericks star was nine years old. The custody and legal guardianship of Luka was reportedly granted to his mother. Mirjam was a model who even participated in the Miss Slovenia pageant in 1993. After her modeling career, she ran a beauty salon with her mother. Sa?a Don?i? played basketball for 17 years and has multiple accolades to his name. He has also played for the Slovenian national team. After retiring in 2010, Sa?a began his coaching career which lasted till 2022.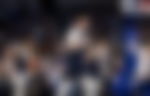 Luka has been in a long-term relationship with the Slovenian model Anamaria Goltes, according to multiple reports. Goltes is also from Ljubljana, Slovenia, and went to the same school as Luka when she was young. However, the couple first met in Croatia during a vacation when they were just 12. Goltes is a model who has a massive following on social media. In 2016, Anamaria moved to the U.S. to pursue her modeling career. The year also marked the start of a romantic relationship between the two childhood friends. The couple reportedly hit a rough patch in 2018 but are still going strong.
Luka Doncic?s basketball career
Luka Doncic grabbed the attention of major teams in Europe after impressing with his displays for local club Union Olimpija. In 2012, Real Madrid came calling and signed Luka for a five-year contract when he was just 13. The young star continued his development while playing for the under-16s and led the team to a Minicopa Endesa win in 2013. For his unreal performances, Doncic was named the MVP of the under-16 championship. He carried on his impressive development with the under-18s in the next few seasons.
During the 2014-15 season, Doncic made his professional debut for Real Madrid at the age of just 16. In the next season, he became a regular for the senior team. The years that followed saw the dominance of Doncic grow in the Spanish league. In the 2017-18 season, he led Real Madrid to a EuroLeague triumph and was named the EuroLeague MVP for his displays. He also helped the team clinch the Liga ACB title and took home the Liga ACB MVP honors as well.
Doncic then declared for the 2018 NBA draft. The Atlanta Hawks selected him as the 3rd overall pick and then traded him on the same day for Trae Young who was drafted as the 5th pick by the Dallas Mavericks. Doncic hit the ground running for the Mavs and won the Rookie of the Year award, averaging 21.2 points, 7.8 rebounds, and 6 assists per game. He astonished everyone with his maturity on the hardwood and the ability to control the pace of the game despite being very young. Doncic made his first-ever NBA All-Star appearance in his sophomore year. He has made the team for four straight years ever since.
Last year, Doncic led the Mavs to the Western Conference Finals for the first time since the 2010-11 season. However, he could not help the team past the eventual champions the Golden State Warriors. Given the teams' heroics in the playoffs last season, there were huge expectations from Luka and the Mavericks for the 2022-23 season. Doncic started the season great and was in the MVP race for most of the campaign. However, the team struggled massively in the concluding stages of the season and failed to make it to the playoffs eventually.
Luka Doncic?s career stats
Liga ACB stats:
Games played - 94
Points per game - 8.1
Rebounds per game - 4.1
Assists per game - 3.2
EuroLeague stats:
Games played - 80
Points per game - 10.6
Rebounds per game - 4.3
Assists per game - 3.9
NBA regular season stats:
Games played - 330
Points per game - 27.6
Rebounds per game - 8.6
Assists per game - 8
NBA playoffs stats:
Games played? - 28
Points per game - 32.5
Rebounds per game - 9.3
Assists per game - 7.9
Luka Doncic?s endorsements and investments
During his time with Real Madrid in 2017, Luka Doncic signed a two-year contract with Nike. Then in 2019, Doncic signed a deal with the Jordan brand after entering the NBA. In September 2022, the Jordan brand launched Doncic's first signature shoe, the Luka 1. Some of his other important endorsement deals are with NBA2K, BioSteel, and Panini. He reportedly earns around $6 to $10 million per year from endorsements.
Luka Doncic?s major achievements and awards
4 x NBA All-Star (2020-2023)




4 x All-NBA First Team (2020-2023)




NBA Rookie of the Year (2019)




NBA All-Rookie First Team (2019)




EuroLeague champion (2018)




EuroLeague MVP (2018)




All-EuroLeague First Team (2018)



3נLiga ACB?champion (2015,?2016,?2018)


Liga ACB MVP?(2018)


FIBA Intercontinental Cup?champion (2015)


EuroLeague Final Four MVP?(2018)


All-EuroLeague First Team?(2018)
Luka Doncic?s charity and foundation
Luka Doncic founded the Luka Doncic Foundation to help children in need. The foundation aims to improve the health and well-being of children through play. It reportedly provides play therapy, play access, play environments, and play challenges to kids. So far, Luka has helped many children in need with his foundation. In December 2022, Doncic accomplished extraordinary philanthropic and outreach work which earned him a nomination for the NBA Cares Community Assist Award. Recently, he made the day of a young fan by offering him a trip to watch his favorite stars play in the NBA All-Star game. Over the years, he has also made contributions to other organizations such as The Dallas Mavericks Foundation and The Dirk Nowitzki Foundation.
Luka Doncic?s cryptic tattoos
Luka Doncic has several tattoos all over his body. Even though the meaning of some of his tattoos are not clear, it is believed that all of his tattoos have meaning. He has an Eagle tattoo on his left arm and an ?Eye of God? or the ?Eye of Providence? tattoo just below the Eagle. The Eagle symbolizes victory, wisdom, and freedom, among other adjectives like strength. On the other hand, the 'Eye of God' is a representation of his faith and trust in divine judgement. He also dons a Tiger tattoo on the inside of his left forearm. On his left wrist, Luka has a motivational Latin phrase ?Non-desistas/non-exieris?, meaning ?Never give up/never surrender?. Doncic has a EuroBasket trophy with the 'XVII IX MMXVII', representing his EuroBasket win on 27/09/2017. Interestingly, he has inked a pirate-themed tattoo on his back as well.
Luka Doncic?s house and cars
Luka Doncic reportedly purchased a $2.7 million mansion in Preston Hollow, Dallas in 2020. The estate spans over 5,225-square-foot with four bedrooms and five bathrooms. The property also has a four-car garage, a garden with a swimming pool and other luxury amenities.
Doncic is a huge car enthusiast as well and has some expensive cars in his collection. According to reports, he has an Audi A7 ($69,200), a Porsche Panamera ($109,000), a Porsche 911 Turbo S ($216,100), and the Mansory Lamborghini Urus ($221,506). Furthermore, he recently added a custom-made post-apocalyptic themed six-wheel truck named "Hellfire Apocalypse Truck?. Doncic reportedly spent over $250k for the purchase of the vehicle.
Luka Doncic?s social media accounts
| | |
| --- | --- |
| Full Name | Luka Doncic |
| Popular Name | Luka Doncic |
| Birth Date | 28 February, 1999 |
| Birth Place | Ljubljana, Slovenia |
| Age | 24 |
| Height | 6?7? (2.01 m) |
| Weight | 230 lbs (104 kg) |
| Parents | Sasa Doncic and Mirjam Poterbin |
| Nationality | Slovenian |
| Ethnicity | White |
| Net Worth | $25 million |
| Salary | $37 million |
| Spouse | Anamaria Goltes |
| Relationship/Marital Status | In a relationship |
| Profession | Basketball player |
| Team | Dallas Mavericks |