Luka Garza
Luka Garza 2021: Career Stats and Scouting Report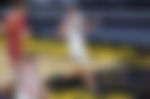 Luka Garza is the best college player in the country currently. He is the favorite to win Naismith Player of the Year, after narrowly missing out last season. He withdrew from the 2020 NBA Draft to help the Iowa Hawkeyes win their first-ever NCAA title.
Garza's rise began in his junior year when he took over the reins from Tyler Cook. He won Big 10 Player of the Year last season after a dominant performance. The Hawkeyes are currently ranked third in the AP Poll because of Garza.
Luka Garza stats
Garza's dominance began in high school. He averaged 24.6 points, 11.7 rebounds, and 2.5 blocks per game in his senior year at Maret. But he was still ranked as a 4-star prospect and 100th in the country.
He had a relatively slow start to his college career. In his first two seasons, he averaged 12.6 points and 5.5 rebounds and was a solid squad player. From his junior year, he ran the show, averaging 23.9 points and 9.8 rebounds per game last year.
This season he has had a brilliant start and is currently averaging 25.5 points and 8.4 rebounds. His three-point shooting has also been phenomenal, and he is currently shooting 45% from deep.
Luka Garza scouting report
Luka Garza is proving himself to be one of the most dominant college players in recent years. He seems like a man among boys, as he out-muscles his opposition every night. He is an offensive juggernaut. Standing at 6'11, Garza is taller than most of his competition and uses that mismatch to his advantage perfectly.
His post moves have been unbeatable so far, and that is why he boasts a 69% field goal percentage. Opposition teams have been unable to find an answer to stop him in the post. His offensive rebounding is also key to his dominance in the paint.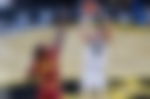 Garza was a decent shooter till last season, but this season, he has been taken it up a notch. He is currently shooting 68% from three while taking 3.2 attempts per game. So by expanding his range, he is a complete package on the offense.
ADVERTISEMENT
Article continues below this ad
Often, while praising his offense, Garza's defense goes under the radar. He has struggled on the perimeter to deal with quicker players, and also while switching on pick and rolls. But he has the potential to be an elite rim protector and is already averaging 2.2 blocks per game. His strength also helps him with box-outs, and he is able to pile on the boards.
How to contact Luka Garza?
Luka Garza on Twitter: @LukaG_55
ADVERTISEMENT
Article continues below this ad
Luka Garza on Instagram: @lgarza_55
| | |
| --- | --- |
| Age | 21 |
| Nationality | United States |
| Birth Date | December 27, 1998 |
| Place of Birth | Washington, DC. |
| Height | 6'11 |
| Weight | 265 pounds |
| Wingspan | 7'1 |
| Position | Power Forward |
| High School | Maret School |
| University | University of Iowa |
| Marital status | Single |