Michael Jordan
Michael Jordan: Bio, Net Worth and Endorsements
Michael Jeffrey Jordan, more commonly known as Michael Jordan, or MJ, is one of the most popular basketball stars in the world. He was born on February 17, 1963. However, today, Michael Jordan is the principal owner of the Charlotte Hornets NBA team. Also, he was an instrumental figure in popularizing the sport in the last decade of the 90s. Moreover, he was part of 2 three-peats with the Bulls on either side of a short-lived Minor League Baseball stint.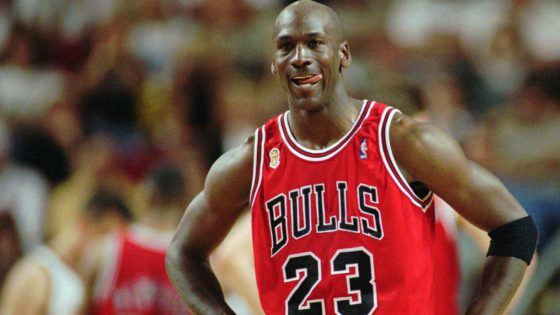 In addition, Jordan played for the Chicago Bulls and the Washington Wizards over 3 spells. Previously, the Bulls drafted Jordan in the 1984 NBA draft. He was the 3rd pick overall. Surprisingly, in his first stint itself, he gained a reputation as one of the best defensive players in the league. Simultaneously, he showcased his incredible leaping abilities and performed slam dunks from near the Free Throw line in Slam Dunk Contests. Also, Jordan was part of the Chicago Bulls side that won 72 regular-season games in the 1995-96 season. Moreover, he usually played at the shooting guard or small forward position with No. 23 jersey, which the Bulls later retired. Consequently, in 2009, 'MJ' was inducted into the Naismith Memorial Basketball Hall of Fame.
Major on-court achievements
6× NBA champion (1991–1993, 1996–1998)
6× NBA Finals MVP (1991–1993, 1996–1998)
5× NBA Most Valuable Player (1988, 1991, 1992, 1996, 1998)
14× NBA All-Star (1985–1993, 1996–1998, 2002, 2003)
3× NBA All-Star Game MVP (1988, 1996, 1998)
10× All-NBA First Team (1987–1993, 1996–1998)
NBA Defensive Player of the Year (1988)
9× NBA All-Defensive First Team (1988–1993, 1996–1998)
10× NBA scoring champion (1987–1993, 1996–1998)
2× USA Basketball Male Athlete of the Year (1983, 1984)
Michael Jordan stats
| | |
| --- | --- |
| Games | 1072 |
| Points | 32,292 (30.1 ppg) |
| Rebounds | 6,672 (6.2 rpg) |
| Assists | 5,633 (5.3 apg) |
(via Basketball reference)
Michael Jordan Net Worth
Likewise, in 2010, Forbes ranked Michael Jordan as the 20th most powerful celebrity in the world. In 2004, MJ became the first NBA player to become a billionaire. This was because he increased his stake in the NBA side Charlotte Hornets by 9.5%. Three years later, he became part-owner of Major League Baseball side Miami Marlins. Moreover, as of April 2020, Forbes estimated his net worth to be around $2.1 billion.
Michael Jordan Endorsements 
Jordan is also among the most efficiently marketed figures in sports. Since 1991, he has appeared in over 20 commercials for Gatorade. Additionally, in 1984, Nike created a signature Michael Jordan shoe called Air Jordan. Moreover, in the past, Jordan has been involved with major brands such as McDonald's, Hanes, Chevrolet, and Ball Parks Francs.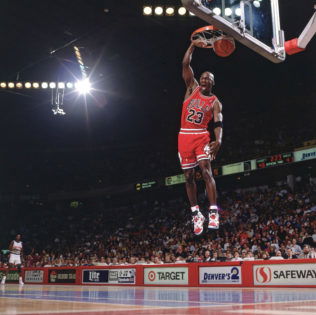 Michael Jordan charity
Additionally, the richest athlete in the world has made notable contributions to charity. Likewise, he had run an annual golf tournament for 14 years that raised money for various charities. Moreover, in 2002, he donated his entire season's salary to the 9/11 charities. When Hurricane Florence hit Carolina in 2018 and Hurricane Dorian damaged the Bahamas in 2019, Jordan announced contributions to each of the relief efforts. In addition, he has been working with the Make-A-Wish foundation for over 30 years, granting hundreds of wishes.
In addition to being the majority owner of Charlotte Hornets, Jordan is also the chairman of their foundation, which is committed to various philanthropic ventures in areas including education, hunger, and military care, among others.
Michael Jordan: The Last Dance
Recently, on April 19, 2020, ESPN aired the first episode of its 10-episode docuseries on Michael Jordan- The Last Dance. Though it mainly concentrated on the 1997/98 season win, the documentary celebrated Jordan and the Bulls' greatness in the 1990s.
Previously, in his film and TV career, Jordan has been a part of Space Jam- a 1996 comedy film. As a result, he got fame and a documentary- Michael Jordan to the max.
How can you contact Michael Jordan?
Unlike many celebrities, Jordan does not have an Instagram or Twitter account. But he has a publicity address for fans- Jump Inc., 676 North Michigan Avenue, Suite 293, Chicago, and another public relations agency address- SFX, 5335 Wisconsin Avenue NW, Suite 850, Washington, D.C., 20015.
| | |
| --- | --- |
| Age | 57 (Born February 17, 1963) |
| Marital Status | Married |
| Spouse | Yvette Prieto |
| Kids | Jasmine, Marcus, Jeffrey, Victoria, Ysabel |
| Rings | 6 |
| Height |  6′ 6″ (1.98 m) |
| Weight |  98 kg |
| Wingspan | 2.1 m |
| Shoe size | 13 |
| Endorsements | Nike, Hanes, McDonald's, Gatorade |