Nikola Jokic
Nikola Jokic?s Net Worth 2023, Wife, Family, Cars and More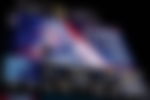 Nikola Jokic?s net worth 2023?
Nikola Jokic reportedly has a net worth of around $30 million. The Serbian signed a massive $272 million contract extension with the Denver Nuggets in 2022. With this improved contract, Jokic will earn around $32 million for the current season. So far, the towering center has amassed over $150 million in NBA salary. He also reportedly earns around $750,000 per year from his endorsement deals.
Nikola Jokic?s early life?
Nikola Jokic was born on February 19, 1995, in Sombor, Serbia. The Joker spent most of his early life in Serbia with his family. He developed a love for the game of basketball from a very young age, playing with his older brothers. After impressing many playing youth basketball, Jokic started playing in the Serbian professional league in 2012. Jokic graduated high school, but he did not attend college.
Nikola Jokic?s family and personal life
Nikola Jokic's father is Branislav Jokic, who is an agricultural engineer. Details about Jokic's mother are not public, so very little is known about her except that Nikola and his two older brothers were raised by their parents and their grandmother in a tiny apartment. The two-time NBA MVP started playing basketball with his brothers, Strahinja and Nemanja, at a very young age. While Strahinja played professional basketball in Europe, Nemanja played college basketball in the US.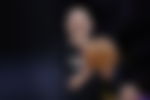 Jokic has been in a long-term relationship with his high school sweetheart, Natalija Ma?e?i?, and the two tied the knot on October 24, 2020, in Sombor. The couple welcomed their daughter Ognjena Jokic in September 2021.
The Jokics are very closely knit and can be seen courtside during most home games. The five-time NBA All-Star is a family man and has multiple practices up his sleeve to drive home the importance of family. Notably, Jokic ties his wedding ring to his sneaker while playing and also has an adorable hand gesture for his daughter who is courtside which relates to one of her favorite songs.
Nikola Jokic?s basketball career
Nikola Jokic initially started playing youth basketball for Vojvodina Srbijagas. With his performances, Jokic turned heads from some of the most popular teams in Serbia. Then in 2012, Mega Vizura came calling and Jokic signed his first pro contract with the team. However, he still mostly played for the junior team throughout the 2012-13 season to hone his skills. In the next season, Jokic received more game time from the senior team and grabbed the opportunity with both hands.
Then in 2014, he declared for the NBA draft. The Denver Nuggets famously selected him as the 41st overall pick in the second round during a commercial break. The 6'11" center then returned to Mega Vizura to continue his development. After another successful year in the Serbian League, Jokic joined the Nuggets to pursue his NBA career in 2015.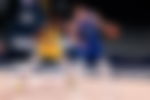 Jokic's versatility was evident right from the start in his rookie season. He averaged 10 points, 7 rebounds and 2.4 assists per game in his first season, playing 80 games and starting 55. The Nuggets' faith in the young star was also clear. Furthermore, his displays earned him a spot on the All-Rookie First Team.
From there, Jokic progressed quickly, making the All-Star team for five straight years. He then became one of the best players in the league and won back-to-back NBA MVP honors in 2021 and 2022. Now, the Joker's eyes are on the Larry O'Brien Trophy.
Nikola Jokic?s stats
Regular season stats:
Games played - 596
Points per game - 20.2
Rebounds per game - 10.5
Assists per game - 6.6
Playoffs stats:
Games played - 63
Points per game - 27.3
Rebounds per game - 11.9
Assists per game - 7.3
Nikola Jokic?s contract details
In 2018, Nikola Jokic signed a five-year contract extension worth $147 million with the Denver Nuggets. He then signed an impressive five-year $272 million contract extension in 2022. The much-improved deal is expected to earn him an average annual salary of $54 million.
Nikola Jokic?s endorsements
Nikola Jokic has secured endorsement deals with major brands such as Nike, Western Union, Somborac and Panini. Even though Jokic has been arguably the best player in the league winning two straight NBA MVP awards, he is yet to have his own signature shoe. The towering center currently dons Nike's feature-rich Air Zoom G.T. Jump for all of his games with different colorways based on the Nuggets' uniform.
Nikola Jokic?s awards and achievements
2x NBA Most Valuable Player (2021, 2022)




5? NBA All-Star (2019?2023)



Western Conference Finals MVP (2023)



3? All-NBA First Team (2019, 2021, 2022)




2x All-NBA Second Team (2020, 2023)




NBA All-Rookie First Team (2016)




Silver at the 2016 Rio de Janeiro Olympics
Nikola Jokic?s charity
Nikola Jokic is generous in giving back to the community. His latest act of philanthropy was reportedly for the LuBird?s Light Foundation. He also made a ?significant donation? to a medical center in his hometown Sombor, Serbia to help fight against the coronavirus.
Nikola Jokic?s car collection
Like a lot of popular athletes, Nikola Jokic also owns an impressive car collection.?The NBA superstar reportedly has luxury cars such as the Lamborghini Aventador S, Porsche-Mansory Panamera 4S, GMC Yukon Denali, Lamborghini Urus and the Mercedes-Benz AMG G 63 Brabus 800 SUV. Furthermore, he has also been seen driving a Lamborghini Huracan.
Nikola Jokic?s house
Nikola Jokic reportedly owns a $2.4 million-worth mansion in Denver, Colorado. The Serbian purchased the property in 2019 after signing his lucrative contract extension in 2018. The Joker has also been building a house in his native Sombor, Serbia.
Nikola Jokic?s details
Full Name

Nikola Joki?

Popular Name

The Joker

Birth Date

19 February 1995

Birthplace

Sombor, Serbia

Age

28 years old

Height

6? 11? (211 cm)

Weight

129 Kg (284 lbs.)

Parents

Branislav

Joki?

Siblings

Strahinja and Nemanja

Joki?

Nationality

Serbian

Ethnicity

Serbian

Net Worth

$30 million

Salary

$32 million

Spouse

Natalija

Joki?

Relationship/Marital Status

Married

Children

Ognjena

Joki?

Profession

Basketball player

Team

Denver Nuggets