Oscar Piastri
Oscar Piastri 2023: Net Worth, Salary, and Endorsements
Oscar Piastri is a driver who?s followed in the footsteps of Lewis Hamilton, Lando Norris, and Kevin Magnussen, making his Formula 1 debut with McLaren. He?s a driver who?s all of 22 years of age. A driver who?s taken less than a season to prove he?s here for good, to prove he?s built to win championships. The undisputed Rookie of the Year in 2023. He?s taken to F1 quicker than you can say ?Oscar Piastri is a future World Champion,? and he?s here to stay.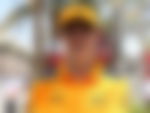 As impressive as his debut season in F1 has been, his path into F1 is just as interesting. Apart from his on-track exploits that ensured his debut got the hype it deserved, what people wanted to see was if he really was worth fighting over. What does that mean? For two years, Piastri was part of Alpine?s Driver Academy. For those two years, Alpine?s driver lineup included Esteban Ocon and Fernando Alonso. While the Enstone team was confident about continuing this pairing into 2023, Alonso announced his shock departure, and that set in motion the Piastri controversy.
Alpine needed a driver for 2023 and, considering the time and investment they put into Piastri, he was right there. Or so Alpine thought. It released a statement (without notifying Piastri) that the young Aussie would be driving for the French team in 2023. A few hours later, Piastri publicly denounced the news, writing, ?I will not be driving for Alpine next year.? So where would he go? McLaren.
A month after this fiasco, McLaren signed Piastri, but it wasn?t without a fight. Alpine wanted financial compensation for everything it invested in Piastri, but ultimately, both teams called a truce. Back to the question: was Oscar Piastri worth fighting for? Considering how well he?s doing, absolutely!
Oscar Piastri?s Net Worth and Salary
Since Piastri joined F1, he?s been making waves. The season didn?t start the way he would?ve wanted it to?with McLaren one of the slowest teams on the grid, grappling for positions at the back of the field. But since the Woking outfit introduced its upgrade overhaul in Silverstone, Piastri has shone like the star he is! In the past few years that he?s made his name in the motorsport industry, Piastri has amassed a net worth of close to an estimated $4 million.
His net worth is largely driven by his McLaren salary, which is reported to be around $2 million a year as per Spanish outlet AS. When McLaren signed him in 2022, Piastri was set to drive for the team until 2024. The Aussie has obviously impressed the team in his rookie season, and he signed a contract extension with the Papaya team until 2026. With how he?s performing, his $2 million-a-year salary is sure to increase in the coming seasons.
Oscar Piastri?s Early Life and Parents
Born Oscar Jack Piastri to Nicole and Chris Piastri in 2001, the 22-year-old hails from Melbourne, Australia. Much like Lewis Hamilton, Piastri fell in love with motorsport through remote-controlled racing when he was 6. He eventually found his way to driving cars from the inside rather than through a remote. In 2011 as a 10-year-old, he began karting. Five years later in 2016, he moved to the UK to pursue his F1 dream. Since then, he hasn?t looked back, and it?s only been milestone after milestone for Piastri.
From competing in national championships for remote-controlled racing to competing in the pinnacle of motorsport, Piastri has always had the support of his parents and three sisters. His first sponsorship came courtesy of HP Tuners, a company his father co-owns. As for his mother, Nicole Piastri has become quite the internet sensation since her son made the step up into F1. Her Twitter (now X) account deserves a glance or two.
Oscar Piastri?s Career and Stats
After shifting to Europe, Piastri made his single-seater debut in 2016 by participating in selected rounds of the Formula 4 UAE Championship. Despite the limited outings, he secured two podiums and finished sixth in the championship. The following year, he became a full-time driver for TRS Arden Junior Racing in the British F4 Championship. After finishing runner-up that year, he made his motorsport breakthrough in 2019.
After an okayish first season in the Formula Renault Eurocup in 2018, Piastri turned heads the following year. Driving for R-ace GP, he took seven wins that season and became champion with a win and P4 in the season finale at Abu Dhabi. With that championship under his belt, Piastri went on a roll. Stepping up to F3 in a pandemic-delayed season, he drove for PREMA Racing. In an intense season with 9 race weekends in 11 weeks, Piastri won 2 races of the 18 in total. With four more podiums to his name, his consistency ensured he clinched the title in the finale.?
2020 was a remarkable year for Piastri. Not only did he win the F3 championship in his debut season, but Alpine (then Renault) also signed him into its Driver Academy. Following his F3 triumph, he participated in his first F1 test. A few months later, he made his F2 debut, sticking with PREMA. With 6 wins in 23 races, the Aussie comfortably won the championship with two races to spare. That?s how good he was. Three consecutive seasons, three consecutive titles. To know that he?s the only driver in history to have achieved that feat?winning the Formula Renault Eurocup, the F3, and the F2 championship in successive seasons.
Read More: The Scintillating Rise of Oscar Piastri that Made F1 Teams Fight For Him
In 2022, F1 unfortunately had no vacancy for him. He worked as Alpine?s test driver, and when McLaren signed him, he became its reserve driver. Following the tug-of-war, he made his debut in 2023. Since then, he?s only been impressing everyone with the raw talent and speed he has. It?s not easy to be a rookie in these times. Even so, Piastri has made it look like a piece of cake. He got his first front-row start and his first top-three finish at the Belgian GP weekend?during the Sprint. Although he came agonizingly close to a podium finish at the British GP, he got his first proper podium with a P3 at the Japanese GP.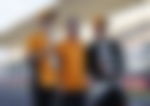 During the next race weekend in Qatar, Piastri got his first pole position and race win?albeit both of them were in the Sprint. He followed that up with a P2 in Sunday?s race. With all that he?s already achieved and the promise he?s shown, McLaren knows they made the right decision fighting for him. Their partnership has been so good that Team Principal Andrea Stella and CEO Zak Brown already believe he has championship-winning potential.
Oscar Piastri?s Honors and Achievements
F2 Championship - 1 (2021)
F3 Championship - 1 (2020)
Formula Renault Eurocup Championship - 1 (2019)
DHL Fastest Lap Awards - 1 (2023 Italian GP)
Autosport Rookie of the Year Award - 2 (2020, 2021)
FIA Rookie of the Year Award - 1 (2021)
Anthoine Hubert Award - 1 (2021)
Is Oscar Piastri Dating?
Oscar Piastri is, in fact, in a relationship. He has been for the past four-and-a-half years. Who?s his girlfriend? Lily Zneimer. Neither Piastri nor Zneimer are too public about their relationship, but they?ve been supporting each other for as long as they?ve been dating. Even though Zneimer isn?t a fan of the spotlight, she has made a few public appearances with Piastri.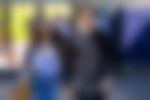 Apart from visiting the paddock a couple of times this season, Piastri and Zneimer attended the 2022 Autosport Awards hand-in-hand. This season, during the summer break, Piastri even posted pictures with her on social media, highlighting their trip to Portugal. They also went to watch tennis matches at Wimbledon this year, and indulged in the age-old tradition of strawberries and cream!
Oscar Piastri's Endorsements
Oscar Piastri is sponsored by his father?s company, HP Tuners. It?s a US-based automotive software development company. He?s a global ambassador of Quad Lock, a Melbourne-based company that focuses on smartphone mounting for active lifestyle activities. The Aussie is?also an ambassador of Dubber, an Australian cloud-based call-recording software company.?
How to contact Oscar Piastri??
Oscar Piastri?s Website,?Instagram, Twitter (now X), and Facebook
| | |
| --- | --- |
| Net Worth | $4 million |
| Date of Birth? ? ? ? ? | April 6, 2001 |
| Place of Birth? | Melbourne, Victoria, Australia? ? ? ? ? ? |
| Parents | Nicole Piastri, Chris Piastri |
| Siblings | 3 sisters |
| Height | 1.78m (5?10??) |
| Nationality | Australian |
| Team | McLaren |
| Salary | $2 Million |
| Podiums | 2 |
| Career Wins | 0 |
| Fastest Laps | 1 |
| First Entry | 2023 Bahrain Grand Prix |