Patrick Mahomes

Patrick Mahomes: Net Worth, Salary, and Endorsements
Kansas City Chiefs Number 15, Patrick Mahomes is one of the most feared young quarterbacks in the NFL. He is the son of former Major League baseball pitcher Pat Mahomes and was born on September 17, 1995. 
In his sophomore year, he decided to focus purely on football as he secured the starting quarterback role for the Red Raiders. He opted out of his senior year and entered the 2017 NFL draft. 
Mahomes became the second quarterback to be picked at the 2017 NFL draft when he went 10th overall to the Kansas City Chiefs. Now, Patrick Mahomes is preparing for his fourth NFL season and will be looking to help the Kansas City Chiefs become the eighth side to win successive Super Bowls. Furthermore, the Chiefs Number 15 will hope to help his side become the first team to defend a Super Bowl since the 2004 New England Patriots. 
Patrick Mahomes Stats
As per NFL.com, the Kansas City Chiefs quarterback has played 31 regular-season games and attempted 1,099 passes. Out of these, Mahomes has completed 724 passes for a 64.93% completion rate. In three seasons with only two as a starter, Mahomes has passed for a stunning 9,412 yards and thrown 76 touchdown passes.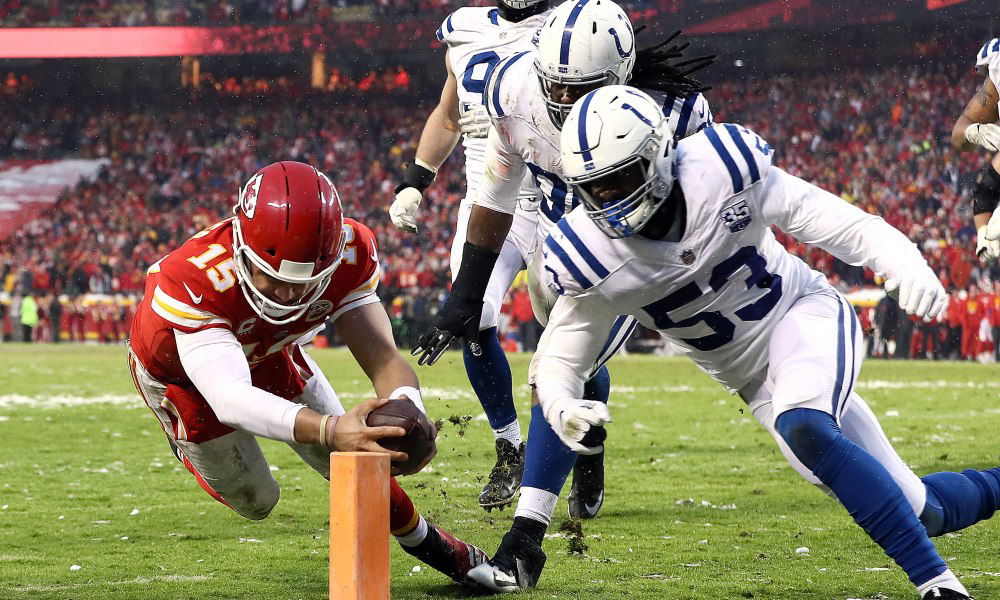 Whilst rushing, Mahomes has made 110 attempts to go forward. The Kansas City Chiefs quarterback has gained 500 yards and registered four rushing touchdowns. 
As per Pro Reference-Football, Patrick Mahomes has played in five post-season games and holds a 62.5% completion rate. The Kansas City Chiefs quarterback has 115 completions from 184 attempts. Furthermore, he has passed for 1,474 yards and recorded 13 touchdowns. Whilst going forwards, Mahomes has gained 154 yards and has notched up three touchdowns.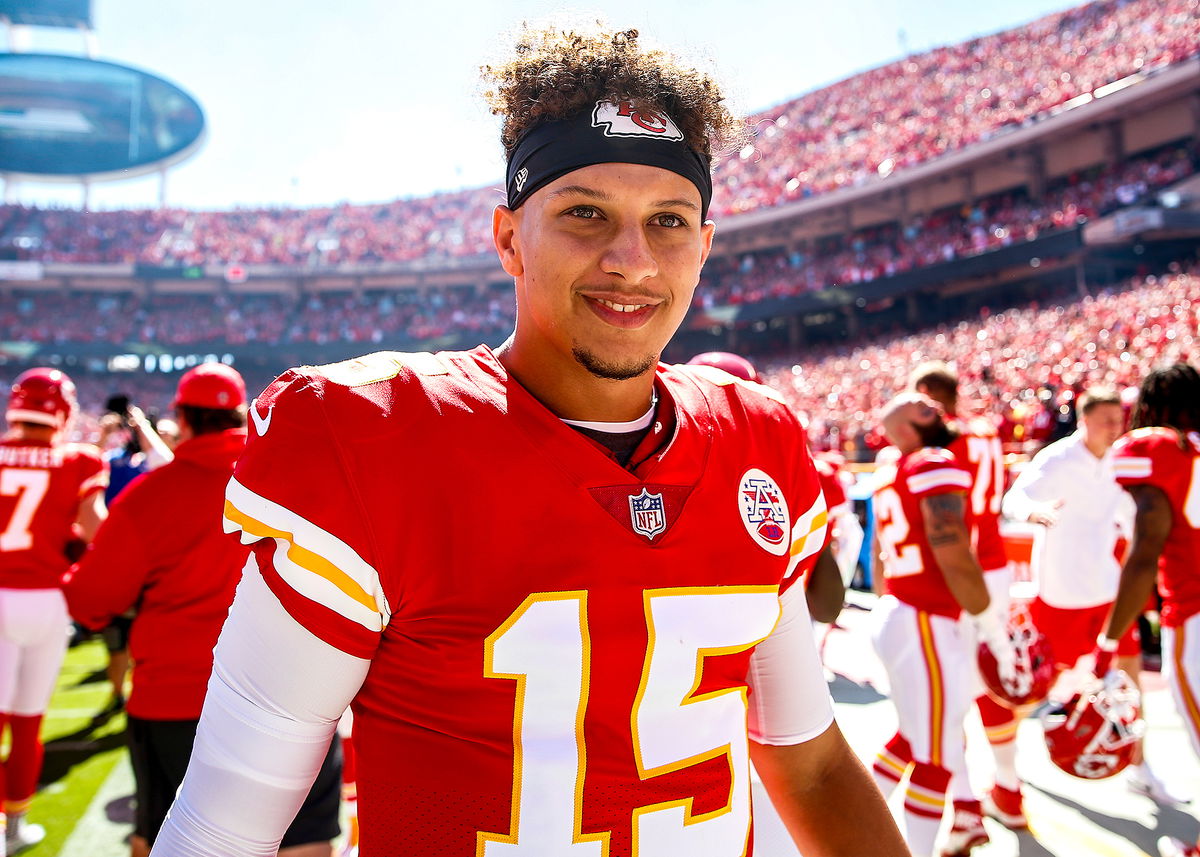 In his relatively short NFL career to date, Mahomes has claimed an impressive list of accolades. He has a Super Bowl with the Kansas City Chiefs at Super Bowl (LIV).
The Kansas City Chiefs quarterback is a 2×Pro Bowler (2018, 2019). In 2018, which was his first season as a starter with 'The Legion of Zoom' he led the NFL in passing touchdowns. In addition to this, he claimed the NFL Offensive Player of the year Award and the NFL MVP. 
Patrick Mahomes Net Worth 
Patrick Mahomes has an estimated net worth of $16.42 million based on his rookie contract as per Spotrac. Following the Super Bowl-winning season, Mahomes inked a 10-year contract worth $450 million.
In addition to this, as per Bloomberg, he has endorsement deals with sports giant Adidas, Oakley, Essentia Water, Hy-Vee, State Farm, and DirectTV. Furthermore, Mahomes is the cover athlete for Madden NFL 20. 
Patrick Mahomes 2020 Super Bowl 
Patrick Mahomes put in a series of clutch performances in the 2019 NFL playoffs to help the Kansas City Chiefs advance to their first Super Bowl appearance in 50 years. At the game in Hard Rock Stadium in Miami, he threw two touchdown passes to help his side claw back and overcome a 10 point deficit and beat the San Francisco 49ers 31-20.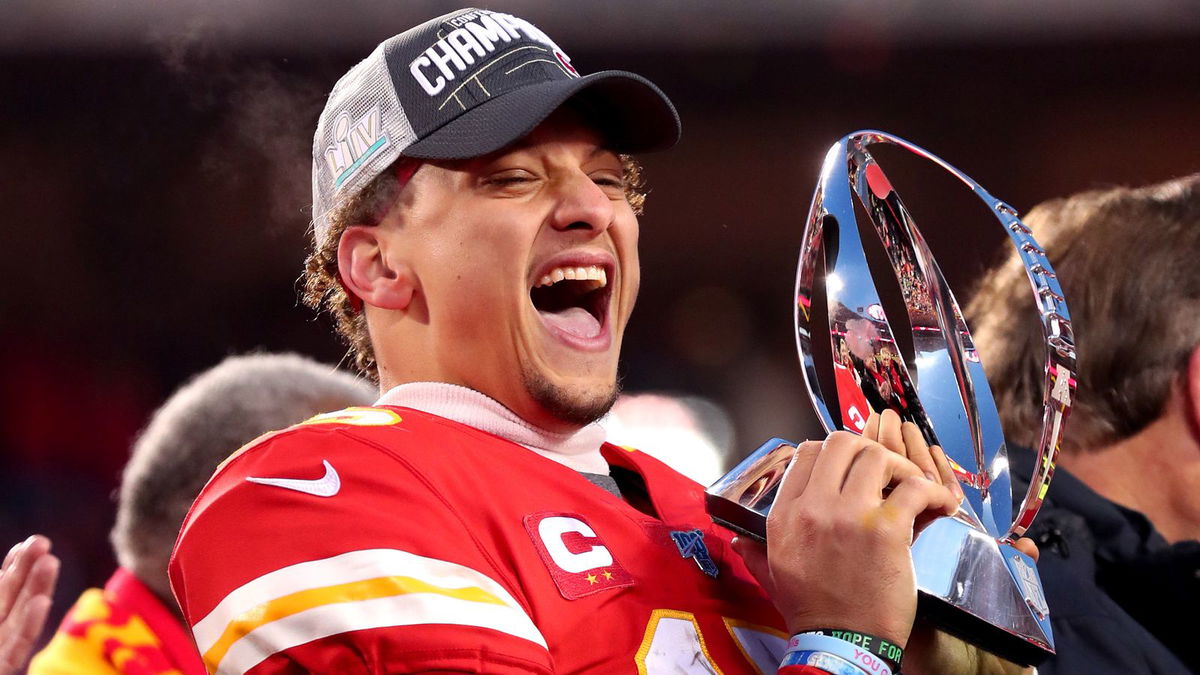 As per stats from Pro Football Reference, the Kansas City Chiefs quarterback passed for 286 yards completing 26/42 passes. Earlier in the game, he even notched up a one-yard rushing touchdown. 
As a result of this seriously impressive performance for the Kansas City Chiefs, Patrick Mahomes claimed the Super Bowl MVP award too. 
Patrick Mahomes Foundations and Charity
In the offseason between his MVP and Super Bowl-winning seasons, the Kansas City Chiefs quarterback dabbled in philanthropic work. He set up the 15 and the Mahomies Foundation to improve the lives of young children. It will pay attention to initiatives that focus on health, wellness, communities in need of resources, and other charitable causes. 
In keeping with his popular Number 15 jersey, Patrick Mahomes labeled his foundation's signature program '15 for 15.' This will see the 15 and the Mahomies Foundation support 15 charitable organizations. Last November, the foundation gave away $15,000 each to 15 charities in Kansas City. 
How to contact Patrick Mahomes
Instagram – @patrickmahomes
Twitter- @PatrickMahomes
| | |
| --- | --- |
| Age | 24 |
| Height | 6' 3" |
| Weight | 230 lbs |
| Girlfriend | Brittany Matthews |
| Kids | 0 |
| Super Bowls | 1 (LIV) |
| Salary  | $ 16.42 million |
| Endorsements | Adidas, Hunt, Oakley, Essentia Water, Hy-Vee, State Farm, DirectTV |