Peyton Manning
Peyton Manning 2022: Net Worth, Salary & Endorsements
Peyton Manning is a former NFL quarterback who featured on the Indianapolis Colts and the Denver Broncos roster. He comes from a family that has been synonymous with success in the NFL, with his father Archie Manning getting drafted with the 2nd draft pick of the 1971 NFL Draft. Furthermore, Peyton Manning?s younger brother Eli Manning became the top draft pick of the 2004 NFL draft.?
In an 18-year-long NFL career, Manning established himself as one of the leading quarterbacks and has featured in conversations for the title of the G.O.A.T.?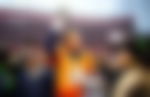 He was destined for greatness following his time with the Tennessee Volunteers and became the top draft pick at the 1998 NFL Draft. With the Indianapolis Colts, Manning received the No. 18 jerseys, and he effectively immortalized it.?
Besides career longevity, the former NFL quarterback?s playing days were devoid of injuries. He featured in every single game for the Indianapolis Colts across 13 consecutive NFL seasons, before a neck injury and subsequent surgery ruled him out of the 2011 NFL campaign.

When Manning departed the Indianapolis Colts, their owner claimed that no player will ever sport his jersey number again. Furthermore, due to Manning?s stature, the Denver Broncos great Frank Tripucka permitted Manning to wear his retired No. 18 jersey. This allowed the former NFL quarterback to continue with the same jersey number for the twilight of his NFL career. What's more, a series of injuries plagued the quarterback in his last NFL season.?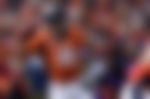 In 2017, the Indianapolis Colts paid tribute to their long-serving quarterback and unveiled a statue of him outside their home stadium. Additionally, the franchise officially retired its iconic No. 18 jerseys. In his speech, as per USA Today, Manning thanked sculptor Ryan Feeney for giving the statue a smaller forehead than what it is like in reality.?
The NFL quarterback has been into the world of entertainment and graced fans? screen as the host of Saturday Night Live in 2007 on his 31st birthday. The gig came a few weeks after his MVP performance at Super Bowl XLI.
Peyton Manning: Stats
As per NFL.com, he featured in 266 regular-season games. Across his 18 seasons in the NFL, he had a 65.3 completion percentage with 6,125 passes completed from 9,380 attempts. Furthermore, he passed for 71,940 yards and 539 touchdowns.
As a rusher in the regular season, Peyton Manning advanced 667 yards and recorded 18 touchdowns.??

As per Pro-Football-Reference, the former NFL quarterback completed 649 passes from 1,027 attempts for a 63.2% completion in 27 playoff games. Here, the quarterback threw 40 touchdown passes and rushed for 34 yards, and bagged 3 touchdowns.?
Peyton Manning claimed the NFL MVP award a record 5 times over the course of his storied career. Also, he claimed the offensive player of the year award on 2 occasions in 2004 and 2013.?
The former NFL quarterback made it to 14 Pro-Bowls (1999-00, 2002-10, 2012-14). Additionally, he is a 7-time First-Team All-Pro. Peyton Manning led the NFL in passing attempts on 3 occasions (1998, 2010, 2013). In addition, he led the NFL for passing yards on 3 occasions (2000, 2003, 2013). In 2000, 2004, 2006, and 2013, Manning led the NFL for passing touchdowns.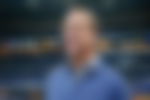 Additionally, in the 2013 season, as the Denver Broncos quarterback, Manning set the all-time NFL record for most passing yards and most passing touchdowns in a season. In 14 of his 18 NFL seasons, Peyton Manning finished with at least 4,000 passing yards.
Furthermore, Peyton Manning is part of an exclusive group of quarterbacks to have thrown 7 touchdown passes in a single game. He achieved this feat against the Baltimore Ravens in his record-breaking 2013 NFL season.?
Peyton Manning: Hall of Fame
Peyton Manning features in the College Football Hall of Fame. He achieved the honor in 2017 after getting elected in his first year of eligibility. The former NFL quarterback will be eligible for the NFL Hall of Fame ahead of the 2021 NFL season.?
Peyton Manning: Super Bowl Wins
Peyton Manning has claimed 2 Super Bowls. The first came in 2007, where he claimed the Super Bowl XLI MVP after leading the Indianapolis Colts to a 29-17 victory over the Chicago Bears. In the game, Manning made 25 competitions from 38 attempts and threw 1 touchdown.?

9 years later, Peyton Manning tasted Super Bowl glory yet again at Super Bowl 50. This time he was the Denver Broncos quarterback and featured in a 24-10 victory over the Carolina Panthers. The quarterback threw no touchdowns in what was his final outing in the NFL.?
Peyton Manning 2022 Net Worth
As per Celebrity Net Worth, the quarterback has an estimated current net worth of over $250 million. As per Spotrac, Peyton Manning earned a salary of $248 million as an NFL quarterback. At the peak of his playing days, Peyton was one of the highest-paid celebrities in the world. With his $18 million peak NFL salary, in some years Peyton earned over $40 million through endorsements.
Peyton Manning Records
The career starting QB has a laundry list of accolades including 5-time NFL MVP honors, 2-time NFL Offensive Player of the Year, and 7-time Pro-Team All-Pro Selections. Furthermore, his legacy with the Broncos and the Colts has been memorialized as his No.18 jersey was retired.
Furthermore, Manning has led the league several times in several different categories including passing yards, passing touchdowns, completion percentage, and passer rating. Moreover, he also won the Walter Payton NFL Man of the Year Award in 2012.
Peyton Manning 2022 Foundation and Charity
The former NFL quarterback founded the ?Peyback Foundation? which focuses its efforts in Indiana, Tennessee, and Louisiana where Manning played High School football. The ?Peyback Foundation? aims to help the youth and has donated over $1.3 million to organizations focused on youth activities in these 3 states.
Working with the youth prompted the former NFL quarterback to make large-scale donations to the St. Vincent Children?s hospital in Indianapolis. As a result, the hospital was renamed to honor the then Indianapolis Colts quarterback and is now the Peyton Manning Children?s Hospital at St. Vincent.??

In collaboration with his brother Eli, Peyton Manning volunteered in relief activities following the devastation caused by Hurricane Katrina.?
In 2020, Peyton Manning teamed up with Tiger Woods to take on Tom Brady and Phil Mickelson in a charity golf match. The efforts of the quartet saw $20 million raised for charity to help combat the Coronavirus.?
2022 Endorsements
He has been associated with Nike, Gatorade, Mastercard, Reebok, Sony, ESPN, Spring, Buick, DirecTV. He also features in the Nationwide commercials. Peyton Manning also owns 21 Papa John's pizza franchises located in Colorado. Even after retiring, the 2-time Super Bowl chip winner earns at least $10 million per year from endorsements.
How to Contact Peyton Manning?
The retired NFL quarterback does not have any official handles on Twitter or Instagram.
Born
March 24, 1976

(age?45)?

Weight
230 lbs (104 kg)
Height
6ft 5 in (1.96 m)
Wife
Ashley Manning
Kids
2
Endorsements
Nike, DirecTV, Nationwide, Gatorade, Buick, Reebok, Mastercard, ESPN, Papa John's pizza.
Agent
Thomas Joseph Condon
Residence
Denver, Colorado

Ooltewah, TN

NFL Career
Indianapolis Colts (1998?2011)

Denver Broncos (2012?2015)

Super Bowl
2x Super Bowl Champion

XLI, 50

Major Achievements
Super Bowl MVP (XLI)

5x NFL MVP (2003, 2004, 2008, 2009, 2013)

14? Pro Bowl (1999, 2000, 2002?2010, 2012?2014)

7? First-team All-Pro (2003?2005, 2008, 2009, 2012, 2013)

2? NFL Offensive Player of the Year (2004, 2013)

2x NFL completion percentage leader (2003, 2012)

3? NFL passing yards leader (2000, 2003, 2013)

4? NFL passing touchdowns leader (2000, 2004, 2006, 2013)

3? NFL passer rating leader (2004?2006)

2? NFL completion percentage leader (2003, 2012)

NFL 2000s All-Decade Team

NFL 100th Anniversary All-Time Team

Most passing touchdowns in a season: 55

Most passing yards in a season: 5,477

Most touchdown passes in a game: 7 (tied)

All-Time Game-Winning Drives Leader: 54

Career Awards
Walter Payton NFL Man of the Year (2005)

Bart Starr Award (2015)

3? Bert Bell Award (2003, 2004, 2013)

Sports Illustrated Sportsman of the Year (2013)