Ricky Stenhouse Jr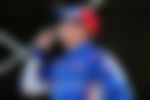 Ricky Stenhouse Jr: 2021 Net Worth, Salary, and Endorsement
Ricky Stenhouse, Jr. is an American NASCAR driver.
He contends full-time in the NASCAR Cup Series. Ricky drives the No. 47 Chevrolet Camaro ZL1 1LE for JTG Daugherty Racing. Stenhouse was the 2010 Nationwide Series Rookie of the Year.
Ricky Stenhouse Jr: Stats and Championships
Stenhouse started karting at six years old and won 47 races and 90 pole positions when he moved into racing in 2003. In 2008, he started his major-class stock vehicle racing in the ARCA Racing Series. He raced for Roush Fenway Racing. On May 10, 2008, in just his 6th race, Stenhouse won his first ARCA RE/MAX race.
In 2009, Stenhouse started contending as a part-time racer in the Xfinity Series. He had his first Top 10 completion at Kentucky Speedway when he completed ninth. Stenhouse made his Cup Series debut at the 2011 Coca-Cola 600 filling in for Trevor Bayne. Stenhouse completed eleventh in the Wood Brothers Racing car.
Ricky Stenhouse Jr: 2021 Net Worth
According to celebrity net worth, He has a net worth of $20 million dollars.
Ricky won consecutive Nationwide Series titles in 2011 and 2012. He was also the 2013 Cup Series Rookie of the Year.
Ricky Stenhouse Jr: Sponsors
The sponsors of Stenhouse Jr. are Kroger, Cheerios, Kleenex, Gillette, Slim Jim, Tide, NOS, Scott.
Ricky Stenhouse Jr: Family
Stenhouse jr. was born in a racing family. His father, Stenhouse Sr., was also a racer.
Stenhouse would work at his father's shop. He used to clean the vehicles at nearby tracks in Mississippi where his father used to race.
How to contact Ricky Stenhouse Jr:
Ricky is very active and highly popular on social media. As a result, it's the most accessible and easiest method to keep in touch with the Cup Series racer.
Stenhouse jr. is on all the popular social media platforms such as Instagram, Twitter, and Facebook.
| | |
| --- | --- |
| Age | 33 Years |
| Residence | Memphis, Tennessee |
| Nationality | American |
| Team | JTG Daugherty Racing |
| Endorsements | Kroger, Cheerios, Kleenex, Gillette, Slim Jim, Tide, NOS, Scott |
| Net Worth | $20 Million |
| Birthday | October 2, 1987 |
| Height | 5 ft 10 in (1.78 m) |