Rob Gronkowski
Rob Gronkowski
2022: Net Worth, Salary, and Endorsements
Rob Gronkowski, born on May 14, 1989, is an American football Tight End who plays for the Tampa Bay Buccaneers. Previously, he played for the New England Patriots. Since being drafted in the 2010 NFL Draft, Gronkowski has featured in 11 seasons in the NFL and has won four Super Bowls.?He has achieved a lot in a short time in his NFL career, making him a favorite prospect for the future Hall of Fame.??
Rob Gronkowski, the fourth?son?of Gordy Gronkowski and Diane Gronkowski Walters, grew up in a household that encouraged sports. Mr. Grody and his father (Gronk's great grandfather), Ignatius Gronkowski, were athletes themselves. His great-grandfather was more famous as he represented America in the 1924 Olympics.?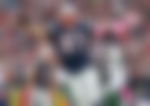 Rob Gronkowski has three elder brothers (Gordie Jr, Dan, Chris) and a younger brother (Glenn). Gordie Jr. remained a baseball player and played with Angels' farm system as the first baseman. His second brother, Dan, a former NFL TE, was drafted by the Detroit Lions in 2009.?
Dallas Cowboys drafted Chris in 2010 and he played as a Running Back for four seasons. On the other hand,?Glenn?went on to play at the position of full-back with Buffalo Bills and later signed in with the New England Patriots.?
Rob Gronkowski's girlfriend is?Camille Kostek, whom he started?dating?in 2013 November. Since then, they have been together. Camille Kostek?is an actress, T.V. host, and model.?
Rob Gronkowski's Net Worth
Rob Gronkowski's net worth is around $45 million, according to Marca. They also report Gronks' NFL salary, which is approximately $9 million. While asking about his finances in an interview conducted by Chase and UNINTERRUPTED collaborated in 2018, Gronk confirmed his earnings are more than his salary provided by the NFL.?
Rob Gronkowski's Endorsements
Gronk, who had achieved athletic achievements so early in life, started to get approached by brands?early on. Gronk has written a book in 2015 called 'It's Good To Be Gronk.' In that book, the former tight end reveals that he does not need to touch his NFL salary as he earns well through his endorsements.??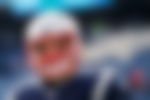 Rob Gronkowski has worked with many brands. According to Marca.com, these brands include Nike, Cheerios, Tide, Visa, Lyft, Dunkin' Donuts, among others.
One could also see the star athlete on PLB Sports cereal boxes released in 2012 called Gronk Flakes. They later also released a hot sauce with his name called Gronk's Hot Sauce. Furthermore, in 2016, Monster Energy added a 'Gronk' flavor to the line-up of their?energy drinks.?
Rob Gronkowski's WWE Career
In March 2020, Gronk had signed?with WWE. However, his contract got cut short as Gronkowski canceled his retirement from NFL and joined Tampa Bay Buccaneers alongside Tom Brady. In his brief association with the WWE, Rob Gronkowski gave comical appearances. These comedic appearances?didn't?quite sit well with many WWE fans.?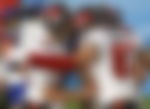 During this short yet 'Yo Soy Fiesta' career at the WWE, the star athlete hosted WrestleMania 36 and won the 24/7 title before giving the title up in an epic parodical battle to R-Truth,?confirming?the end of his WWE journey.?
Rob Gronkowski: College & Draft?
In the 2010 draft, the New England Patriots chose Gronkowski at 42 overall. For Rob Gronkowski's draft, the New England Patriots' head coach Bill Belichick had to get crafty to keep Gronk away from the Ravens.?
Bill Belichick chose Gronkowski for the Patriots after seeing his game for his college, Arizona University. While describing Gronk, Belichick?said?he liked the way Gronk was having fun on the field and was a "good playmaker" for the university in the 2008 season.?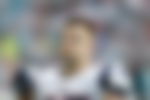 In the draft of 2010, the Patriots selected?Aaron Hernandez, another tight end for their team. Rob Gronkowski and Aaron Hernandez became a dominant duo for their team until 2013.
Rob Gronkowski: Records
Rob Gronkowski's stats are as follows: In his regular season, until now, Gronk has achieved 9,286 receiving yards, and his highest coverage of yards (1,327) was in 2011 when he played for the Patriots. That year, he also made a record?of most touchdowns in a season (17) by a Tight End. At present, his total receiving yard per reception average stands at 15. He has made?93?total touchdowns (92 receiving and 1 rushing).?
In the playoffs, Gronk has a total of 15 touchdowns (receiving). He has won the Super Bowl four times. Furthermore, to add to his already impressive stats, he has also appeared in the Pro-bowl games five times.?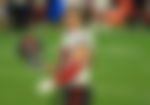 According to?NFL news, the 6'6 athlete also holds a Guinness World Record. He earned this after he caught a pass thrown from a helicopter 600 feet above the ground. After missing the first two attempts, he seized the ball on the third one.?
Being injured in such a physical sport is not unusual, and Gronk has suffered his share of injuries throughout his career. In the 2021 season, Gronk suffered rib injuries, and a punctured lung while playing against the Rams in September, which resulted in him missing four games. Later, in October, the 32-year-old experienced lower back spasms in week 8. ??
Rob Gronkowski: Foundation and Charity
Rob Gronkowski is part of the?Gronk Nation Youth Foundation. It is a family-run foundation, started in 2013. The Gronk family established this foundation to encourage youth and bring out their potential. They help youngsters by giving out grants for sports programs. The athletic brothers also provide?appearances?at selected nonprofit organizations emphasizing health, education, and fitness.
How to contact Rob Gronkowski?
Rob Gronkowski Twitter- @RobGronkowski
Rob Gronkowski Instagram- @gronk
Born

May 14, 1989

?(age?33)

Position

Tight End

Height

6ft 6in (1.98 m)

Weight

265 lbs (120 kg)

NFL Draft

2010 / Round: 2 / Pick: 42

Girlfriend

Camille Kostek

Kids

No

Endorsements

Nike, Cheerios, Tide, Visa, Lyft, Dunkin' Donuts & more

NFL Career

New England Patriots?(2010?2018)

Tampa Bay Buccaneers?(2020?2021)

Major Achievements?

4נSuper Bowl?champion (XLIX,?LI,?LIII,?LV)

NFL Comeback Player of the Year?(2014)

4? First-team?All-Pro?(2011,?2014,?2015,?2017)

5נPro Bowl?(2011,?2012,?2014,?2015,?2017)

NFL receiving touchdowns leader?(2011)

NFL 2010s All-Decade Team

NFL 100th Anniversary All-Time Team

PFWA All-Rookie Team?(2010)