Rodney Childers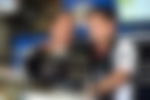 Rodney Childers: 2021 Net Worth, Salary and Endorsements
Rodney Childers is an American NASCAR Cup Series group boss and former stock vehicle racer. He is working at Stewart-Haas Racing as the team boss for the No. 4 Ford Mustang, driven by Kevin Harvick, victor of the 2014 NASCAR Sprint Cup Series title.
Rodney Childers: Career
ADVERTISEMENT
Article continues below this ad
Rodney Childers was born in Mooresville, North Carolina. Childers himself was a racer, contending in the World Karting Association when he was 12 years of age. He won seven titles in the territory of South Carolina and five titles at the public level prior to moving to the Late Model Stock Car division in 1997.
In 2000, Childers made his Xfinity Series debut at Myrtle Beach Speedway, driving the No. 49 Chevrolet Monte Carlo for Jay Robinson Racing.
Childers resigned from driving in 2003 to focus on turning into a mechanic. He originally worked with Penske-Jasper Racing as a technician for the No. 77 Dodge, prior to becoming the car chief. In June 2005, Childers was named Scott Riggs' group boss at MB2/MBV Motorsports for the remainder of the period, where Riggs scored two top-fives and four top-10 completions.
He moved with Riggs to Evernham Motorsports toward the beginning of the 2006 season and remained with him until October 2007. Childers then became Elliott Sadler's team boss at Evernham. He remained with Sadler until the finish of 2008 when he moved to Michael Waltrip Racing.
In 2009, Childers was recruited by Michael Waltrip Racing (MWR) to fill in as group head of the No. 00 group and driver David Reutimann.
Childers acquired his first outing to triumph path as a NASCAR Cup Series group boss when he guided Reutimann to success in the Coca-Cola 600 at Charlotte in May.
Childers and Reutimann scored a second triumph the accompanying season at Chicagoland Speedway in Joliet, Illinois. In three years together, they consolidated for two poles, two successes, 12 top-fives, and 21 top-10s.
In 2014, Childers assembled the No. 4 group for Stewart-Haas Racing without any preparation with new workers, new gear, and new racecars. In their second race of the series at Phoenix Raceway, Childers and Harvick scored their first triumph by dominating 224 of 312 laps.
The second success for the new group came only six races later in the Southern 500 at Darlington (S.C.) Raceway, where the No. 4 vehicle began from the pole position and ruled once more, dominating 238 of 374 laps.
The group completed the 2014 season with five successes, eight pole positions and 2,137 laps drove, turning out to be just the third group to lead in excess of 2,000 laps in a solitary season since 2000.
Since the title win, the pair has been predictable in completing inside the NASCAR playoffs.
Rodney Childers: 2021 Net Worth
The Net Worth of Rodney Childers is under review.
ADVERTISEMENT
Article continues below this ad
Rodney Childers: Family
Childers lives in Mooresville with his wife Katrina and his twins Gavin and Brody.
Quick Facts
ADVERTISEMENT
Article continues below this ad
| | |
| --- | --- |
| Age | 44 Years |
| Residence | Mooresville, North Carolina |
| Nationality | American |
| Team | Stewart-Haas Racing |
| Birthday | June 7, 1976 |
Rodney Childers News Feed
---
---
---
---