Roy Jones Jr.
Roy Jones Jr 2021: Record, Net Worth, Salary, and Endorsements
Roy Lavesta Jones Jr or more commonly known as Roy Jones Jr is a former professional boxer. Considered as one of the greatest fighters of his generation, Jones has since ventured out into boxing training, acting, rapping, and commentating.
Jones Jr is most famous for being one of the few fighters to go from middleweight to heavyweight and even win a world title.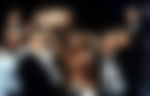 Roy Jones Jr has dual citizenship after he was granted citizenship on a special request by Vladimir Putin. Jones was named "Fighter of the Decade" for the 1990s by the Boxing Writers Association of America.
During his 29-year professional career, Jones Jr amassed 75 pro fights and lost just nine of those.
Roy Jones Jr had a strained relationship with his father and that's what pushed him to the sport.
He is known for his achievement of holding a record seven belts at the same time when he had the WBC, WBA, IBF, IBO, NABF, WBF, and IBA light heavyweight championships.
He also won different titles at other weight categories in his career.
In 2020, Jones Jr made his comeback to the sport, fighting fellow legend Mike Tyson in an exhibition bout. He has since said he will continue to fight in 2021.
READ: 10 Things You Did Not Know About Roy Jones Jr.
Roy Jones Jr Record
Prior to his exemplary professional career, Roy Jones Jr had a fantastic amateur career as well. According to his own website, Jones' amateur record stands at a staggering 121-13.
He won the 1984 United States National Junior Olympics in the 119 lb (54 kg) weight division, the 1986 United States National Golden Gloves in the 139 lb (63 kg) division, and the 1987 United States National Golden Gloves in the 156 lb (71 kg) division.
'Captain Hook' also won Silver at the 1988 Olympic games after a shocking decision in the final.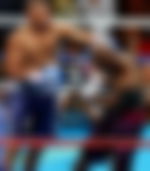 As a professional, Jones' achievements are innumerable. He turned professional in 1989 and boasts of a professional record of 66-9. 47 of those wins have come by knockout.
During his time, he fought at four weight classes, winning belts in every single one of them. He cemented his legacy in the sport in 2003 when he beat John Ruiz to become the WBA heavyweight champion of the world. He was also the undisputed light-heavyweight champion of the world.
Jones retired from the sport in 2018 after he beat Scott Sigmon. He had the ambition of coaching the next generation of fighters.
However, with his comeback fight, he plans to continue fighting in 2021 as well.
READ: Can Prime Roy Jones Jr. Defeat Canelo Alvarez?
Roy Jones Jr Net Worth 2021
According to SportyTell.com, Roy Jones Jr is worth an estimated $45 Million in 2021. Over the course of his career, he earned an estimated $55 Million through fight purses.
For his comeback fight against Mike Tyson, 'Captain Hook' reportedly earned $10.5 million.
If Jones Jr does decide to fight again in 2021, his value could go even higher.
Roy Jones Jr Endorsements
According to usatoday.com, Jones Jr is backed by Jordan- the subsidiary of famous sports company Nike. According to prnews.com, Jones is an ambassador for Fight to Fame, an entertainment platform. He has his own CBD oil called Left Hook CBD.
READ: How Fast is Roy Jones Jr?
How to contact Roy Jones Jr
Instagram, Facebook, Twitter, Website
Age
52
Reach
74"
Height
5'11"
Weight
194 lbs
Marital Status
Married
Spouse
Natlyn Jones
Address/Residence
Pensacola, Florida, USA
Nationality
Pensacola, Florida, USA
Endorsement
Jordan
Net Worth
$45 Million
Birthdate
1969/01/16
Record
66-9-0
Achievements
Former WBC Continental Americas Super-middleweight champion, Former IBF world middleweight champion, Former IBF world super middleweight champion, Former WBC world light heavyweight champion, Former WBA world light heavyweight champion, Former IBF world light heavyweight champion, Former IBO world light heavyweight champion, Former WBA super world light heavyweight champion, Former WBF world light heavyweight champion, Former IBA world light heavyweight champion, Former WBA world heavyweight champion, Former WBO NABO light heavy champion, Former IBO world cruiserweight world champion, Former UBO intercontinental cruiserweight champion, Former WBU cruiserweight title, Former WBF world cruiserweight title

Olympic Silver Medalist

Nickname
'Junior', 'Superman', 'RJ', 'Captain Hook'