Russell Wilson
Russell Wilson 2023: Salary, Net Worth & Endorsements
Russell Wilson is a 34-year-old NFL quarterback who was born on November 29th, 1988. The Denver Broncos quarterback has spent 11 seasons with the league after entering the 2012 NFL draft. Wilson went at 75th overall to the Seattle Seahawks. He was the 3rd pick by the Seahawks at the draft and became the 6th quarterback of the draft class to find a taker.
He repaid the Seattle Seahawks? faith soon enough by leading the team to their maiden Super Bowl in his sophomore season. To prove that it was not a one-off, Russell Wilson shepherded the Seattle Seahawks to the Super Bowl in the next season too. However, they fell to the New England Patriots.
After spending 10 spectacular seasons with the Seattle Seahawks, the star quarterback Russell Wilson got traded to the Denver Broncos ahead of the 2022 season. Unfortunately, Wilson went through the worst season of his professional career in his debut Orange Crush year.
Russell Wilson Stats
As per NFL.com, the quarterback has featured in 173 NFL games whilst wearing the Denver Broncos and Seattle Seahawks No 3 jersey. The quarterback has completed 3,371 passes from 5,218 attempts. As a result, Russell Wilson has a completion percentage of 64.6. Furthermore, he has passed for 40,583 yards and has 308 touchdowns.
In the regular season, the Seattle Seahawks quarterback has made 901 rushing attempts and gained 4,966 yards. Russell Wilson has registered 26 touchdowns.
As per Pro-Football-Reference, Russell Wilson has featured in 16 playoff games. Here the quarterback had 275 completions from 451 attempts for a completion percentage of 61. He passed for 3,786 yards and 25 touchdowns. Whilst rushing in the playoffs, the Seattle Seahawks quarterback gained 527 yards and registered 3 touchdowns.
In addition to winning a Super Bowl, Russell Wilson laid claim to a wide assortment of accolades. He claimed Rookie of the Year in 2012 and made it to the Pro Bowl on 9 occasions (2012-2015, 2017-2021), and made it to the 2nd team All-Pro in 2019. In 2017, the Seattle Seahawks quarterback led the NFL in passing touchdowns with 34.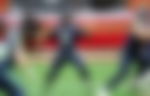 Russell Wilson holds a multitude of NFL records as well. In his first NFL season, he claimed the most passing yards in a playoff game by a rookie. ?Furthermore, the Seattle Seahawks quarterback became the first to finish a game with 300+ passing yards and 100+ rushing yards.
The Seahawks fell out of the Wild Card round with a loss to the Los Angeles Rams after a successful campaign under Wilson. His regular-season stats as of Week 17, 2020 came in with 4,335 passing attempts and 2,820 passing completions. Moreover, he rounds out the campaign with 33,946 passing yards with 21 rushing touchdowns.
After a 6-8 losing season in 2021, Russell arrived in Denver to have one of the worst seasons of his career. Wilson recorded career lows in pass completion rate (60.5%), touchdowns (16), and passer rating (84.4), ending the season with a dismal 5-12 record. He also got intercepted 11 times during the season, the second-highest in his career.
Russell Wilson 2023 Net Worth
As per Spotrac, Wilson is currently on a five-year $245 million contract extension from 2022, with the Denver Broncos. Before this, he was on a 4-year contract worth $140 million. He signed the deal ahead of the 2019 NFL season and earned a salary of approximately $35 million per season. This is a far cry from his Seattle Seahawks rookie contract that saw him earn a salary of $2.99 million across 4 years.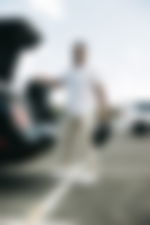 As per Celebrity Net Worth, Russell Wilson has a net worth of $165 million. His latest Broncos contract was one of the largest guaranteed quarterback contracts in NFL history. He is one of the highest-paid athletes in the world. Chiefly, Wilson earned $24 million in the 2022 season and is scheduled to make $27 million in the 2023 season.
Russell Wilson Records
The XLVIII Super Bowl champion has had an immensely successful run pre-NFL start in 2012 with ACC Rookie of the Year, ACC Offensive Rookie of the Year, and First-team-All-ACC in 2008. Moreover, he had a First-team All-Big-Ten in 2011.
Furthermore, he's a 9-time Pro Bowl runner right from 2012 to 2021 with a single gap in 2016. He also has the distinction of being a three-time Steve Largent Award in 2012, 2018, and 2019. Not to mention, Wilson was the passing touchdowns leader in 2017.
Russell Wilson: 2023 Charity and Foundation
The Seattle Seahawks quarterback launched the 'Why Not You Foundation ?' in the year 2014. As per its website, the initiative?s mission is to create lasting change. They aim to do so by focusing on the youth and preparing them to be leaders.
Furthermore, the Foundation even works with Seattle Children?s Hospital and raises money for its Strong Against Cancer Initiative. In 2016, as per People.com, the 'Why Not You Foundation' raised $1.06 million for the initiative.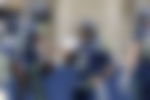 Also, the quarterback tied up with Seattle-based Russell Investments and worked both towards charity and helping his side. In 2013 and 2014, with the ?Invested with Russell? program, a sum of $3,000 was donated for every Russell Wilson rushing or passing touchdown.
Besides this, Wilson also supports the Boys and Girls Clubs of America. He does so by collaborating with NASCAR racer Kasey Kahne to organize a charity golf event. In 2014, the event raised $220k, and $600,000 in 2015. Earlier in 2020, Wilson and his wife joined hands with a non-profit organization called Food Lifeline and donated 1 million meals to those in need in the community who had been hit by the Coronavirus pandemic. He's also supported Bill and Melinda Gates as well as Make-a-wish Foundation.
2023 Endorsements
According to Forbes, Wilson has appeared in endorsements with Amazon, Microsoft, Nike, Bose, American Family Insurance, Duracell, Larson Automotive Group, Levi's, Mercedes Benz, Wilson Sporting Goods, Alaska Airlines, Braun, Eat the Ball, United Way, and Luvo.
In 2016, as per a PR Newswire report, Wilson partnered with Juice Press to open the company?s first flagship store in Seattle. Later, in 2018, he became the face of the Wheaties cereal box.
Furthermore, Russell Wilson is part of the MLS franchise Seattle Sounders FC?s ownership group.
Russell Wilson: Wife
Russell Wilson has had 2 marriages. As per the Richmond Times-Dispatch, he married his first wife Ashton Meem as a college senior in 2012. However, as per Seattle Times, Wilson filed for divorce following his 3rd season in the NFL in 2014.
Two years later, the Seattle Seahawks quarterback married his second wife, Ciara Harris, at a wedding ceremony in England. A year later, the couple had their first child, Sienna Princess Wilson, and as of this moment, the Wilsons recently welcomed their son.
How to contact Russell Wilson?
Instagram- @dangerusswilson
Twitter- @DangeRussWilson
Born
November 29, 1988

(age?33)?

Weight
215 lbs (98 kg)
Height
5 ft 11 in (1.80 m)
Position
Quarterback
Wife
Ciara Princess Harris Wilson
Kids
3
Endorsements
Alaska Airlines, Microsoft, Nike, Bose, Luvo, Braun, United Way
Agent
Mark Rodgers
Residence
Bellevue, WA (current).

Wisconsin, Richmond, North Carolina (former)

NFL Career
Seattle Seahawks (2012?2021)

Denver Broncos (Present)

Super Bowl
1 (XLVIII)
Major Achievements
Super Bowl?champion (XLVIII)

Walter Payton NFL Man of the Year?(2020)

9x Pro Bowl?(2012?2015,?2017?2021)

Bart Starr Award?(2022)