Scottie Barnes
Scottie Barnes 2021: Net Worth, Salary, and Endorsements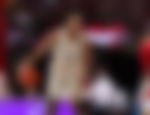 Scott Wayne Banes Jr. was born in West Palm, Florida. The young American hooper is a five-star recruit tipped to make an impact in the NBA. He is currently playing for Florida State after graduating from Montverde High School in Florida.
The 19-year old plays as a small forward and boasts a high-level passing ability. He is extremely dangerous on the break after winning defensive rebounds. Additionally, Barnes is a lethal finisher. Scottie is being touted as a future NBA top-five pick by draft analysts across the nation.
Scottie Barnes net worth
As per celebsagewiki, Barnes has an estimated net worth between $1 - $5 million as of 2021. He is still at the college basketball level hence his revenue stream is limited. However, he is expected to bag a significant amount upon his entry into the NBA.
https://youtu.be/Xf5XTuP3op0
Scottie Barnes Stats
Playing for University High School Fort Lauderdale, Florida, the shifty forward played a total of 28 games in the 2018-19 season. In the 28 games, Barnes showcased his incredible all-round game as he averaged 14.5 points, 5.7 assists, 7.4 rebounds and 1.4 blocks per game. His numbers remained pretty much the same for the next season as he averaged 11.6 points, 6.5 rebounds, and 4.6 assists per game.
https://youtu.be/wA3Xkmj31is
Given his incredible skill-set, Barnes was considered as a top 10 prospect by ESPN and 247sports. The forward continued his incredible form in his only season in college as well. Playing for the Florida State, Barnes who is 6'9" played as the primary guard for the team.
Averaging 10.3 points, 4 rebounds and 4 assists per game, the point forward might not have the flashiest of stat-lines like other top prospects like Evan Mobley but given how unique of a player Barnes is, he is still a top 10 prospect in the draft. Be it his incredible ability to generate offense for the team or his defending ability, Barnes can surely excel in the NBA and is being compared to the likes of Draymond Green coming into the league.
Scottie Barnes Scouting Report
Strengths
The 2021 NBA draft class is filled with multiple exciting guards. Be it the 6'8" Cade Cunningham who is an incredible two-way best or the likes of Jalen Green who is a shifty and athletic shooting guard and has the potential to be a generational scorer. While the likes of Cunningham and Green might be the headliners of the draft, Scottie Barnes is certainly one of the most intriguing players in the draft.
Standing at 6'9" with a wingspan of 7'2", Barnes unlike many players of his size is a great ball-handler and can make tough passes as well. With his incredible ability to initiate offense, he can be deployed as a point guard or as a point forward as well.
Barnes is also lethal in transition as well. With his incredible size, the 19-year-old is too much to handle for other guards and because of his incredible length, speed and handles often scores easy baskets in transition.
The highly touted prospect is also an impressive defender. Given his size, he can guard through all the positions and has the defensive IQ that players of his age rarely possess. Barnes should be a no-brainer for any team who are trying to add a defensive wizard to their team.
Weaknesses
While Barnes is an incredible prospect in the defensive end, he is pretty much still a work in progress offensively. His numbers speak for themselves as Barnes was able to hit only 27.5% from the three point line and also struggled from the three point line shooting 62.1% from the foul line.
While he has the size of a forward, Barnes surely hasn't been able to develop much offensive game around his size. Lacking many post moves, Barnes might opt for a pass rather than posting up a smaller defender and scoring an easy basket.
Barnes might be raw offensively but considering that he is still only 19-years-old and considering the upside he brings to the table, Barnes can be an intriguing addition to any team who have a top 10 pick.
https://www.youtube.com/watch?v=l_O41YKEFLM&ab_channel=DraftExpress
How to contact Scottie Barnes?
ADVERTISEMENT
Article continues below this ad
Scottie Barnes Twitter: @ScottBarnes561
Scottie Barnes Instagram: @ya.boy.scottie
ADVERTISEMENT
Article continues below this ad
Age

19

Nationality

American

Birth Date

August 1, 2001 

Place of Birth

Florida, United States of America

Height

6 ft 8 in (2.03 m)

Weight

225 lb (102 kg)

Wingspan

7-3

Position

Power forward/Small forward

High School

 

Cardinal Newman, NSU University and Montverde Academy.

University

Florida State University

Marital status

Single