Serge Ibaka
Serge Ibaka 2021: Net Worth, Salary, and Endorsements
Serge Ibaka is a seven-foot center/forward who plays for LA Clippers in the NBA. His parents, Amadou Djonga and Desiree Ibaka, were both basketball players. He was born on 18 September 1989, in Brazzaville, Republic of the Congo. Ibaka went as the 24th overall pick in the 2008 NBA Draft.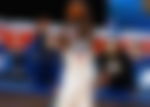 As for his love life, Ibaka was seriously dating singer/actress Keri Hilson, but the beloved pair broke up after four years. They were together from 2012 to 2016, and Ibaka is now reported to be dating South African actress Pearl Thusi. 
The Clippers star also has a daughter named Ranie Ibaka who was born when he was just 17. He is said to have raised her as a single father, as details about her biological mother are unknown.
Ibaka began playing professional basketball with Avenir Rail in Congo and later moved to Spain and joined CB L'Hospitalet in 2007. A year later, the Seattle Supersonics (now Oklahoma City Thunder) picked in the NBA Draft. He chose to play one more year in Spain before taking his talents to the NBA.
Serge Ibaka NBA Career
Ibaka arrived at the NBA in 2009 and performed well as a rookie. He averaged 6.3 points, 5.4 rebounds, and 1.3 blocks per game despite getting little playing time. His physicality was a huge bonus to have on the court, and the Sonics made him a valuable starter and his numbers went up too. 
Ibaka took very little time to establish his defensive dominance in the league. He led the NBA in blocks for two successive seasons (2012, 2013) and made the All-Defensive first team from 2012-14. 
The Thunder traded Ibaka to the Orlando Magic after he spent eight seasons with them, which included a trip to the NBA Finals in 2012. 
Ibaka kept his Magic stint short and was traded within a year of landing in Orlando. The franchise sent him north to join the Toronto Raptors in 2017.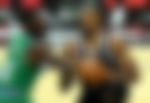 The Congolese player fit well with the Raptors' system and posted six straight triple-doubles early in 2019. The same year Ibaka averaged 15.0 points, 8.1 rebounds, and 2.9 blocks per game in the regular-season and guided the Raptors to their maiden championship triumph in history. 
Ibaka became a free-agent following the 2019/20 season and chose to sign with the LA Clippers instead of signing an extension with Toronto. He was a solid contributor for the Clippers, as he started most of the games he featured in. Unfortunately, multiple injury issues held back him and the team as they were unable to go beyond the Western Conference Finals in the 2021 playoffs.
Major Achievements 
NBA champion (2019)
3× NBA All-Defensive First Team (2012–2014)
2× NBA blocks leader (2012, 2013)
Serge Ibaka NBA Stats
Serge Ibaka has gained a massive reputation for being a defensive stopper. He is now past his prime, but Ibaka is always a threatening presence owing to his height and physical advantage. In the 2020-21 season, Ibaka averaged 11.1 points, 6.7 rebounds and 1.8 assists per game.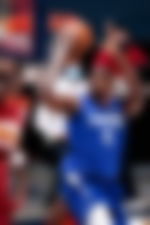 Serge Ibaka Current Contract
Ibaka became a free-agent during the 2020 offseason and made a surprising move to the LA Clippers. He signed a two-year deal with the Los Angeles based team and will earn $19 million, per ESPN's Adrian Wojnarowski. The second year was a player option which he accepted in the 2021 off-season, to extend his stay for another year in LA. He will earn $9,720,900 in the 2021-22 season. 
Serge Ibaka 2021 Net Worth and Endorsements 
Serge Ibaka's Net Worth is estimated to be $12 million. Furthermore, his career-earnings till the 2020-21 season adds up to $127,417,830, per Spotrac. 
Serge Ibaka Charity Foundation
Serge Ibaka is a philanthropist, and he has a charity foundation set up to help the underprivileged. The 'Serge Ibaka Foundation' is focused on helping children achieve their dreams amid the obstacles they face. 
"Going through difficult times as a kid himself, Serge Ibaka is determined to help the kids of Congo, Toronto and the rest of the World through his Foundation, focusing on the issues of health and education," their website reads. 
Serge Ibaka NBA Sneaker Contract
Ibaka is an Adidas athlete, and he has donned several sneakers over the years. The most recent one he wore during his Raptors stint was the 'Adidas Mad Bounce' and he's also previously worn the 'Adidas Explosive Bounce.'
| | |
| --- | --- |
| Age | 31 |
| Marital Status | Unmarried |
| Children | 1 |
| NBA Championship Rings | 1 (2019) |
| Nationality | American |
| Height | 7 ft 0 in (2.13 m) |
| Weight | 238 lb (108 kg) |
| Wingspan | 7'2" (2.21 m) |
How to contact Serge Ibaka
Serge Ibaka Instagram: sergeibaka
Serge Ibaka Twitter: @sergeibaka