Simone Biles
Simone Biles Net Worth 2023, Boyfriend, and Achievements
Simone Biles Net Worth
Simone Arianne Biles is one of the most decorated American artistic gymnasts. As of 2023, her net worth is around $16 million. Apart from the cash prizes from various events and tournaments, endorsements have added a lot to the gymnast's worth. Biles has partnered with Athleta, SK-II skincare products, Visa, United Airlines, Spieth America gymnastics equipment, Uber Eats, MasterClass and Facebook Watch, Mondelez?s Oreo brand, Core Power fitness shake Candid teeth aligners, GK Elite gymnastics apparel.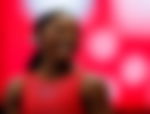 Apart from medals and endorsements, Biles also invested in the real estate market. Back in 2017, Biles listed her 3711 sq. ft. childhood home in Texas at $289,000 for sale. Presently, she is overseeing the construction of her new home with beau Jonathan Owens. While not much detail has been revealed about the house, the property is said to be on a highway in Texas.
Who all are there in Simone Biles? family?
Simone Biles' family comprises her parents and biological and adoptive siblings. Simone Biles also considers her pet dogs a part of her little family. Biles' adoptive parents are Ronald Biles and Nellie Biles. She has a younger real sister, Adria Biles, and two elder adoptive brothers named Adam and Ron Biles Jr.
Her extended family includes Ron Biles Jr.'s wife, Sammi Biles, and?baby Biles, the little angel the family welcomed in November 2022.?She also has two estranged biological siblings, a sister named Ashley Biles Thomas, and a brother, Tevin Biles. The siblings got separated at a young age after being adopted by different families.
Simone Biles Childhood & Early Life
Simone Biles was born to Shannon Biles on March 14, 1997. Her biological father, Kelvin Clemons, was absent from her life since the beginning. Supporting four kids while battling alcoholism and drug addiction proved hard for Shanon Biles. Because of this, the young Biles siblings ended up in foster care for years. Biles was just three years old when she was separated from her biological mother and put into foster care. However, three years later, the Biles siblings were adopted by their maternal grandfather Ron Biles.
Simone Biles'?biological mother was prohibited from contacting the gymnast after the adoption. Simone was six when Ron and his wife, Nellie, adopted the Biles siblings. But soon it became difficult for the couple to take care of six young kids (2 biological and four adopted.) Eventually, Simone Biles' two elder biological siblings, Ashley and Tevin, were adopted by their grand aunt, Harriet.
Ron and Nellie were able to provide a safe and permanent home to little Simone and Adria. The healthy environment helped the young girls to focus on their education and explore their interests. This was also how Simone Biles found her way to gymnastics. Biles was just 6 when she saw teenage gymnasts practicing in the gymnasium during a daycare field trip.
Engrossed in her observations, she started imitating the moves of the teenagers. The coaches noticed this at the gym and wrote a letter addressed to Biles' parents suggesting enrolling her in a training center. Taking that into consideration, the couple enrolled Biles in Bannon's Gymnastix Center, which in turn became her first step towards her decorated gymnastics career.
Simone Biles? husband
Simone Biles is married to the NFL safety, Jonathan Owens. The two first crossed paths during Houston Texans' game in 2019. However, they officially met through Raya, a dating app, during the pandemic in March 2020. Reportedly, it took just about a month for the NFL player to fall for the gymnast.
They made their relationship Instagram official in August 2020. After dating for nearly two years, Jonathan Owens popped the big question in February 2022.?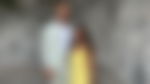 Then in April 2023, the couple got married in an intimate courthouse wedding ceremony in Houston, Texas. Following this, the pair once again exchanged vows in an opulent destination wedding in Cabo San Lucas, in the presence of their friends, families, and close-knit acquaintances.
Simone Biles Records and Achievements
Throughout Simone Biles's decorated gymnastics career, she has won numerous accolades. Overall, she has 32 medals that include the Olympics and World Championships. Before entering her first Olympic games in 2016, Biles had clinched 14 world championship medals, a feat no other American gymnast had ever reached. In 2016, Biles created the record for most gold medals at one Olympics Games in gymnastics.
Olympics achievements:
Team event- Gold medal (2016 Rio Olympics)
All-around- Gold medal (2016 Rio Olympics)
Vault- Gold medal (2016 Rio Olympics)
Floor exercise- Gold medal (2016 Rio Olympics)
Team events- Silver medal (2020 Tokyo Olympics)
Balance beam- Bronze medal (2016 Rio Olympics)
Balance beam- Bronze medal (2020 Tokyo Olympics)
Simone Biles? break from gymnastics and her comeback
The 7X Olympic medalist has been on a break from competitive tournaments to focus on her mental health. During the 2020 Tokyo Olympics, she experienced the phenomenon known as "the twisties," in the wake of which she withdrew from the event. The case of 'twisties' occurs when a gymnast loses control of their body while performing twists in the air. This incident prompted Biles to become one of the first athletes to openly discuss mental health and prioritize it over competition.
During her two-year hiatus, Biles got married to the Green Bay Packers defensive line, Jonathan Owens. They met on a dating app called Raya in 2020, and their relationship blossomed, culminating in a wedding in Cabo, Mexico, surrounded by 144 guests.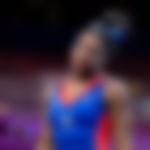 Simone Biles returned to the gymnastics world with the U.S. Classics, a significant event hosted in Chicago's Now Arena on August 4-6, 2023. Overcoming the twisties, this comeback marked a crucial milestone in her journey toward the upcoming Olympic games. She continues to prioritize her mental well-being and is undergoing therapy to strengthen her mental approach to her craft.
As part of her preparations for the U.S. Classic, Biles trains at the World Champions Centre in Houston, Texas. The U.S. Classic is an annual elite artistic gymnastics meet for gymnasts from the United States and serves as a vital qualifier for the Nationals. On August 5, 2023, Simone Biles will be competing in the Senior Women's competitions, showcasing her incredible skills and determination. Throughout her journey, Jonathan Owens has been a supportive partner, standing by her side through thick and thin. Now with this meet, Biles has a lot more medals coming to her name in the future with her talent.
Doing so, Biles became one of the first athletes to openly talk about mental health and prioritize it over a tournament. Though uncommon, her decision was well-received by the fans and the sporting community. She was applauded for standing her ground.
Biles abandoned five of her six finals after losing all spatial awareness while attempting a dangerous vault. Simone Biles had been feeling the classic symptoms of the condition for quite some time and admitted she should have walked away ?way before? the Olympics. Biles? condition can be traced back to the abuse she faced at the hands of U.S. gymnastics team doctor Larry Nassar. During testifying before a Senate committee, the otherwise strong Simone Biles broke down in tears. She said the abuse had deeply affected her mental health and made it difficult for her to carry the burden of being an Olympic gymnast. Biles sought therapy for years to cope with her trauma and the impact it had on her mental well-being.
During this period, Biles married her longtime beau and NFL star Jonathan Owens. He helped her regain her mental stability and overcome the trauma. Biles took part in the U.S. Classics and won the all-around event with a total score of 59.100. The iconic Houstonite has proven with her performance at the U.S. Classics that she is back and better than ever. She hopes to carry this momentum into the U.S. Championships to earn a spot on the team for the World Championships. The Worlds are scheduled for the end of September and will set the tone for the upcoming Olympics in the following year.
Simone Biles? Physical Regime
During the prime season, Simone Biles trains for 42 hours per week. These 42 hours are divided into seven hours per day over six days a week. Simone Biles takes an off from her training on Sunday. Out of the six training days, Biles trains twice a day for four days, which include Monday, Tuesday, Wednesday, and Friday. She trains just once a day on Thursday and Saturday. Her morning training sessions start at 9 am and end at noon. Whereas, the time for the afternoon session is from 3 to 6 pm.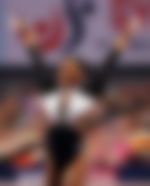 Her routine includes running and stretching every part of the body. The stretching is done both before and after the practice to help the muscles warm up and consecutively cool down. For her competitions, Biles uses cross-training method which includes running, swimming, and biking. Her routines comprise exercises like superman and hollow holds, regular and single-leg V-ups, scissors, and pulses for abs. The full-body workout includes the plie squats, superman lifts, boat holds, hip raises, and glute kickbacks. The bodyweight workout includes bear planks with butt kicks, crab reaches, wall walks, push-ups to plank jack knives, and pike presses.
Here is a summary of how long she does the various regimes.
Swimming on Day 1-: 1 mile
Biking on Day 2-: 10 miles
Intense abs routine on Day 3-: 11 rounds
Full body on Day 4-: 30 minutes
Bodyweight workout on Day 5-: 30 seconds of each exercise for 3 rounds
Running on Day 6-: 3.1 Miles
Rest on Day 7
During the US Classic in 2013, Simone Biles introduced the floor exercise skill, which was a double layout with a half twist at the podium training. As Biles successfully performed it at the 2013 World Championships, the skill was ultimately named after her.
How to contact Simone Biles?
Name

Simone Arianne Biles

Born

March 14, 1997

Place of Birth

Columbus, Ohio, United States

Nationality

American

Education

Benfer Elementary School

University of the People

Parents

Ronald Biles

Nellie Biles

Siblings

Ron Biles Jr., Adam Biles, Adria Biles,

Ashley Biles Thomas, Tevin Biles

Marital Status

Engaged

Kids

-

Height

4'8''

Weight

100 lbs

Medal Tally

32