Trevor Lawrence
Trevor Lawrence 2021: College Career, Net Worth, Salary, and Endorsements
Trevor Lawrence is a 6'6" quarterback who weighs 220 pounds and plays for the Clemson Tigers in the ACC. He was born on October 6th, 1999, to Jeremy Lawrence and Amanda Lawrence. He is regarded as a future potential first pick in the 2021 NFL draft.
Trevor Lawrence grew up playing football in Knoxville, Tennessee. He also tried his hand at basketball during his high school days while studying at Cartersville High School in Georgia.
ADVERTISEMENT
Article continues below this ad
At the end of his final year, Lawrence led the Purple Hurricanes to 41 straight victories, winning 2 State Championships and 4 Region Titles. In 2017, Trevor broke the record for passing yards and passing touchdowns in Georgia, which was previously held by Houston Texans quarterback Deshaun Watson.
Lawrence gained major plaudits in his junior year in 2016, where he was adjudged as The Atlanta Journal-Constitution Player of the Year after completing 250 of 406 passes for 3,904 yards and registered 51 touchdowns.
Trevor Lawrence Clemson Tigers Career
He was regarded as a top 5-star recruit at the conclusion of his senior high school year. In December 2016, he committed to play college football for the Clemson Tigers. He started his freshman year with the Tigers as the backup to starting QB Kelly Bryant. Clemson Head Coach Dabo Swinney named Lawrence as the starter after 4 games. Lawrence went on to lead the Tigers to an undefeated regular season. He is also working on his Marketing Majors.
They beat the Pittsburgh Panthers Football Team in the ACC Championship game. They advanced to the 2019 College Football Playoff National Championship game, where the Tigers outplayed the University of Alabama by a 44–16 scoreline. This was the Crimson Tide's worst loss in the Nick Saban era.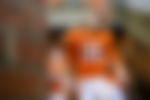 He was awarded the National Freshman of the Year and Archie Griffin Award by the Touchdown Club of Columbus and also bagged the ACC Rookie of the Year honor. He led the Tigers to yet another undefeated regular season in his sophomore year. However, he suffered the first loss of his NCAA career at the hands of the Joe Burrow-led LSU in the CFP Championship Game.
Trevor Lawrence Girlfriend/ Trevor Lawrence fiance
Lawrence recently announced his engagement to High School sweetheart, Marissa Mowry. The pair have been together since their days at Cartersville High School in Georgia.
Marissa is a star on the soccer team at Anderson University in South Carolina. The pair have been involved in a long-distance relationship for the last 2 years since graduating from High School.
Trevor Lawrence 2021 Net Worth
Trevor Lawrence is currently not on a professional contract, but he is in line to rake in a major rookie contract when he does join the NFL. As of now, it seems likely that the Jacksonville Jaguars or New York Jets will win the race for Lawrence's signature, but that is still up for debate.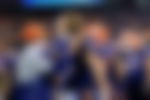 As per Sam Weber of Opendorse, Lawrence is currently valued at a little above $1.23 million as a Clemson Tigers quarterback. That amount could rise if he manages to win another National Championship in 2020. His estimated value for a single Instagram post is somewhere around $10,864 while a Twitter post from Lawrence costs $969.
Trevor Lawrence Record
Lawrence came in as the 2020 runner-up for the Heisman Trophy winner. Additionally, he topped the charts of the ACC catalog with the 2020 Player of the Year and Offensive Player of the Year. He's also secured the ACC Football Rookie of the Year in 2018.
CFP National Champion (2018)


CFP National Championship Offensive MVP (2018)


3× ACC Champion (2018, 2019, 2020)


ACC Football Rookie of the Year (2018)


First-team All-ACC (2019)


Second-team All-ACC (2018)


Archie Griffin Award (2018)


Hall Trophy (2017)


USA Today High School Football Player of the Year (2017)


USA Today High School All-American (2017)
Trevor Lawrence Foundation and Charity
In the wake of the whole COVID-19 outbreak, Trevor and his partner Marissa Mowry created a local relief fund to help his community in Cartersville and upstate South Carolina. The "Trevor Lawrence and Marissa Mowry COVID-19 Relief Fund" is aimed at helping out local community members to tackle the hardships faced due to the ongoing Coronavirus outbreak in the United States.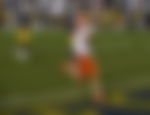 Trevor Lawrence 2021 Endorsements
With his growing popularity and his charming persona, brands are vying for Lawrence's endorsement already. Leading German sports brand Adidas is said to be interested in collaborating with Lawrence and his entourage.
Trevor Lawrence News
The Trevor Lawrence Jets and Jaguars links continue to gain pace, especially after the New York-based team won their first game of the season in Week 15. But Trevor-Atlanta Falcons links are also gaining some trajectory due to the dismal results by the NFC South franchise in recent weeks.
ADVERTISEMENT
Article continues below this ad
How to contact Trevor Lawrence?
Trevor Lawrence Instagram: tlawrence16
Trevor Lawrence Twitter: @Trevorlawrencee
ADVERTISEMENT
Article continues below this ad
Age
21
Weight
220 lb
Height
6 ft 6 in
Fiancee
Marissa Mowry
Endorsements
Adidas (Potential)
Agent
Excel Sports Management
Residence
Knoxville, Tennessee
Major Achievements
Heisman Trophy runner-up (2020)

USA Today High School Football Player of the Year (2017)

3-time  ACC Champion (2018, 2019, 2020)

ACC Player of the Year (2020)

Archie Griffin Award (2018) and Hall Trophy (2017)

AP Third-team All-American (2020)

Kids
0
Trevor Lawrence News Feed
---
---
---
---
---
---
---
---
---
---