Usain Bolt
Usain Bolt
Usain Bolt 2023: Net Worth, Salary, and Endorsements
"Lightning Bolt", Usain Bolt is the greatest sprinter of all time. His performances during 2008, 2012, and 2016 Olympics remain legendary. He is the current world record holder in the 100 and 200-meter races. After winning eight gold medals in the Olympics, Bolt announced his retirement from athletics to focus on other dreams.
ADVERTISEMENT
Article continues below this ad
His net worth stands at $90 million, and makes around $20 million annually. Staggeringly, he made $2.2 million for just appearing on race tracks and winning those races. However, due to fraudulent activities reported against Stocks and Securities Limited (SSL), Bolt lost around $13 million earlier this year.
Following his retirement, the endorsement deals came for Bolt at a rapid pace. His first sponsor was Puma back when they signed him in 2002. Digicel, a mobile company, became his next favorite sponsor. The Puma contract which initially started from $1.5 million rose to $10 million.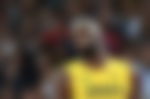 He later signed deals with Gatorade, Hublot, Virgin, and Visa. He launched his own design of headphones named Soul Electronics. Bolt earns $9 million dollars for just wearing Puma shoes. All Nippon Airways, Enertor, and Australian telecom company Optus were other endorsement deals he signed. Moreover, he started his own company named Mobility while also having a shaving brand- Champion Shave.
He released a new album named 'Country Yutes' with his friend Nugent 'NJ' Walker and contributes to different charity organizations.
Usain Bolt's early life
Bolt was born in Sherwood Content, Jamaica on 21st August 1986 to parents Wellesley and Jennifer Bolt. He has a brother Sadiki and a sister Sherine. His parents ran a local grocery store in the little Jamaican town.
The sprinter played cricket and soccer apart from athletics. He kept his passion for football throughout his career and is still an avid Manchester United fan.
He attended Waldensia Primary where he showed his undoubted potential in sprinting competitions. After that, he attended the William Knibb Memorial High School where his cricket coach saw his speed and urged him to focus on athletics. Pablo McNeil and Dwayne Jarrett coached Bolt to become a sprinter.
Usain Bolt's magnificent track and field career
Significantly, he received his first medal during the high school annual championships in 2001 as he took the silver medal in 200m with a time of 22.04 seconds. At age 16, he became the first teenager to come under the 20s time barrier and posted a time of 19.93.
He made his first appearance on the world stage at the 2001 IAAF World Youth Championships in Debrecen, Hungary. Though he failed to qualify for the finals in the 200 m event, he still set a new personal best of 21.73 s.
In the 2002 World Junior Championships, he covered the 200 m distance in the timeframe of 20.61 s and became the youngest world junior medalist ever. Following his momentous victory in 2002, he won four golds at the 2003 CARIFTA Games and was awarded the Austin Sealy Trophy for the most outstanding athlete of the games. He won another gold at the 2003 World Youth Championships. However, despite all those early successes, a hamstring injury affected his performance as he finished last at the 2004 Athens Olympics heats for 200 meters. More heartbreak followed as Bolt finished last in the 2005 Track and Field World Championships.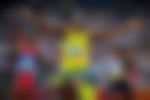 After struggling with injuries, Bolt reappeared for the 2007 World Championships where he grabbed the silver medal in the 200-meter race. After seeing what he could do, Bolt wanted to compete in the 100-meters as well.
Thus, he made his grand entry on the 3rd of May 2008. Notably, he set a time of 9.72 seconds to claim a sensational 100-meter victory.
Beijing Olympics 2008 saw him winning three gold medals in the 100, 200, and 4 × 100 meters; however, he was stripped of the relay gold after an athlete failed a drug test. He created a world record in both the 100m and 200m races by setting a time of 9.69 and 19.30 respectively. The signature Bolt pose made its debut at the Beijing Olympics.
Remarkably, he improved on his world record at the 2009 World Championships after setting a time of 9.58 and 19.19 in both the aforementioned races. Bolt clocked a top speed of 27.8 miles per hour during the 100-meter sprint.
The 2012 London Olympics saw him win another three gold medals in his signature events. More success followed during the 2013 and 2015 World Championships as he kept on producing golds.
But, the 2016 Rio Olympics saw him elevate himself to GOAT status. Succeeding in all the events once again, Bolt became the first person to win golds in the two individual sprints in three straight Olympics.
His last race saw Bolt finishing in 3rd place in the 100-meter sprint at the 2017 World Championships and he retired after struggling with hamstring injuries.
All of Usain Bolt's record and achievements
World record holder of 100-meter race: 9.58


World record holder of 200-meter race: 19.19


2008 Beijing olympics: (Gold- 100m, Gold- 200m)


2012 London Olympics: (Gold- 100m, Gold- 200m, Gold- 4x100 relay)


2016 Rio Olympics: (Gold- 100m, Gold- 200m, Gold- 4x100 relay)


2009 World Championships Berlin: (Gold- 100m, Gold- 200m, Gold- 4x100 relay)


2011 World Championships Daegu: (Gold- 200m, Gold- 4x100 relay)


2013 World Championships Moscow: (Gold- 100m, Gold- 200m, Gold- 4x100 relay)


2015 World Championships Beijing: (Gold- 100m, Gold- 200m, Gold- 4x100 relay)


2007 World Championships Osaka: (Silver- 200m, Silver- 4x100 relay)


2017 World Championships London: (Bronze- 100m)
Bolt's off-the-track achievements and trademark pose
IAAF World Athlete of the Year: 2008, 2009, 2011, 2012, 2013, 2016


Track & Field Athlete of the Year: 2008, 2009


Laureus World Sportsman of the Year: 2009, 2010, 2013, 2017


BBC Overseas Personality of the Year: 2008, 2009, 2012


Jamaica Sportsman of the Year: 2008, 2009, 2011, 2012, 2013


Made the Commander of the Order of Distinction in October 2008


The youngest member of the Order of Jamaica in 2009
As much as the Jamaican is famous for his lightning bolt speed, his signature celebration pose is equally recognized across the continents. The celebration gesture first made its appearance in 2008 London Olympics. The pose comes from a Jamaican dancehall move that was popular in 2008.
Interestingly, in 2022 the Jamaican sprinter submitted an application for the trademark of his iconic pose. The logo depicts the silhouette of a man in a distinctive pose, with one arm bent and pointing to the head, and the other arm raised and pointing upward.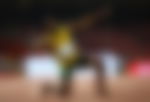 Usain Bolt's partner Kasi Bennett and their children
Kasi Bennett is a Jamaican model, philanthropist, lawyer and an entrepreneur. Bolt met Kasi for the first time in 2014, and since then, the couple has been together. Though the couple haven't got married, they share three children together. In 2020, the pair welcomed their daughter, Olympia Lightning. Then, in 2021, Bolt and Bennett became the parents of twin boys - Thunder Bolt and Saint Bolt.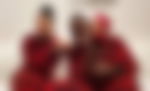 Usain Bolt and his unfortunate Investment fraud
On 16th January 2023, the news of Usain Bolt losing $12.7 million of his savings in a financial scam took the sporting world by storm. The sprinter lost a huge chunk of his retirement money in an investment scam carried out by an internal employee at Stocks and Securities Limited (SSL). More so, after losing nearly $13 million in the fiasco, the Olympian was left with $12,000 in his account.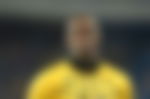 Ever since the investment fraud came to light, Bolt shared a series of messages on his social media handles. On 18th January 2023, the sprinter tweeted a cryptic message and penned, "A time to keep...and a time to speak; A time of war, and a time of...". Then, on 23rd January 2023, the Jamaican sprinter shared a picture of himself on Twitter and penned, "Look into my eyes, tell me what you see, can you feel my pain? Am I your enemy? ~ BK".
As the fraud which is estimated to be around billions overall was made public, the attorneys of Usain Bolt sent a final ultimatum to the private firm on 16th January 2023. As verified by Loop, the letter contained information about the amount of money Bolt had on 31st October 2022, which was $12 million.
Usain Bolt and his soccer connection
ADVERTISEMENT
Article continues below this ad
Apart from being an athlete, Bolt's love for soccer is evident as he follows Real Madrid and Manchester United. After retiring in 2017, the Lightning Bolt decided to pursue his dream of becoming a professional footballer. Bolt aspired to play for Manchester United but it was Borussia Dortmund who handed the sprinter a two-day trial in March 2018. However, later he joined Central Coast Mariners. During his eight-week trial Down Under, Bolt appeared in a pre-season friendly against Macarthur South West United and scored two goals.
In 2018, he started training for Strømsgodset, a club from Norway of his love for football. His jersey donned the 9.58 number (his world record time) during his spell there; likewise, he wore it during Soccer Aid's matches too.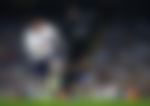 However, in January 2019, Bolt announced to the world that he was no longer pursuing his dream of becoming a footballer. He said, "It was fun while it lasted. I don't want to say it wasn't dealt with properly, but I think e went about it not the way we should". Nonetheless, the Olympian left the football arena to enter into the business domain.
ADVERTISEMENT
Article continues below this ad
Name - Usain Bolt
Born - 21 August 1986
Place of Birth - Sherwood Content, Jamaica
Nationality - Jamaica
Education - University of Technology, Jamaica
Parents - Father: Wellesley Bolt, Mother: Jennifer Bolt
Height - 1.95 meters (6 feet 5 inches)
Weight - 94 kg (207 lb)
Partner - Kasi Bennett (Not Married)
Kids - Daughter: Olympia Lightning, Twin boys: Thunder Bolt and Saint Bolt
Social Media - Instagram: @usainbolt, Twitter: @usainbolt