Talking points as Arsenal snatch late Victory against Southampton
Published 09/10/2016, 2:20 PM EDT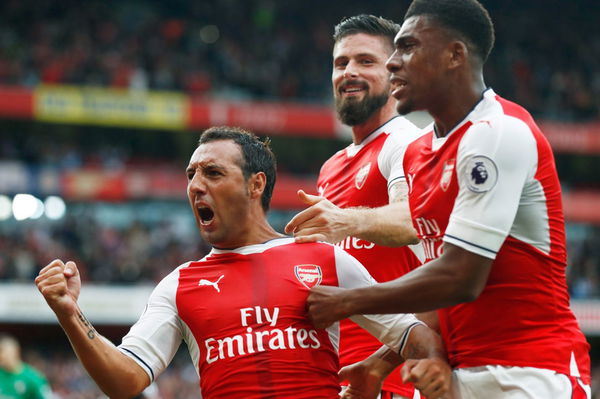 ---
---
A late, late penalty converted by Santi Cazorla helped Arsenal snatch a memorable victory against Southampton today at the Emirates. An unlucky Petr Cech own goal from a Dusan Tadic free-kick broke the deadlock, with Southampton clearly looking the better side right from the kickoff. Nevertheless, Arsenal stormed back into the game with a magnificent overhead finish from birthday boy, Laurent Koscielny.
ADVERTISEMENT
Article continues below this ad
Let's look at the Talking points from the game:
1. Arsenal Still Finding their feet
ADVERTISEMENT
Article continues below this ad
It had been an utterly disappointing start to the season by the Gunners which saw them pick up just 4 points from three difficult games. Lack of signings at that point of time made evident their inability to compete against Premier League sides. Since then the Gunners have added an experienced centre back and a quick striker to add to a squad that now looks complete. The Mustafi and Lucas Perez deals meant that Arsenal had now brought in 4 new first team players. It was understandable that playing Mustafi and Perez straight into the starting line-up would take Arsenal some time to adjust but their star players themselves weren't convincing enough today, the lack of penetration from both Mesut Ozil and Alex Oxlade-Chamberlain saw a host of chances being squandered and a lot of promising moves being wasted.
2. Southampton have done good business
Southampton are renowned for bringing in promising youngsters through their academy and doing shrewd business when it comes to buying and this time they have done it again even though they remain winless this season. Redmond started the game well along with Dusan Tadic as both of them coming close to giving Arsenal a few scares against the run of play in the second half as well. Hojbjerg came on in the second half and looked threatening for the last 30 minutes.
An unexpected change in managerial department was never expected to shake up the Saints as they have faced a similar situation not long ago but all said and done they have to start winning games and there's no excuse for that as they have all the ingredients.
3. Cazorla was the missing link last season
Arsenal were humiliated last season for not capitalizing on their best chance ever to win the league with players like Mesut Ozil being made the scapegoats for a lackluster second half to the season. But only a few would agree that Cazorla's absence was responsible for their slump last season along with Arsenal's inability to find a capable replacement.
The Spaniard was the best player on the pitch by quite a margin today not only for his winning penalty but because of his brilliant presence all over the pitch. He even made some last ditch tackles to break up a few Southampton counter-attacks which is something unusual from a diminutive playmaker. It is safe to say that there's no player that comes close to what Santi Cazorla can do for Arsenal. Not even his fellow countryman David Silva.
4. Saints missing Wanyama too much
Saints possess a good defensive partnership and an excellent attacking lineup with most of the first team players having a good understanding of each other. But they are particularly short in one department which is the combative midfield. They lost Morgan Schneiderlin a couple of seasons ago, and this summer had to deal with Victor Wanayama's departure which has exposed their lack of a midfield destroyer.
ADVERTISEMENT
Article continues below this ad
Clasie and Romeu look incapable of providing the back-four assurances which has resulted in them being dominated every single game this season. They have shipped six goals in four games but the defenders look very sharp and seem to be doing their job just fine. This is a glaring issue for Saints to find a solution to as there are still four months to go for the January transfer window to begin.
5. Standings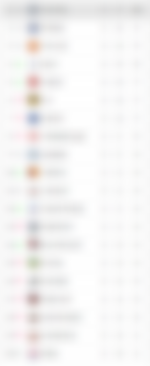 ADVERTISEMENT
Article continues below this ad
Yet another defeat for Southampton means they remain winless this season from four matches played so far and have slipped into the relegation zone, at 18th place. And Arsenal have closed-in further on their rivals with just 2 points off the second spot, though, Chelsea is still to play Swansea tomorrow.