Talking points as Liverpool and Arsenal play out thriller
Published 01/13/2016, 6:28 PM EST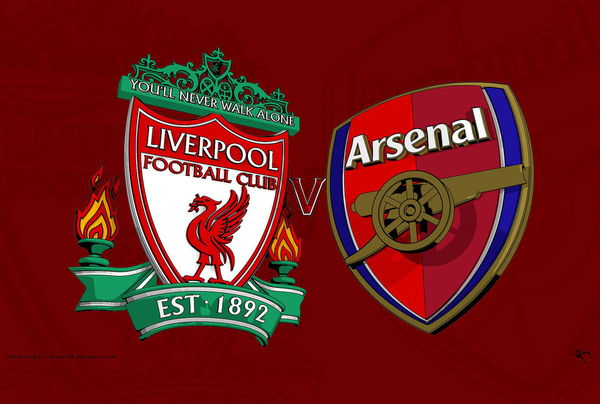 ---
---
One of the season's most exhilarating encounters finished 3-3 at Anfield as Joe Allen's late goal rescued a point for Liverpool against Arsenal.
ADVERTISEMENT
Article continues below this ad
Liverpool tried to execute a performance resembling their 4-1 win over Manchester City but the Gunners found a way to equalize every time and scored a crucial third goal to hold the lead for a little more than 30 minutes. They were however unlucky to not take home the three points to a resilient Liverpool side.
Let's take a look at the talking points from the encounter at Anfield:
ADVERTISEMENT
Article continues below this ad
5. Arsenal show huge character
Coming to Anfield can never be easy for any team in the Premier League especially with relentless rain and snow. Liverpool ran ragged in the first 10 minutes and deservedly took the lead putting Arsenal under a lot of pressure. But they responded in glorious fashion as Joel Campbell caught the back four off guard and Aaron Ramsey finished a brilliant move.
The North London outfit trailed again as Liverpool made it 2-1 but the Gunners came back into the game in style and scored the third to take the lead highlighting their title credentials. A performance that was worthy of all three points show exactly what Manchester City are lacking, Convincing away performances.
4. Liverpool have the resources to finish top four
A magnificent tactical approach by Jurgen Klopp's side troubled Arsenal time and time again. The amount of pace and numbers up front snatched the ball off the Gunners everytime to have a go at the goal. The Arsenal defensive unit seemed overloaded with runners and it was only a question of finishing those chances and they did that well.
Liverpool just seem to slack off against smaller teams but have all the firepower to deal with the big sides. It is a question of consistency and if they show that, there's no way they can't finish in the top four.
3. Gunners boast attacking depth
As many as five attacking players were out injured for Arsenal including the likes of Alexis Sanchez, Santi Cazorla and Jack Wilshere, who are all first team starters. But the Gunners have found dependable players in those crucial positions. Joel Campbell and Olivier Giroud have really stepped up their game to help Arsenal past every hurdle without their key stars.
Wenger claims Campbell to be this season's Francis Coquelin and rightly so, as he played a crucial part in two of Arsenal's three goals. His work-rate helps keep balance in the side. Giroud is in the form of his life, scoring goals at important moments throughout the season.
2. Firmino finishing pivotal
A precarious decision by Jurgen Klopp to not play an out and out striker in favour of Roberto Firmino playing up front as a false-9, proved to be the match-winner. Liverpool got the runners behind the ball and pressed Arsenal high up the pitch and had 22 attempts at goal compared to Arsenal's 16.
Firmino scored a stunner as Liverpool led the encounter 2-1 with a world class curling goal. Although he faded later into the game, he was crucial in mounting pressure on Arsenal to keep them from playing their game. More appearances in that position may condition him to scoring more goals for the team as they look to finish in the top four.
ADVERTISEMENT
Article continues below this ad
1. Another thrilling week
Only 17 more games are to be played and it's going to be another close title race. Arsenal had the chance to go 4 points clear at the top as Leicester City and Manchester City were playing out goalless draws. But Leicester scored a late winner at White Hart Lane and Arsenal conceded a late equalizer for Leicester to end up level on points with Arsenal at the top.
The draw was more of a blow to Liverpool as they fell to 9th place, 5 points off the 4th spot. Liverpool now face fellow mid-table strugglers Manchester United on Sunday at Anfield and anything less than a win might deal a significant blow to their campaign.
ADVERTISEMENT
Article continues below this ad
Trending Stories