Talking Points: Liverpool 4-1 Leicester City
Published 09/10/2016, 4:36 PM EDT
By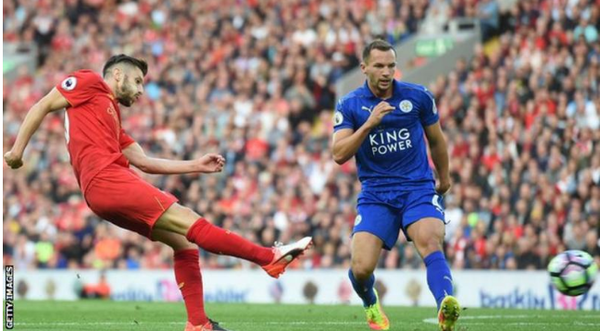 The drama never stops when it comes to the Premier League and this was proved right once again when Liverpool took on the defending champions of England, Leicester City. The Foxes were looking to win this one as their campaign so far has been what we would call rather 'hot and cold' with them needing the hot more than the cold. All in all, Liverpool had a field day scoring 4 goals and beating Leicester City in style.
ADVERTISEMENT
Article continues below this ad
Many players came forward and stole the spotlight from the Kop side while a few players were rather disappointing but when talking about disappointment, what we would mainly focus on is Leicester's performance. While Vardy came to their rescue and gave them a single goal to hide their shame, it just was not enough. Let's dwell into why the match turned out the way it did:
1. Mane's start to his Liverpool career is right on track
ADVERTISEMENT
Article continues below this ad
 Leicester were deep down in danger when Sadio Mane looked to pick out Daniel Sturridge's beautiful backheel pass across the penalty area and danger it was as Mane poked it past Schmeichel despite the Dane getting a hand to it. That goal was every man's dream with a lot of players involved in it. The goal would have been impossible without Firmino and Sturridge but the finish needed to be applied as well.
Thereafter, there was no stopping to Mane's pure savagery as he relentlessly tried to score another one. The speed and the work rate that Sadio Mane put up today was not only mesmerising but downright astonishing. It finally lead to him setting up Roberto Firmino for his second goal late in the game after he beat a charging Schmeichel before laying it on for the Brazilian to score a simple tap in.
2. The Champions look flat in attack
 Apart from that one strike from Vardy, there wasn't much going on with The Foxes at all. Their performance was lackluster to say the least with no creativity when it came to the midfield. Apart from Vardy, Kasper Schmiechel played one of the best games of his career and although he let 4 goals through, he saved a few crucial ones too that could add to The Foxes' pressure.
Things changed a little after the nightmare show by Lucas that gave Leicester the lead as Liverpool looked edgy after that but soon things were back to square one with Leicester playing safe and Liverpool betting it all at once. Ranieri's side only had three shots on target, including the goal, with Vardy also forcing a save from Mignolet from Riyad Mahrez's ball forward. Ranieri needs to sort this problem as it looks like they are still struggling to replace Kante's influence in their midfield.
3. Man of the match, Roberto Firmino
 We've all had doubts about Roberto Firmino's abilities at least once in our lives but he proved all of us out there wrong with just one match. Not only did he score twice but he held down the fort in one of the classiest ways possible. He was calm and composed from the very beginning and had a rhythm to his game which worked out very well for him. Since the start of last season, Firmino has netted more Premier League goals than any other Liverpool player clocking this number at 12 and that is commendable to say the least.
Both his goals were brilliantly crafted with precision and good finishing and really, that is all we can ask for sometimes. However, special mention goes to Adam Lallana for that absolutely sublime finish to end another intricate Liverpool move which made almost every football fan realise why they're in love with the sport in the first place.
ADVERTISEMENT
Article continues below this ad
4. Wasn't all fun and games for The Reds as their defence needs some serious re-shuffling
The first thirty minutes of the game worked out perfectly for Liverpool with them making all the right moves but one thing that they lacked was agility and stability in terms of their defence. Brazilian midfielder Lucas started at centre-back, with Mamadou Sakho not in the squad, and he let Vardy take that shot that lead to the single goal by Leicester. Lucas looked unsure and confused throughout the game and cost his team a chance at a glorious clean sheet.
5. LFC fans at their best
ADVERTISEMENT
Article continues below this ad
 It is believed that this game is a lot about mental prowess and psychological stability and for a footballer nothing can be more joyous than watching thousands of fans singing away their names. Liverpool fans have always been one of the best fans in the PL and today's fans were no exception. They were loud and made sure their support and love was felt and with the newly renovated Anfield, the crowd seemed to love the game more than ever.
All in all, today was Liverpool's day in the office while Leicester still lags behind but their only hope now is to focus on their upcoming Champion's League fixture. Leicester play their first ever Champions League match on Wednesday, when they go to Club Brugge and they will be looking for a win after a disastrous PL weekend.