Talking Points: Manchester United vs. Stoke City, a nervy 1-1 draw
Published 10/02/2016, 12:21 PM EDT
By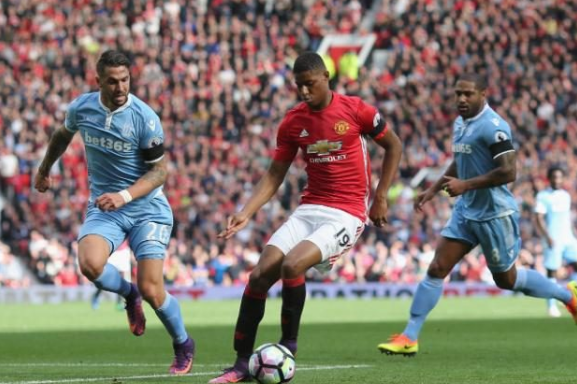 Manchester United dropped 2 points yet again against Stoke City this Sunday, as they were unable to seize the chances they got, and there were many chances that seem costly to them after the match. Stoke City did not have much flame in them for the better part of the game but came back after dropping 1 goal to equalise and create havoc for the home team. Here are the talking points for the match:
ADVERTISEMENT
Article continues below this ad
Joe Allen was the hero for Stoke City: Joe Allen's late strike against United gave them a scare that they could not recover from, however much they tried. Joe Allen's close range finish earned Stoke a dying point and was more than what they had hoped for, considering just how swift United were on field today. But at the end of the day, it comes down to the last minute winners, doesn't it? Allen's goal was shoddy. De Gea tried to block it but to no avail and the crossbar was not on Manutd's friend-list. Stoke had lost their last 13 games at this ground, last gathering a point in 1980 but looks like Mark Hughes' side wanted to break a record today… which they did.
Pogba's missed chances cost United dearly: As much as Pogba's beautiful chances are appreciated, they would garner more of a positive reception if they were actually converted to actual goals. United only took about a minute or so to tear up the defensive wall Stoke had put up to keep United at bay, but that didn't help the home team. Ibrahimovic missed a few very easy chances created by both himself and Pogba. In one instance, Pogba's left pass left Zlatan with a clear and free area but his mistimed low shot cost him that goal and Grant saved the kick in time. This is not to say that United's expensive Frenchman did not have good game. Pogba was quick on his feet and created some delicious chances but the only problem he was left to deal with was the fact that he or any other player around him was not able to convert them into goals.
3. Stoke City's goalkeeper Lee Grant was on fire today: Lee Grant was clearly the saving grace for Stoke City today, having made some pretty crucial saves that came from players like Pogba, Herrera, Ibrahimovic and Mata. However, Grant made sure that he stood firm like the wall that he was during the game and made no mistake except for when Martial let in a sneaky goal by him. Zlatan was very close to scoring somewhere around the 73 minute only to be denied by Grant as he saved the goal very well and if not for his attentive goalkeeping, United would probably be a point richer by the end of it all.
4. Martial's entry spiced things up on field: When Anthony Martial came on to the field, things were much clearer for the Red Devils as they were moving faster and the tempo of the game improved ten folds. Sixty-seven minutes had gone when Juan Mata and Jesse Lingard came off for Wayne Rooney and Martial and then started the party as shortly after Martial let in his goal scoring instincts flow and BAM, scored! Martial zipped along his corridor and turned the ball into Rooney who then delivered it straight to Martial. This helped things move up and the game felt as if the fleet of a thousand lightening had struck the field. Soon after Rooney, Ander Herrera and Ibrahimovic tried to score too, as the game in that very moment was United's to win.
5. Despite Mourinho's right line up and good decision making, United suffered an edgy draw: Today's team sheet had near perfect names, the fans did not complain and pairing up Pogba with Herrera in the centre also gave United the edge when it came to attacking the opponent's defence. Mourinho's substitutions played an advantageous role, as his decision to bring in Martial and Rooney played right into the hands of United and led to the opening goal of the afternoon.