TEAM-UP: Apex Legends Pathfinder Flying With Crypto's Drones
Published 04/12/2020, 2:59 PM EDT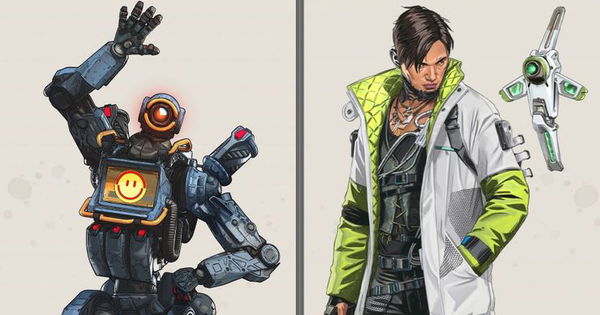 ---
---
When it comes to selecting a proper team in Apex Legends, you have to find the right balance. Many a time we end up discarding characters whose abilities are not as popular as the stronger Legends. Crypto and Pathfinder are definitely two agents strong enough for making up a kickass team.
ADVERTISEMENT
Article continues below this ad
ADVERTISEMENT
Article continues below this ad
On the other hand legends like Bangalore, Gibraltar and Bloodhound are OP, whichever mix you put them in. Crypto and Pathfinder can prove to be quite complex to play with, and one needs an elaborate knowledge about using their abilities. It might seem like both their capabilities are quite weak, but if used properly, they can turn a team into a powerhouse.
Making Pathfinder Fly With Crypto's Drone
What began as an experiment turned out as the next slick team-play. Crypto's ultimate and tactical ability involves a drone hovering around as a surveillance machine. Pathfinder, on the other hand, has a grappling hook as its tactical ability, and zipline gun as an ultimate ability. Zipline becomes extremely necessary when your teammate is in a tight situation. It is the best way to rescue them.

Crypto and Pathfinder can actually combine their abilities, and if done right, this becomes a lethal trick which the opponent cannot predict. The method works with Crypto's tactical ability of surveillance drone and Pathfinder's ability of the grappling hook. Aim for the drone and grapple on to it with Pathfinder, which allows him to fly around and scan the area.
ADVERTISEMENT
Article continues below this ad
A brilliant trick to ambush any squad in a firefight. However, we recommend that you practice a lot because a firefight in such a situation can get tricky.
Who Is The Best Legend To Compliment These Two in Apex Legends? 
If we select the team based on abilities to compliment both Crypto and Pathfinder, then we need to search for two primary aspects. Firstly, Pathfinder and Lifeline are both healers so she is definitely not someone you want as the third member. Pathfinder's healing is more about finding the circle and escaping the storm damage before the ring hits you.
ADVERTISEMENT
Article continues below this ad
To know more about the latest update in Apex Legends, click here.
Gibraltar and Revenant seem like two of the best members that can complement both Crypto and Pathfinder. However, feel free to try Bloodhound and Wraith in that team as well.
Trending Stories