Kevin Durant Can Overtake Michael Jordan, Kobe Bryant and LeBron James at the Tokyo Olympics 2020
Published 07/25/2021, 12:16 AM EDT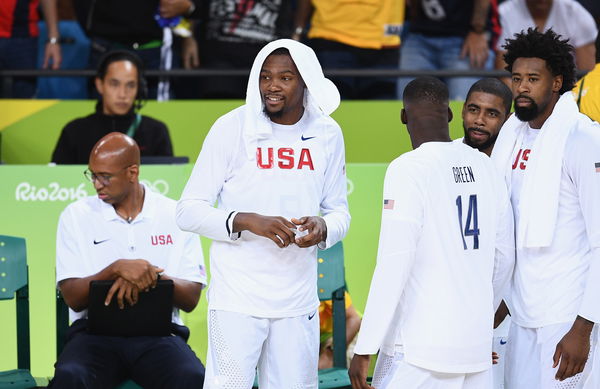 Kevin Durant, in a triumphant return from an Achilles, has re-entered the conversation over the best player in the world. At over 7ft tall, fondly known as the Slim Reaper by a growing fanbase worldwide, Durant is a bonafide superstar, with an offensive skill set second to only Michael Jordan! Whether it is from the field or 3pt range, KD has been a walking bucket since his days in OKC.
ADVERTISEMENT
Article continues below this ad
Above all, considering KD's build, he, in totality, is an above average defender, while being an all-time great offensive weapon. In fact, it was that offensive prowess which saw him single-handedly push the eventual champion Milwaukee Bucks to a Game 7.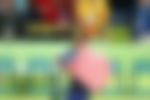 It's not everyday that you get to go past the likes of Michael Jordan, Kobe Bryant or LeBron James. And with a shot at yet another gold for Kevin Durant, that offer comes to him on a silver platter.
ADVERTISEMENT
Article continues below this ad
Therefore, as he leads the U.S. Men's basketball team into their 1st matchup against France tomorrow, KD will attempt for a 3-peat of his own!
Kevin Durant all set for Gold Medal number 3
The road to a gold in Tokyo won't be as easy as it was previously. While loaded with all-star talent, this roster is top heavy and perimeter focused. Most of the stars on the roster this time around have little to no Olympics experience, with Durant, Draymond and Kevin Love the only stars to have been part of earlier events in 2012 & 2016.
Team USA Basketball star Kevin Durant is on a quest for a third Olympic gold medal. 🥇
Find out why that would also write the NBA champion's name in the history books. 🏀@TeamUSA | @NBA https://t.co/9kb0NQN9CL

— #Tokyo2020 (@Tokyo2020) July 17, 2021
If KD were to come through on his promise to continue the streak and bring home the gold, it would place him in rare company with fellow veteran Carmelo Anthony, the only player with 3 Gold Medals.
Additionally, it would also catapult him beyond MJ, Kobe and LeBron who have all won 2 Gold Medals each. On a personal achievements front, Durant is primed to take over as the leading scorer for the United States in Olympics basketball history, as he currently trails Carmelo Anthony by a margin of 25pts.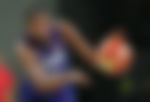 His Airness won his 1st Gold as a rookie in the 1984 L.A. Olympics, followed by Barcelona in '92, as the dream team bull-dozed the competition. However, Kobe and LeBron won their rings together as they led the 'Redeem Team' in Beijing 2008, followed by a repeat in London 2012.
Journey to the Gold
ADVERTISEMENT
Article continues below this ad
A 3rd Gold Medal at the Olympics would go well with Durant's championships and Finals-MVPs. Shockingly, the United States lost back-to-back games to Nigeria and Australia in the ramp-up to the main event in Tokyo.
Following the losses, Durant, in conversation with an online publication, said – "We're still adjusting as a team, and that's not making excuses. "We knew it wasn't going to be easy, and we're prepared to go to work. Our goal hasn't changed. We'll be ready."
ADVERTISEMENT
Article continues below this ad
In fact, an opportunity to silence the nay-sayers and haters is being handed to KD on a silver platter this season, as Team USA look more vulnerable than ever. Following the wake up call losses in Vegas, KD and crew will have their tails up this time around, as the opposition smells blood!
Watch this story – Luka Doncic, Rudy Gobert & All Other NBA Players Competing For A Gold At The Tokyo Olympic Games