Teenage Gamer Turns Down $8 Million for Coronavirus-Tracking Website
Published 04/13/2020, 12:56 PM EDT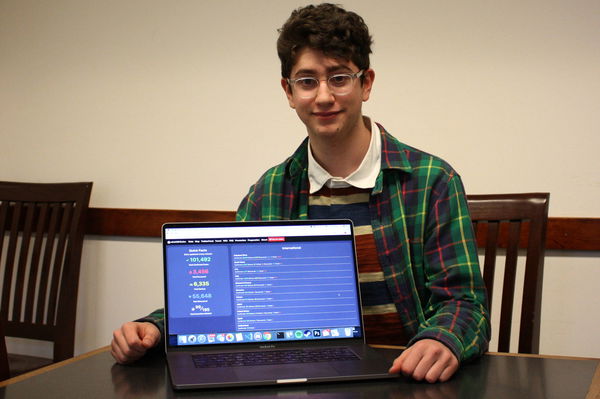 ---
---
Recently, 17-year old Seattle native, Avi Schiffman created a website in order to help track the spread of the COVID-19 pandemic. Admittedly, the disease is spreading faster than wildfire and several countries are sorely affected. However, Schiffman is running one of the biggest coronavirus tracker websites in the world.
ADVERTISEMENT
Article continues below this ad
Schiffman is also an avid gamer, and often plays Minecraft and CS:GO with his friends. However, he realised that the global coronavirus situation is extremely serious. So it motivated him to create the website to track all the cases from the United States and even the whole world.
ADVERTISEMENT
Article continues below this ad
What challenges did he face in compiling data on the coronavirus?
He admitted that there were a number of difficulties in hunting for data from around the world. Schiffman revealed that he scoured Chinese government websites to hunt for data, but the language barrier was pretty solid. So, he employed a different tactic and simply extracted the numbers from the sites. He went on to repeat the process for every other country on the coronavirus radar.
ADVERTISEMENT
Article continues below this ad
Schiffman disclosed that his objective was to allow people to access the numbers at their fingertips. The numbers include the total cases, casualties, and the like. Needless to say, his website exploded almost immediately, as people swarmed to the website to gauge the gravity of the situation. Schiffman also revealed that he has amassed around 350 million visitors, and gets around 30 million a day.
Schiffman's mother, a physician, often brought up the numbers for any patients who were skeptical about the pandemic. According to her, once they see the numbers, they finally understand how serious the matter is. Interestingly, Avi often received offers to place advertisements on his website. However, he always refused the offers, even a tantalising $8 million offer was not enough to get him to budge.
What did Schiffman say?
ADVERTISEMENT
Article continues below this ad
Speaking to Bloomberg about rejecting the offer, Avi, said, "I think its a lot easier for me to turn down things like that just because I just don't care about making so much money. I feel like, as an adult, I can just retire now, but I don't want to retire at 17. Half the stuff I did on this website, I didn't even know before I started."
"But I think one of the big things about my website is not that it is hard to program, but I took the initiative to make this. When nobody was talking about it. I hope that what I created inspires a lot of young people to find ways that they can help. This is a global pandemic that affects everyone. Find out what they are good at and put this skills to use in something like this"