"Grigor Dimitrov Almost Had a Fight With Nick Kyrgios" – Alexander Zverev
Published 01/03/2020, 2:47 PM EST
After making a dominant start in the season's first match, unluckily Alexander Zverev couldn't inch closer towards the victory. It was Alex De Minaur winning 4-6 7-6 (7-3) 6-2 on his home-soil at ATP Cup 2020. With Sascha's double faults persisting in the new season a total of seven doubles faults led him nowhere.
Interestingly the volatile tennis player of ATP, Nick Kyrgios did push-ups every time when Alexander Zverev committed a double fault in the match. The German ace was oblivious about him doing push-ups. Sascha mentioned that during Laver Cup 2018 Krygios ended up exchanging blows with Team Europe's Grigor Dimitrov for executing 'Nick Kyrgios activities'. 
"No, I did not see that," Zverev replied when asked about if he saw Kyrgios doing push-ups every time he double-faulted. "It's Nick, it's just what he does. He did it at Laver Cup as well. I know that Grigor almost had a fight with him and with Jack (Sock) in 2018. He can do whatever he wants."
ADVERTISEMENT
Article continues below this ad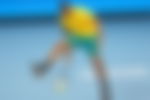 "I don't care about it" –

Alexander Zverev on Nick Kyrgios' push-ups

Germany's number one tennis player, Zverev was fine with Kyrgios doing pushups over his double faults. The act really doesn't matter to him. "He wants to do push-ups it fine. As long as he doesn't defend anybody or does Nick Kyrgios stuff which he sometimes does, I don't care about it," he added.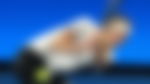 Zverev's double fault stats from 2019
ADVERTISEMENT
Article continues below this ad
Last year World Number seven Alexander Zverev played 10 Grand Slam matches and committed a total of 131 double faults on the major courts. It was, unfortunately, the highest double fault record on the men's tour. Besides that in the opening-round of Cincinnati Open, Zverev committed 20 double-faults in the match and that is almost equivalent to a set.
Next match for Sascha in Brisbane
ADVERTISEMENT
Article continues below this ad
The Germans will next take on the Greeks on Sunday on the Brisbane court. Alexander Zverev is drawn to play a match against Stefanos Tsitsipas, who earlier lost his opening match of the year to Denis Shapovalov at the ATP Cup 2020.