"Just Ridiculous" – Nick Kyrgios Compares His Towel Controversy With Stefanos Tsitsipas Fiasco at US Open 2021
Published 08/31/2021, 9:02 PM EDT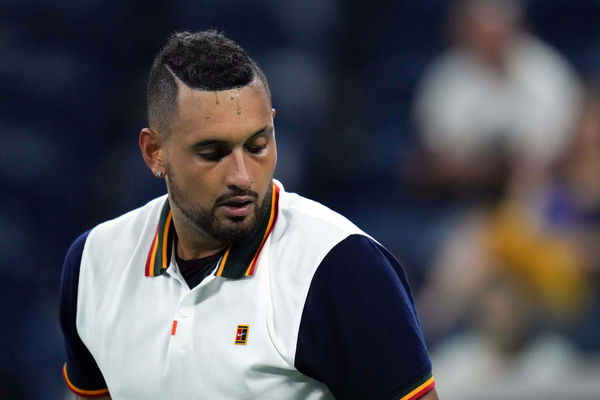 ---
---
Despite playing just one match at the US Open, Nick Kyrgios created quite the buzz yesterday. During his straight sets defeat to 18th seed Roberto Bautista Agut, the Australian began a war of words with chair umpire Carlos Bernardes over several issues.
ADVERTISEMENT
Article continues below this ad
One of those issues was the 26-year-old's use of towels during the match, which he addressed in the post-match press conference.
Nick Kyrgios calls his towel situation at the US Open "stupid"
ADVERTISEMENT
Article continues below this ad
During the third set in his first-round match, Kyrgios threw the towels he used around the court. When Bernardes told him not to do so, the Australian responded angrily before putting the towels back. Prior to that, Kyrgios had run-ins with Bernardes for other violations as well.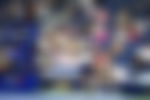 After his loss, the Australian mentioned despite being fully vaccinated, the tournament treated him like others who aren't. He said, "Look, I just think the towel situation for me, is incredibly stupid. You know, I'm one of the players on tour that is fully vaccinated. And right as of now, I'm getting treated exactly the same as a player that's not vaccinated.
"I feel like if I want my towel around the court, if it's not disturbing Bautista Agut's vision. If he's serving and does not see the towel, I don't see anything wrong with having my towel on the side, or on the ground. And it's just absurd for me that, honestly."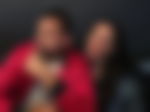 Kyrgios takes a subtle dig at Stefanos Tsitsipas once again
During the match, the Australian also pointed out Tsitsipas' lengthy breaks in his match against Andy Murray yesterday. While he incurred a time violation during the match, Kyrgios took a swipe at Tsitsipas without naming him.
ADVERTISEMENT
Article continues below this ad
"I'm getting 'in trouble,' or getting warnings and all this for being five seconds over, for wiping the sweat over my arms and face while someone can be taking 20-minute bathroom breaks in between sets.
"At this point, it's just ridiculous. I'm not trying to cheat or anything. I'm just trying to wipe the sweat off my arms so I can perform and do my job, which is playing tennis in front of the fans as best I can. So, if I'm going five seconds over because it's so humid out there, it's insane."
ADVERTISEMENT
Article continues below this ad
While Kyrgios did cause quite a stir, how he bounces back from four straight defeats remains to be seen.
WATCH STORY: Underarm Tweener Serve, Forehand Winners and More: Nick Kyrgios Entertaining Showdown in Atlanta