Roger Federer References Novak Djokovic and Andy Murray to Detail How Big Players Will Dictate the Future
Published 08/26/2021, 3:30 PM EDT
---
---
In a career spanning over 20 years, Roger Federer has been a part of the evolution of tennis. While he made his debut as a 17-year-old, the Swiss star now features among the veterans on the current ATP tour.
ADVERTISEMENT
Article continues below this ad
Earlier today, Federer spoke about the evolution of the game over the years. In particular, he mentioned how taller players changed their game over the years to make the competition much tougher.
Roger Federer believes bigger players will take over men's tennis
ADVERTISEMENT
Article continues below this ad
Although Federer stands at a decent 1.85m, he isn't among the taller players on the Tour. However, he is the same height as Rafael Nadal, and just 3cm shorter than Novak Djokovic, who are the 'Big 3'.
While Federer is among the older players today, a new generation of players is making its way in the sport. This generation features a host of players taller than Federer, who feature as big hitters making their advantage count. Daniil Medvedev and Stefanos Tsitsipas personify this genre, as they occupy the top two spots behind Djokovic in the world rankings.
Earlier today, Federer appeared in a virtual event organised by his sponsor, Uniqlo along with the International Tennis Federation. The event also featured wheelchair tennis stars Shingo Kunieda and Gordon Reid.
During the final few minutes, Federer admitted taller players will dictate tennis in the future with their power. He said, "I think the game is going to get more powerful. I feel like we're seeing bigger guys, they're taller. If you look at Novak and Murray already, and then you look at Delpo (del Potro) and Raonic.
"I know there's always been tall players around. But I feel like they're not just taller, but the average has gotten up."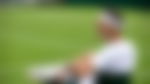 Federer: The big guys move exceptionally well
ADVERTISEMENT
Article continues below this ad
Federer also mentioned that unlike the initial days of tall players relying on a quick serve, they move much quicker on the court.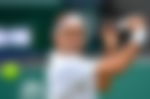 "Everybody's taller now than before, and they move, the big guys exceptionally well," said Federer. "Because back in the day, when you had a tall player, it was classic for him to serve and volley at a certain height. Now all these guys, the big guys, they serve big and hit big, and I think that's only going to be more amplified."
ADVERTISEMENT
Article continues below this ad
The upcoming US Open could be a test of Federer's thoughts. Although Djokovic is the top seed, can someone like Medvedev or Tsitsipas clinch their maiden Grand Slam with their advantages?
WATCH STORY: When Novak Djokovic called Roger Federer and Rafael Nadal the GOAT