Tennis-Djokovic suffers "brain freeze" in Simon scare
Published 01/24/2016, 8:21 AM EST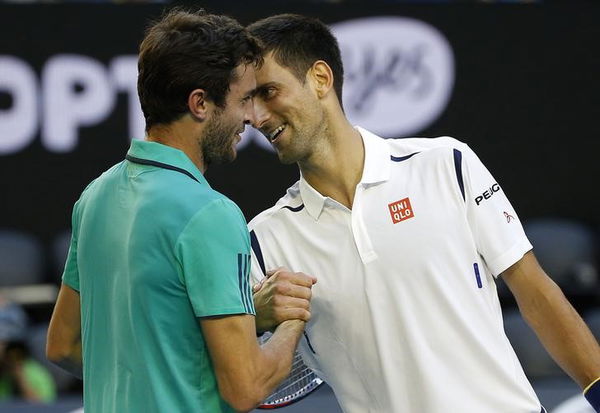 MELBOURNE (Reuters) – Champion Novak Djokovic was keen to forget his unconvincing victory over Gilles Simon that put the Serb through to another Australian Open quarter-final but also gave hope to his title rivals.
ADVERTISEMENT
Article continues below this ad
Having come into the match without dropping a set, the world number one bashed repeatedly against the brick wall of 14th seeded Frenchman and committed exactly 100 unforced errors in the 6-3 6-7(1) 6-4 4-6 6-3 win at Rod Laver Arena on Sunday.
The error count was largely testament to Simon's dogged scrambling and counter-punching style, but Djokovic also shot himself in the foot repeatedly with a string of botched dropshots.
ADVERTISEMENT
Article continues below this ad
A number of them fell flat during big points in the second set tiebreak and again at the close of the fourth set, and the Serb might cringe if he subjected himself to a video review.
After closing out the four-hour 32-minute fourth round tie, one vocal fan in the terraces yelled at Djokovic 'no more dropshots!'
"I hate to say this but you are probably right," Djokovic said in his courtside interview, raising laughter from the crowd.
"I knew what to expect on the court," the Serb later told reporters after booking a quarter-final against Japanese seventh seed Kei Nishikori.
"But I honestly didn't expect to make this many unforced errors. In terms of a level that I've played, it's the match to forget for me.
"When you're playing someone like Simon, he senses that and he makes you play an extra shot. Then you're trying to cut down on the length of the rallies, go for a winner or go for a dropshot.
"Sometimes you have a brain freeze, if I can call it that way. That's what happened to me many times with those dropshots."
Although flustered by the Frenchman, Djokovic's iron-willed composure returned quickly in the decider and he motored to a 5-1 lead.
ADVERTISEMENT
Article continues below this ad
Simon rallied with a final flourish, regaining a service break and saved two match points before holding to raise thunderous cheers from a crowd firmly in his corner.
But Djokovic moved 40-0 up with an ace and sealed the match with an imperious backhand down the line, booking his 27th successive grand slam quarter-final.
The 28-year-old will now face the man who beat him at the 2014 U.S. Open semi-finals but the Serb dismissed the idea that the Simon work-out might leave him with less in the tank for Nishikori.
ADVERTISEMENT
Article continues below this ad
"I've had worse situations where I had much less time to recover after long matches, so I'm sure I'll be fine," the 10-times grand slam champion said.
(Editing by Patrick Johnston)