Diego Schwartzman Vanquishes Defending Champion Rafael Nadal at Italian Open 2020
Published 09/19/2020, 5:40 PM EDT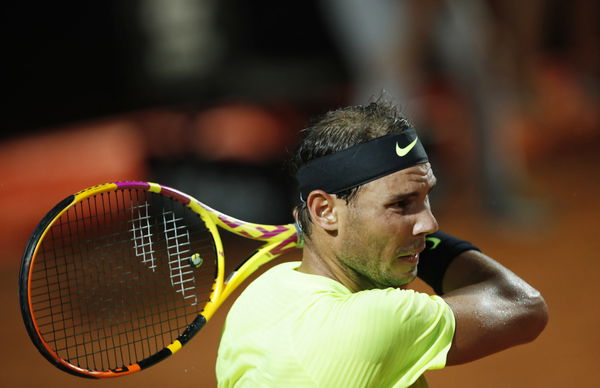 Argentine Diego Schwartzman stepped on the quarterfinal court of Italian Open 2020 as an underdog, as he was playing the ultimate king of clay Rafael Nadal on the crushed bricks of Rome. Also, in their previous nine meetings, Schwartzman couldn't pull off a single victory against the 19-time Grand Slam champion.
But in Rome, World Number 15 Schwartzman played some best tennis of his career and defeated the nine-time and defending champion Nadal  6-2, 7-5. In the semifinals, the Argentine will meet Canada's Denis Shapovalov.
With the Spaniard playing a shaky game with his groundstrokes gave an advantage to Diego, as he made free points from Rafa's unforced errors. Also, Argentina's ripped backhands and sliced serves left Rafa bamboozled. The high-quality tennis from Diego was unbearable by Rafa, he lost his serve twice in the opening set, failed to avenge the breaks, and eventually dropped the set 6-2.
ADVERTISEMENT
Article continues below this ad
High-quality tennis from Diego Schwartzman against Rafael Nadal
The Argentine committed four unforced errors and hit 13 winners in the opening set. Two years ago, in the quarterfinals of Roland Garros, Diego pulled off a set from Rafa on the Parisian clay and then lost the match. But on Saturday, he was determined to push it further.
In the second set, the two men fended off breaks in the first two games. In the opening game, Rafa held his serve from 15-40 to win the game. Diego came up with some warrior-like groundstrokes and erased the break point to produce a hold at 1-1 with a soft touch on the ball.
He's got it!
The Spaniard was playing some aggressive tennis but it was not enough to break the Argentine's serve and establish his dominance in the encounter in Rome. Diego was able to execute his strategy with perfection and at 3-3 tennis fans saw some unconventional tennis from Rafa.
World Number two Nadal dropped two balls on the net while he was serving. The eventual gave Diego a 30-0* lead in the game. With some nail-biting action prevailing on the Roman clay, Diego capitalized the break point in the game and led by 4-3 in the set.
With Schwartzman committing a few unforced errors in the next, Rafa was back on serve at 4-4. Nevertheless, the pique from Argentina was not holding back, with some incredible tennis, he broke Rafa to love and progressed to serve for a place in the semifinals at 5-4.
ADVERTISEMENT
Article continues below this ad
The Spaniard wasn't giving up, he broke Diego back to love at 5-5. Once again with a ripped backhand, Schwartzman broke Nadal's serve and advanced to close out the match.
This time, Schwartzman was determined to close out the match and eventually pulled off the biggest win of his career.
Well done Diego!
ADVERTISEMENT
Article continues below this ad