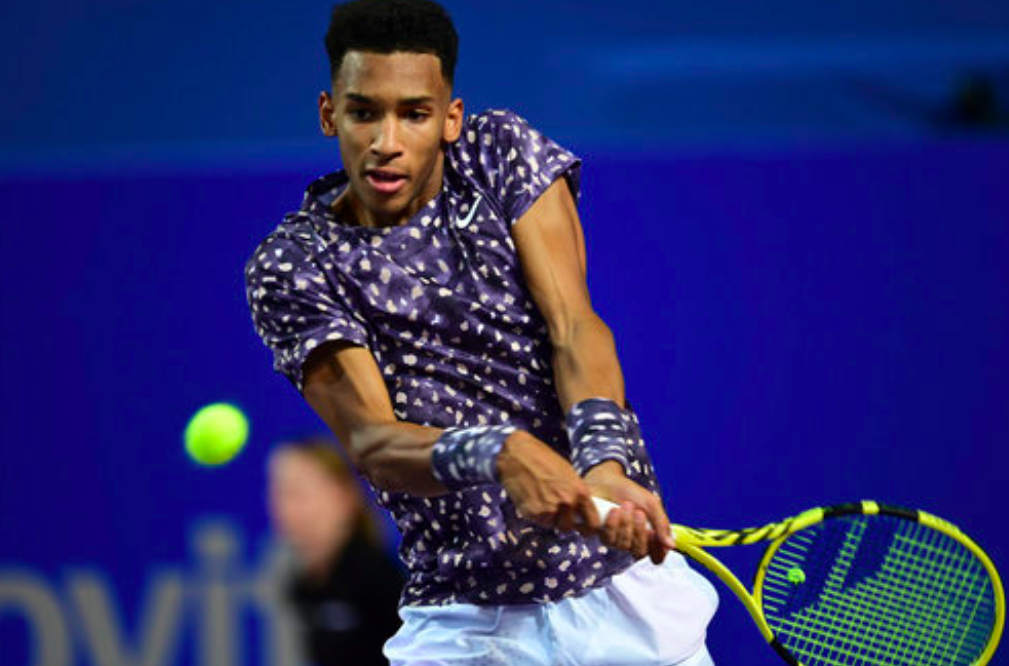 After the top-seed in Rotterdam, Daniil Medvedev got eliminated from the first-round of the tournament, Felix Auger-Aliassime, and Grigor Dimitrov took the court. 
World Number 21 Auger-Aliassime comfortably defeated the former World Number three Dimitrov 6-4, 6-2 in their second round of ATP Rotterdam 2020. Earlier, Dimitrov crushed the eight-seeded Canadian Denis Shapovalov in Rotterdam and Felix avenged for his countryman's defeat on the Dutch court. 
First set: Grigor Dimitrov and Felix
Auger-Aliassime exchanged breaks 
World Number 22 Dimitrov boarded with a comfortable hold, followed by Auger-Aliassime, produced a love hold at 1-1. At 2-2, Felix was coming up with good returns while Dimitrov was serving. With his smart returns, he broke the Bulgarian's serve and led by 3-2. 
But in the next game, Dimitrov gained two break-back points and converted the second one with a smart drop shot, and was back on serve at 3-3. With a couple of errors in Dimitrov's service game, Auger Aliassime gained a break point.
Dimi's serve!!
Explain. pic.twitter.com/J1i1QMn1zK

— Del🇪🇺 (@Stroppa_Del) February 12, 2020
The Bulgarian placed the ball on the net while returning Felix's heavy forehand, but simultaneously the Canadian's shot was called out. However, with a smart challenge, it was displayed that the ball had kissed one of the tramlines and Auger-Aliassime once again led by a break at 4-3. 
And this time, the Canadian teenager comfortably consolidated his break with a swift cross-court forehand. While Felix was serving for the set, Dimitrov came up with a flurry of unforced errors, and the World Number 21 Auger-Aliassime sealed the set 6-4.
Second set: Easy set for Felix
Auger-Aliassime
The set began with some incessant running in the first game while Dimitrov was serving.
What a point!
Just so good 🤤

What a point this is from @felixtennis & @GrigorDimitrov!

🎥:@TennisTV | @abnamrowtt pic.twitter.com/YMJRpjkoco

— ATP Tour (@atptour) February 12, 2020
At 1-1, Auger-Aliassime received a break point but with an unforced error, the Canadian squandered it. Later Dimitrov committed an error, Felix regained a break point. He pushed a backhand down the line winner on the sideline and broke him at 2-1.
That break point backhand from Felix
Auger-Aliassime (🎥@TennisTV ) pic.twitter.com/I9oVeDZyp5

— doublefault28 (@doublefault28) February 12, 2020
Dimitrov was making it difficult for the Canadian to consolidate his serve, but as his unforced errors prevailed, Felix backed up the break at 3-1. With dominant forehands from the young boy, Dimitrov showed no signs of coming back in the match.
At 4-2, Dimitrov played an erroneous game and was broken to love. As a consequence, Felix led by 5-2 and was getting ready to serve for the match.
Dimitrov was failing to return the ball over the net. And Felix sealed the game to love and pulled off the match by winning eight points in a row.
Fantastic Felix 🙌@felixtennis steams past Grigor Dimitrov in Rotterdam, 6-4 6-2 to reach his first quarter-final at @abnamrowtt. pic.twitter.com/pMakztwaCg

— Tennis TV (@TennisTV) February 12, 2020