The entire world is experiencing a weird time with a fear of stepping out of their houses. The world has been blanketed with the feeling of fear, leading to shutting down of numerous businesses. Amidst all the havoc, tennis tour is shut until June 7, 2020, and certainly, the untimely break has positively impacted Roger Federer's season.
Federer made a successful start of the season by reaching the last-four stages at the Australian Open. But within a few days, he announced his withdrawal from a string of tournaments resulting in a four-month hiatus from tennis due to his knee surgery.
And unlike his arch-rivals Rafael Nadal and Novak Djokovic, Roger is least affected by the unexpected break on the ATP Tour. As his layover has perfectly synchronized with ATP's suspension.
Coronavirus effect on Roger Federer's ranking
In the month of February, Roger was all-prepared to leave the top-five rankings and drop 3180 ATP points from last year. He was the champion in Dubai and Miami, reached the finals in Indian Wells, was through to the quarters in Madrid and Rome and then lost to the 12-time Roland Garros champion Nadal in the semifinals of French Open.
But now, with the ATP's decision to freeze the rankings, Federer has lost 500 points from Dubai. He will still remain in the top-five as the World Number four tennis player and with 6630 points. Also, Roger is just 415 points away from the present World Number three Dominic Thiem. 
If the coronavirus pandemic wouldn't have disturbed ATP Tour, Federer would have been ranked between 7th and 9th spot and resumed his season with 3950 points to his name. Hence, his well-timed surgery has not impacted Swiss maestro's rankings.
Grand Slam record remains intact
The hashtag #RF20 is widely used by the Fedfan base, it denotes the score of major titles the Swiss icon has earned in his prolific career. No-one in the tennis history has won 20 Slams, and 19-time Grand Slam champion Rafael Nadal was all-set to equalize Federer's Slam tally in Paris this June.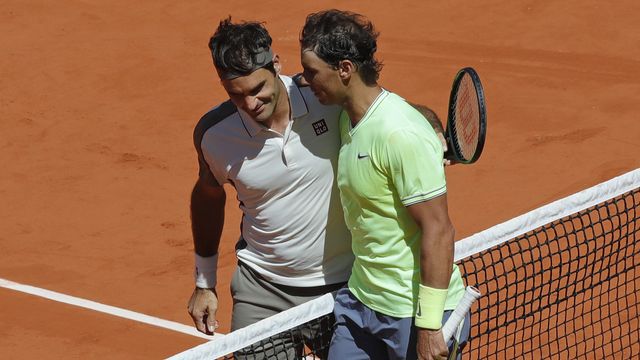 Since 2005, the Spaniard has just dropped two French Open matches, and a fit Rafael Nadal irrespective of his seeding has always been the favorite at the Paris major.
Right after Rafa's 19th Slam victory in New York, tennis experts were certain about Nadal raising to number 20, at Roland Garros 2020. But with the coronavirus postponing the French major to September, #RN20 has to wait.
In this context, Federer can solely enjoy his highest Grand Slam record for a few more months, or even longer provided he wins one more Slam before Rafa wins it 21st major crown.
However, on a personal level, Roger is fine with his friend and foe Rafa catching his major tally and it doesn't affect him much. "I hoped to win just one Wimbledon. If Nadal catches me, it's OK," Federer once said.
Weeks at World Number one
The tennis world is well aware of Federer's unprecedented record at World Number one spot. He's stayed on the summit for 310 weeks which includes 237 consecutive weeks of World Number one.
But, this year Roger's record was under threat as the 17-time Grand Slam champion Novak Djokovic was inching closer to close out Roger Federer's accomplishment. At present, the Serb has been on the summit for 281 weeks, and he would have surpassed Federer's 310-week World Number one record by October this year.
With ATP freezing the rankings until June 7, 2020, Djokovic needs to wait some more time to surpass Federer's top-spot record and simultaneously try to stay on the top.