"It Felt Magical" – Stefanos Tsitsipas on Playing With Roger Federer and Rafael Nadal
Published 05/21/2020, 6:26 PM EDT
The Greek lad Stefanos Tsitsipas grew up watching Roger Federer and Rafael Nadal, and the young professional got a chance to share the tennis courts with them. A few years ago, he was just focusing on turning a professional and playing against 'Fedal' was a dream.
With the blessing of the Laver Cup, Tsitsipas was recognized as one of the best tennis players in Europe. And he got to play with Federer and Nadal in 2019. There were animated scenes in the Geneva stadium he was while playing with the two legends, also Stefanos thoroughly enjoyed every bit of it.
Stefanos Tsitsipas on Laver Cup 2019 experience
ADVERTISEMENT
Article continues below this ad
"My favorite tournament is the Laver Cup. I love the vibes at the Laver Cup, we were all so connected, we came into the tournament as a union, trying to represent our continent and it just felt magical to be on the same team as Roger and Rafa," he told Eurosport.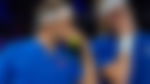 At Laver Cup 2019, Tsitsipas lost both his doubles matches to Team World.
"I got to play doubles with both of them and it was a great experience for me. It was a dream come true for sure. As a child, I would never have dreamed the Laver Cup would ever happen. A competition between Europe and the Rest of the World. I would never think that would be possible but it happened and I got to be part of it. I got invited which was such an honor."
He also recalled his loss of straightforward loss to Rafa at Aussie Open semi-finals in 2019.
ADVERTISEMENT
Article continues below this ad
"The match against Rafael Nadal at the Australian Open where I got chopped up. I may not win but I will definitely put up a fight," he said.
But after a few months, Tsitsipas defeated Nadal on the clay-court of Madrid. Thereafter reached the finals of the event.
ADVERTISEMENT
Article continues below this ad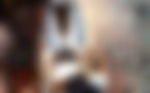 Last year, Stefanos Tsitsipas made a big breakthrough at ATP Finals, as he defeated Dominic Thiem in the finals and lifted up the biggest trophy of his career. In 2020, after losing to Milos Raonic at the Australian Open, Tsitsipas defended his title in Marseille and his finalist spot in Dubai.