THROWBACK: Andre Agassi's Great Sportsmanship Gesture Against Pete Sampras at Miami Open
Published 03/20/2021, 12:03 PM EDT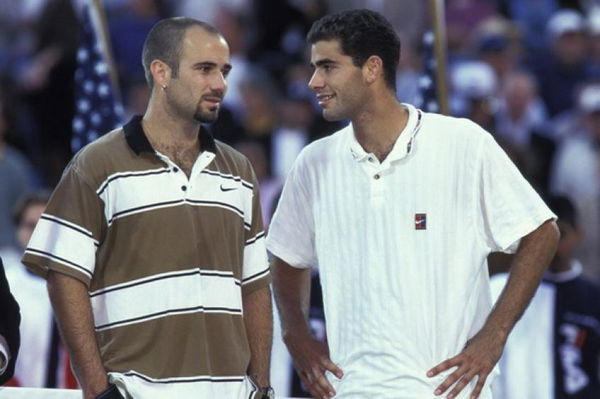 ---
---
Throughout tennis history, there have been certain moments that people have never forgotten. A lot of these moments are of great victories but some have been of great sportsmanship. One such moment took place on 20th March 1994 between Andre Agassi and Pete Sampras.
ADVERTISEMENT
Article continues below this ad
It was the final of the Miami and fans were awaiting the final between Sampras and Agassi. However, that morning Pete fell sick and he was unable to recover in time for the match.
According to the rules, Agassi could force a walkover and win the title. However, he gave Pete all the time he needed to recover and play the match. Unfortunately for the him, this decision backfired as he lost the match 5-7, 6-3, 6-3.
ADVERTISEMENT
Article continues below this ad
Andre Agassi After the Match
Many would have expected Andre Agassi to be very upset about this loss especially since he could have won it by walkover. However, he wasn't as he jokingly said,
"The doctor gives Pete an IV, then props him on his feet. Pete wobbles, a newborn colt. He'll never make it…But Pete does it again. He sends his evil twin onto the court. This is not the Pete who was curled in a ball on the locker-room floor. This Pete is in the prime of life, serving at warp speed, barely breaking a sweat."
Later, Andre directly addressed the fact that he could have won the tournament by walkover. He said, "It's not about winning the tournament, it's about taking pride in what you do, If I couldn't beat Pete healthy, I didn't deserve to win the tournament, and whether sick or well, he played a great match."
ADVERTISEMENT
Article continues below this ad
It was a great moment of sportsmanship from Agassi and Sampras was really appreciative towards it. He said, "That showed a lot of class and it's something I'll never forget."
Later, Pete said that he would have done the same thing had Andre been in his position. This showed that tennis is beyond just winning and why the sport is so popular around the world. Hopefully, we will continue to see such moments in the future.
ADVERTISEMENT
Article continues below this ad
Also Read – When Andre Agassi Apologized For Mocking Pete Sampras
Trending Stories