Twitter Hits Out at Novak Djokovic For Adria Tour After Cancelation of Finals
Published 06/21/2020, 6:01 PM EDT

Follow Us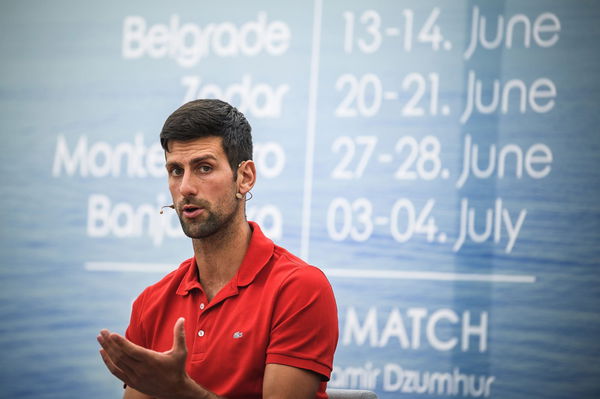 On Sunday former World Number three tennis player Grigor Dimitrov was tested positive for coronavirus. Before that he also withdrew from his match against World Number one Novak Djokovic at Adria Tour. Later on Sunday, Dimitrov flew to his residence in Monaco, after his test was confirmed, the final match at Adria Tour in Zadar Croatia was called off.
"This was our only right decision. Thank you for these three wonderful days, but we had to cancel the finals. I'm sorry. We don't want more people to get infected. Thank you very much, see you again," Novak's coach Goran Ivanisevic made an announcement on the Croatian court. The cancelation of the event outraged the tennis fans. 
Fans hit out at Novak Djokovic
Fans on Twitter went wild following Dimitrov's post on Instagram wherein he announced the positive results and the cancelation of the finals in Croatia.
Also, tennis fans began blaming the Novak Djokovic's exhibition event with the audience amid the coronavirus pandemic for Dimitrov's diagnosis. The new norms of social distancing were not practiced at the event, and the people were not wearing masks. Also, Grigor flew for the Adria Tour from the US.
In a nutshell, no safety protocols were implemented on the court, also the players were involved in some late-night partying.
Grigor played basketball with his ATP colleagues and consequently, he came in contact with a significant number of people at the event. Dimitrov's positive tests might put the recommencement of the tennis tour in mid-August under a blanket of doubt. Even if they get underway the tournaments will be extremely strict with their rules and regulations.
And Cincinnati and US Open have already declared to hold their tournaments without any audience.
https://twitter.com/naomiosaka/status/1274789167537328128?s=20