WATCH: Novak Djokovic Pulls Off Challenging Rally With Smart Play On The Net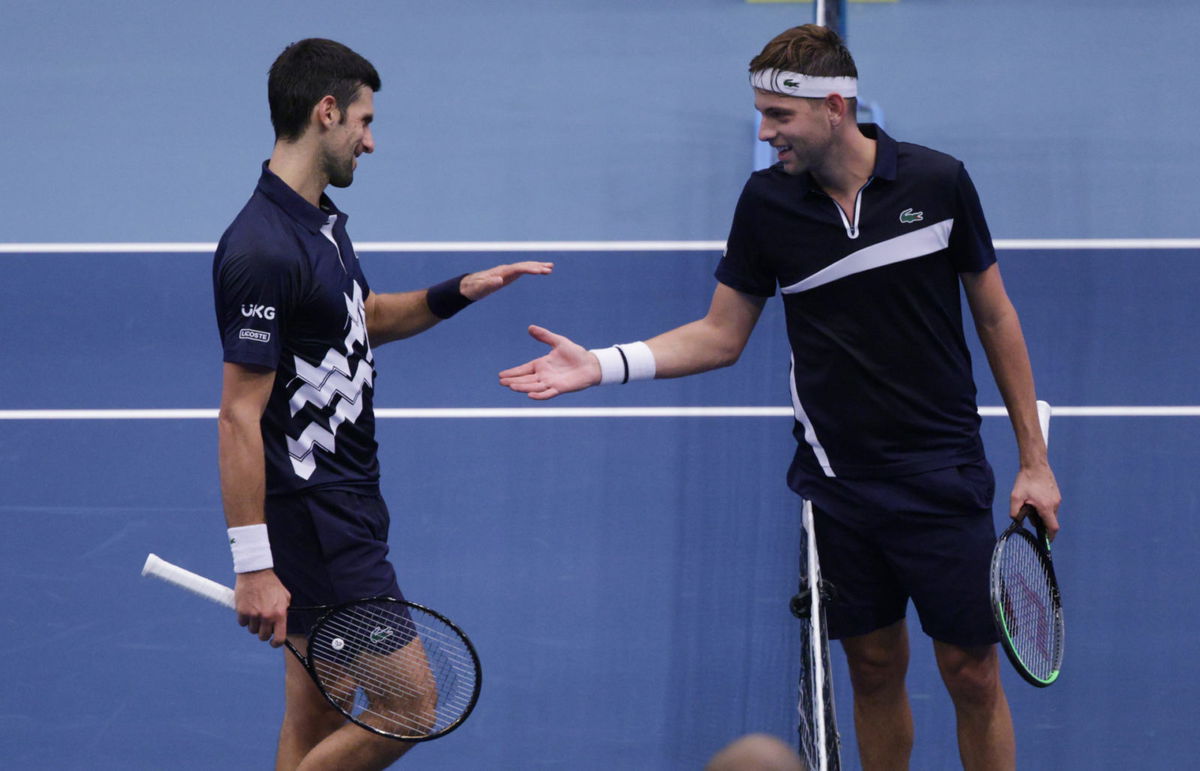 World No. 1 Novak Djokovic is pacing towards his next big achievement that is to finish a year at the top spot for the maximum number of times. His win against his country-mate Filip Krajinovic at the Vienna Open 2020 has left him with one more win to achieve this feat.
Previously, the 33 years old Serbian has been the best in the world at the end of the year five times. If he wins his next match, which is against the Croatian Borna Coric, then he will reserve his seat alongside the American tennis legend Pete Sampras. They both will share the record of 6 (and most) times Year-End No. 1.
However, the 17 time Grand Slam champion had to endure this fellow-native Krajinovic in each game, the two sets, and to eventually win the match. Take a look at the Serbians combat for a point in a graceful manner.
Showtime from Serbia! 🇷🇸👏@DjokerNole | Filip Krajinovic | @ErsteBankOpen pic.twitter.com/S2CkRmDPz9

— ATP Tour (@atptour) October 27, 2020
Round of 16 – Novak Djokovic vs Borna Coric
Even though Djokovic cleared the first round 7-6(8-6), 6-3, the tennis viewers were in for a special treat as both the Serbians had put on their best front. The younger of the two played some incredible shots to which World No. 1 had no reply.
Apart from the result, the match was a complete contest between them. This also shows the battle the Vienna Open is on and the road ahead for Djokovic's is not as flat as expected.
If you missed the fiery show, watch the highlights of their exceptional gameplay.
After missing out on the chance to claim the St. Petersburg Open title against the Russian Andrey Rublev, Borna Coric's approach in Austria will be worth more than a look.
He steered past the American Taylor Fritz in the first round of Vienna with a convincing performance over the two sets. The final score was 6-4, 6-4.
Also, Novak Djokovic weighs a 3 for 0 advantage against Borna Coric in their head-to-head clash. Their last encounter was in the finals of the Shanghai Rolex Masters 1000 where the Serbian won 6-3, 6-4. The Croatian, however, will be aiming to get off the mark. While World No. 1 will like to keep his top spot until the end of the calendar year.
Along with that, the Serbian is also approaching the famous record of Roger Federer – Most Weeks Spent at No. 1 (310 weeks). Djokovic is on his 292nd.
Also Read: "Leave the GOAT Debate to Others" – Novak Djokovic Prioritizes Other Records