WATCH: Rafael Nadal Hits a Mind Blowing Return at Italian Open 2020
Published 09/18/2020, 5:20 PM EDT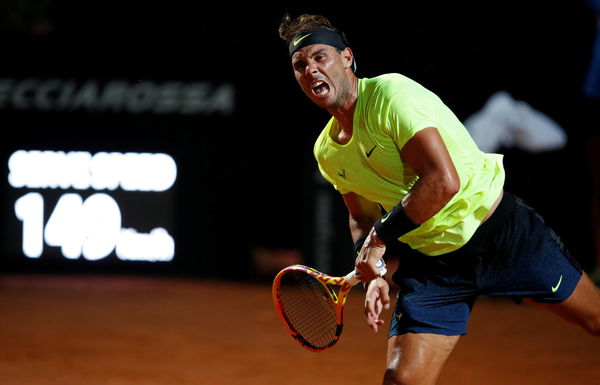 Rafael Nadal and clay courts are a match made in heaven. More distinctively, the Roman arena and Nadal share a personal connection. Winning the title a record 9 times, Nadal is on his quest for La Decima.
In his Round of 16 match against Dusan Lajovic, Rafael Nadal unleashed his skills to clinch the game 6-1, 6-3. The scoreline clarifies the one-sided domination Nadal had over the match.
Mixing his game with thunderous serves and spectacular returns along with an impeccable cross-court game, Nadal easily overpowered the 30-year-old Serbian.
ADVERTISEMENT
Article continues below this ad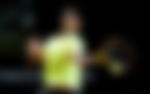 Out of all the terrific points scored by Nadal, one stood out of the lot.
Dusan was serving while Nadal waited like a sly fox. Dusan, in an attempt to hit an ace, served really wide. The ball touched the sideline and was on its way out.
Out of nowhere, Nadal swooped in with all his might and sent a staggering return. The spectacular return stunned Dusan as he remained fixated to his position.
He never really anticipated that his wide serve would find Nadal's racquet and he would have to stave off a return. Ultimately, the ball dropped before the baseline and fetched a point for Nadal.
ADVERTISEMENT
Article continues below this ad
Rafael Nadal aims for the record
Rafael Nadal returned to action after a long break owing to COVID-19 disruption. Withdrawing his name from the US Open 2020, Nadal had his priorities sorted as he aimed for the clay-court swing for his return. With 19 Grand Slams to his name, he is one short of touching Roger Federer's record of 20.
ADVERTISEMENT
Article continues below this ad
He had a great opportunity at the Australian Open. However, he fell short of clinching the title, losing out to Dominic Thiem in the quarter-finals.. Bypassing another hard court Grand Slam, Rafa made it clear that he was looking forward to claiming the elusive record in his favorite arena.
He'll be aiming to win the Italian Open 2020 and go for his record 13th French title. He stands on the edge of creating history. His lethal form and fighting spirit will definitely guide him towards new avenues of success.